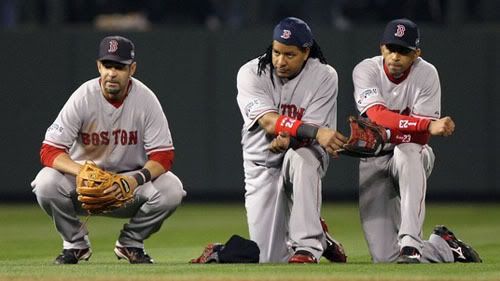 Sometimes you have to go behind enemy lines to find the stories and this is one we want to hear.
Yankees general manager Brian Cashman thinks that Mike Lowell's return to the Red Sox "is inevitable" and has decided to go other ways in replacing ARod at third base.
"We're hopeful," Red Sox general manager Theo Epstein said yesterday at the general managers' meetings. "We've had discussions since the end of Game 4. Hopefully those discussions have moved the ball forward a little bit. We'll just have to see how it turns out."

The two sides had differed in number of years on the contract, but it's believed they've found common ground there. Lowell likely will sign a deal that guarantees him three years. "I personally believe the player's preference would be to stay in Boston," Cashman said. "I believe that's probably accurate."
If this is true, it would be great news. With the exception of Coco Crisp, the starting eight fielders should be returning for a chance to repeat as World Champions.