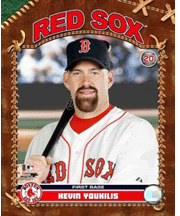 Because the 2007 MLB All-Star game is being held in San Francisco this year, there is no DH spot on the ballot. With this happening, David Ortiz is listed as the Red Sox representative at first base despite really not playing there at all. He usually plays there during interleague play.
With Kevin Youkilis playing first base primarily for the Red Sox, but the balloting only allowing one person per team at each position, Youk has been left off the ballot. Youk just happens to be one of the Red Sox hottest hitters right now and in all of Major League Baseball. He is deserving of being on the ballot and now it's time to do our part.
So Red Sox Nation, when you are voting all of our Red Sox players onto the 2007 AL All-Star team, don't forget to use the write-in feature on the ballot and Kevin Youkilis.
You can get to the voting by clicking here.
Make Youk proud Red Sox Nation!!!
Technorati: Boston Red Sox, Kevin Youkilis, MLB, 2007 MLB All-Star Game