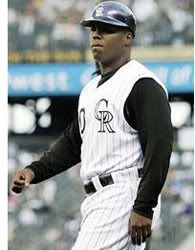 During the GM meetings today down in Orlando, the general managers decided to put a rule into place having the first and third base coaches wear some kind of protection for their heads. This comes in the wake of Rockies minor league coach Mike Coolbaugh being struck and killed with a batted ball during a Tulsa Drillers game.
The move for helmets wasn't formally voted on but it was made clear that this is what the GM's want done for next year. When they convene again in Nashville for the winter meetings, they will decide what type of protection will be worn by the coaches.
Rockies first base coach Glenallen Hill started to wear a helmet a few weeks after Coolbaugh was struck.
This is definitely the right move by the general managers. There have been too many close calls with MLB coaches almost being struck with batted balls. They are usually standing less than 90 feet from the plate and batted balls can come off the bats over 100 MPH. How long though until we see a first or third base coach looking like Jose Canseco down there?