With many publications taking some time to crank out their MLB All-Decade Team for the 2000's, I thought it was time to do the same here at SOX & Dawgs.  Some of the picks are pretty obvious, some might be borderline but I'll do my best to express why that player has earned the right to be on the team.
I'll give you all 8 regular fielders, a DH a five man starting rotation, closer, manager and finish with the Player of the Decade.  The only real rule is they had to have played in at least part of 6 seasons or more.
I'd love to hear your thoughts and who you'd put there and why so as always feel free to comment.
First Base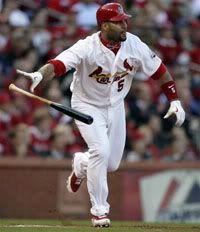 There many good first baseman in this category.  Mark Teixeira who played with the Braves, Rangers, Angels and Yankees; Astros 1B Lance Berkman and Rockies legend Todd Helton but it's pretty hard to over look the man who will be a first ballot Hall of Famer, a guy who is re-writing the record books and an obvious candidate for Player of the Decade and that's Cardinals 1B Albert Pujols. He hit .344 with 366 HR and 1112 RBI, who the 2001 NL Rookie of the Year, was an 8-time All-Star and won 3 NL MVP Awards, 1 Gold Glove, 5 Silver Sluggers, 1 batting title, lead the league in hits once and total bases four times. He is the hands down UNANIMOUS choice at first base.
Second Base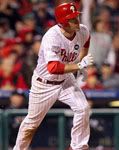 Possibly the hardest position to pick.  Do you take the guy who is in his prime in Phillies 2B Chase Utley or do you go for former Dodgers, Astros and Giants 2B Jeff Kent? They both had a solid decade.  Kent hit around .295 with 216 HR and 850 RBI, he won 1 NL MVP, won 4 Silver Sluggers and was a 4-time All-Star.  Utley also hit .295 but had only 161 HR with 585 RBI and won 4 Silver Sluggers and was a 4-time All-Star and won a championship with Philadelphia in 2008.  In Utley's defense he played only 43 games in 2003 and 94 games in 2004. Their 162 averages are remarkably similar so it comes down to do you favor the "team guy" in Utley or a more "me first" attitude guy in Kent? I believe in team and therefore Utley is my choice at 2B.
Shortstop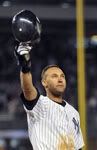 Yet another argument would you rather have Yankees SS Derek Jeter, Orioles, A's and Astros SS Miguel Tejada or Giants, Indians and Rangers SS Omar Vizquel?  If you're looking at it from a purely defensive standard than your choice is Vizquel.  Other than Ozzie Smith, Omar maybe the most incredible shortstop I ever saw play and has 4 Gold Gloves in the decade.  Tejada won an AL MVP with Oakland, was a 6-time All-Star and won 2 Silver Sluggers.  While Jeter was an 8-time All-Star, won 4 Gold Gloves and 4 Silver Sluggers and was a part of two championship teams that played in 4 World Series in the decade. Jeter hit well over .300 for the decade with 161 HR and 727 RBI and who knows how many clutch hits which makes his the shortstop on the All-Decade Team.
Third Base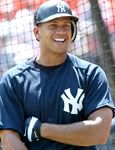 When you talk about third baseman in the decade for the me the argument starts and stops with New York's Alex Rodriguez. He is a 9-time All-Star, won 7 Silver Sluggers, 2 Gold Gloves (while at SS) and 3 MVPs and finally got his championship ring in 2009 despite revelations that he used PEDs during his career. He led the league in slugging pct 4 times, OPS 3 times, total bases 3 times, RBI twice and HRs five times hitting 50 or more three of those times.  He hit over .300 for the decade and added 435 HR and 1243 RBI with those numbers he is not only the third baseman but a candidate for Player of the Decade.
Left Field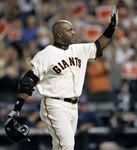 Well which mine field would you prefer to step into?  Barry Bonds or Manny Ramirez who are hands down the only two you can really consider here.  Ramirez, who played for the Indians, Red Sox and Dodgers in the decade is a hitting savant.  I really think at times Manny makes himself look like an idiot at that plate just so that when he counts he is in the pitchers head.  An 8-time All-Star and winner of 7 Silver Sluggers, the man with the dreads was a part of two World Series Championships in Boston last decade and was a World Series MVP (2004). In nearly 8 seasons with Boston he hit .312 with 274 HR and 868 RBI, in one season in Cleveland he hit .352 with 38 HR and 122 RBI and in a little over a year in LA he hit .327 with 36 HR and 116 RBI for a decade total of 348 HR and 1096 RBI and one suspension for PED use. Bonds, on the other hand, became baseball's All-Time HR Leader (762), single season HR record holder (73 in 2001) and perhaps sports most vilified athlete of our time for his alleged PED use and boorish behavior towards the fans and media. In the decade Bonds won 4 of his 7 MVPs and finished 2nd another time, was on 6 All-Star teams, won 5 Silver Slugger Awards, 2 batting titles, led the league in HRs once, 5 times in walks including a record 232 in 2004, 6 times in OBP, 4 times in slugging and 4 times in OPS. Bonds is my choice for LF and is a candidate for the Player of the Decade.
Center Field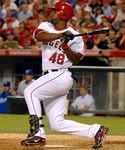 Yet another position with a few choices (Jim Edmonds, Andruw Jones) but the two most obvious are Twins and Angels CF Torii Hunter and Royals, Astros, Mets CF Carlos Beltran. Do you want the better offensive numbers in Beltran or more of mix with better defensive numbers in Hunter?  Beltran was better offensively as he drove in and scored 100 runs in a season six times in the decade plus he stole bases at a 90% success rate, he had 3 Gold Gloves and hit 251 HRs while driving in 910. He also earned two Silver Sluggers and was a four time All-Star.  Hunter, was a three time All-Star, won 9 Gold Gloves, hit 224 HRs and drove in 842.  and neither player won a World Series or an MVP.  Maybe I am biased being an American League guy and I've seen Hunter up close and personal were I've haven't seen Beltran as much that I'm going to give the advantage to Hunter.  He's just always seemed like a guy I wanted on my team who plays with heart and conviction where to me Beltran knows he's good and at times doesn't appear to put forward his best effort ala J.D. Drew.
Right Field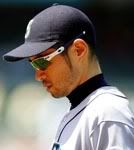 Ok do you want the guy with a cannon for an arm who made 9 All-Star appearances, won 3 Silver Sluggers, a ROY, a MVP, 9 Gold Gloves is a .333 lifetime hitter, has never had less than 206 hits in a season, lead the league in hits 6 times and twice broke the record for most hits in a single season or do you want the guy with a cannon for arm, a  hitting zone from his head to his toes, the best bad ball hitter possibly of all-time, who made 7 All-Star teams, won a MVP and has 6 Silver Sluggers while hitting .321 with 315 HRs and 1037 RBI?  I think I'm going with the hit machine, Seattle RF Ichiro Suzuki over Angels and Expos and Angels RF Vlad Guerrero. And not only that,  I think Suzuki deserves a nomination for Player of the Decade as well.
Catcher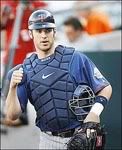 While Yankees backstop Jorge Posada had a longer body of work it's hard to over look what Twins C Joe Mauer has done in the short time he has been around including a AL ROY, AL MVP and winning three batting titles becoming the first AL catcher in history to win even 1 batting crown. In 2009 he led the AL in hitting, OBP and slugging and he has won also added two Gold Gloves, 3 All-Star appearances and 3 Silver Slugger awards.  Not bad for a guy who won't be 27 until the 2010 season starts.
Designated Hitter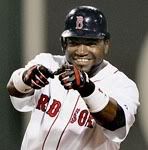 While considering the options of who the DH of the decade is I think you really only have to consider one name and that's Twins and Red Sox DH David Ortiz.  307 HRs, 1016 RBI, 5 All-Star games, 4 Silver Sluggers and 2 World Series titles along with some of the biggest and baddest clutch hits anyone this side of Andre Either can recall. He led the AL in HR once, RBI twice, BB twice and extra base hits three times.  Not bad for a guy the Twins thought was done in 2003 and released only to be signed by Boston and become a Back Bay legend.  In 2009 Ortiz faced questions about a possible failed PED test conducted by MLB back earlier in the decade and like most of the others, some on this list, who also faced the questions of PED usage the issue has faded into the background.
And now if we were considering a lineup for these guys, this is how I see it shaping up.
Ichiro, RF;  Bonds, LF; Ortiz, DH; Pujols, 1B; ARod, 3B;  Mauer, C;  Utley, 2B; Hunter, CF; Jeter, SS
Starting Rotation (in order)

Pedro Martinez who pitched for the Red Sox, Mets and Phillies gets in here on his 2000 season alone when he won 18 games had an ERA of 1.74 and a WHIP of 0.737, the lowest in major league history.  He won his third and final career Cy Young that year.  Some will argue that Martinez maybe the best pitcher in baseball history when he was healthy, he was dominant. There are several Pedro performances I will never ever forget but nothing thrilled me more than watching him get the win in Game 3 of the 2004 World Series.  It was his last game in a Boston uniform and he didn't disappoint. He also made 4 All-Star teams in the decade that saw him go 112-50 and win his lone World Series title.
Roy Halladay who pitched for the Blue Jays was 139-69 in the decade for some pretty average teams in Toronto. Halladay appeared in 6 All-Star games and won a Cy Young in 2003 when he was 22-7.  His biggest contribution is the man is an innings eater throwing at least 220 innings 6 times, he also led the league in wins once, WHIP once,innings pitched three times, shutouts three times, games started once and complete games five times.  He also was a World Series Co-MVP in 2001.
Randy Johnson, the Big Unit, pitched for the Diamondbacks, Yankees and Giants and posted a 143-78 record.  In the decade he won 3 Cy Youngs, made 4 All-Star teams and 3 times struck 330 hitters or more.  He also won 47 games after the age of 41 and was quite possibly the most dominant lefty the game has ever seen.
Johan Santana who pitched for the Twins and the Mets was clearly the second best lefty in the game in the decade having won 2 Cy Youngs, made 4 All-Star teams and won a Gold Glove. He led the league once in wins, 3 times in ERA, four times in WHIP, three times in strikeouts, twice in games started and innings pitched while compiling a 122-60 record.
Curt Schilling pitched for the Phillies, Diamondbacks and Red Sox and was a member of three World Series Championships in the decade winning with Arizona in 2001 and Boston in 2004 and 2007.  Along with Johnson was the Co-MVP of the '01 Series win over the Yankees.  He is the only pitcher in our starting five to have won 20 games more than once in the decade doing it three times.  He made three All-Star teams, won the Roberto Clemente and Branch Rickey Awards in 2001.  He twice led the league in wins, once in WHIP, innings pitched, games started and twice in complete games. Love him or hate him he was 10-1 in the post season for the decade including 3-0 with a 1.37 ERA in 5 World Series starts and is the only person on this list with more than two rings this decade.
Closer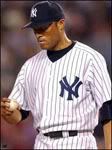 You'd have to be an idiot to suggest that anyone other than the Yankee's Mariano Rivera is the Closer of the All-Decade team.  Don't get me wrong their were some other good closers in the 2000's Trevor Hoffman of the Padres, Twins Joe Nathan, Red Sox Jonathan Papelbon, Eric Gagne when he was in LA but no one is or has been as consistent as the great Rivera.  He was an 8-time All-Star, twice was in the Top 3 in Cy Young voting, twice led the league in saves and twice was on the mound when his team won a World Series this decade.  He is a sure fire Hall of Famer and a nominee for Player of the Decade.
Manager
The candidates here are incredible, some even legendary.  Yankees and Dodgers boss Joe Torre, Cardinals skipper Tony LaRussa, Braves manager Bobby Cox, Angels boss Mike Scoscia and Phillies and Red Sox leader Terry Francona.  All six have had a good decade but to me winning is the key and only Cox didn't even win a National League pennant this decade.  Torre has been to the playoffs all ten seasons 3 times to the World Series but how can we forget the historic choke job his 2004 team pulled.  Scoscia's team made a fantastic playoff run in 2002 to win it all and LaRussa got his second title in 2006, but when you count rings this decade there's only one guy on that list with two over the last ten years and that's Francona who is my Manager of the Decade.
Player of the Decade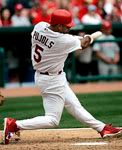 The Candidates…Pujols, Bonds, Rodriguez, Rivera and Ichiro.  Those are the final five but to me Bonds and A-Rod get left out because of the PED issues.  While no one has changed the game more than Mariano Rivera in the last 12 or 13 seasons he finishes third in this horse race because when people come to the park, while they might want to see the "Great Mariano" lock one down they buy the tickets to watch guys like Ichiro and Pujols. One is power, the other finesse and you can make an argument either way, for either guy.  But when one guy hits for average and power and does things either no one in the game has ever done or does things that haven't been done since the 1940's or 50's I think the choice is pretty obvious and that St. Louis 1B Albert Pujols in the MLB Player of the Decade for the 2000's.
Coming up on Sunday, we'll start our rundowns of each division. We'll start with the NL West and move forward each day. The whole series will culminate with awards predictions for the 2010 season. So be on the lookout starting Sunday for that.