Welcome to the Gigantic SOX & Dawgs 2011 MLB preview. Over the next week you will get a team by team look at its key players, new faces, their potential MVP, Cy Young and Rookie of the Year candidates, their possible starting lineup and rotation as well as a quick summary.
This preview was sculpted over a nearly seven week period in the off season with some mild tweaking as we went along prior to publication. It comes from a culmination of reading so many baseball magazines, periodicals, articles and websites that in some cases I may know a team better that its own management.
Yesterday we looked at the AL Central, Sunday was the NL West, Monday was the AL West, Tuesday we previewed the NL Central and today it's the NL East.
To continue reading, click on the read more button below if you're on the home page.
National League East

1. Philadelphia – Manager: Charlie Manuel (7th year/10th overall)
The Philadelphia Phillies will remain the class of the NL East in 2011 as they look to get to their third World Series in the last four seasons under skipper Charlie Manuel. This team went big time and brought back SP Cliff Lee, who they traded away prior to 2010 because they didn't think they could afford him. Well afford him they could as well as 2010 NL Cy Young Award winner SP Roy Halladay, former Houston ace SP Roy Oswalt and the homegrown SP Cole Hamels. Philadelphia now has a staff with four potential Cy Young winners. The one big problem I see is that they let RF Jayson Werth go to NL East rival Washington and they have no one who can fill the power void left by Werth. 25+ HRs and nearly 100 RBI a year don't grow on trees, so knowing this the Phils front office has decided they're going to pitch their way through games. Don't get me wrong, they still have some bop but when you're only bringing 8 sticks to the dish and you lose one it's gotta hurt.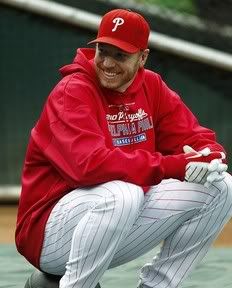 Key Players: SP Cliff Lee; SP Roy Halladay; SP Roy Oswalt; 1B Ryan Howard; 2B Chase Utley; SS Jimmy Rollins
MVP Candidate: 2B Chase Utley 2B and 1B Ryan Howard
Cy Young Candidate: SP Roy Halladay and SP Cliff Lee
ROY Candidate: RF Domonic Brown
Key Additions: SP Cliff Lee (FA-Tex); RF Domonic Brown (Rookie);
Possible lineup: Rollins SS; Polanco 3B; Utley 2B; Howard 1B; Victorino CF; Ruiz C; Ibanez LF; Brown RF
Possible rotation: Halladay, Lee; Oswalt; Hamels; Blanton
2. Atlanta – Manager: Fredi Gonzalez (1st year/5th overall)
The Atlanta Braves are going to be all over the Philadelphia Phillies like glue, all season long. It's a two horse race and it's going to be tight because Atlanta has more power this year in the middle than they've had in a while and if the pitching pitches like the Braves usually do, one of these teams gets the division, the other gets the wild card. There's a new sheriff in town but he's been here before. Fredi Gonzalez, a former Bobby Cox 3rd base coach, returns to manage the team after 3 and half seasons in Florida where he was 275-279. The team should have a fresh outlook and with 3B Chipper Jones returning from a torn ACL and the acquisition of 2B Dan Uggla plus the promotion of Rookie of the Year candidate 1B Freddie Freeman it looks like a good year to be a Braves fan.
Key Players: 2B Dan Uggla, 3B Chipper Jones; C Brian McCann; RF Jason Heyward; RP Jonny Venters; RP Craig Kimbrel
MVP Candidate: 2B Dan Uggla
Cy Young Candidate: SP Derek Lowe
ROY Candidate: 1B Freddie Freeman and RP Craig Kimbrel
Key Additions: 2B Dan Uggla (Trade-Fla); RP Craig Kimbrel (Rookie); 1B Freddie Freeman (Rookie); RP Scott Linebrink (Trade-CWS); RP George Sherrill (FA-LAD); Mgr Fredi Gonzalez
Possible lineup: Prado LF; McClouth CF; Heyward RF; Uggla 2B; McCann C; Jones 3B; Freeman 1B; Gonzalez SS
Possible rotation: Lowe; Hansen; Hudson; Jurrjens; Minor

3. Florida – Manager: Edwin Rodriguez (2nd year)
The Marlins finally get a new ballpark next season. One more year at JoeRobbieDolphinSunlifeLandsharkNotMadeforBaseball stadium. Once again the team will probably hang tough until August like they usually do before fading away. It will be a bit harder though for them to contend this season with out the power bat of 2B Dan Uggla who was traded to division rival Atlanta this winter.
Key Players: SP Josh Johnson; SS Hanley Ramirez; 1B Gaby Sanchez; LF Logan Morrison; CF Chris Coghlan; RF Mike Stanton
MVP Candidate: SS Hanley Ramirez
Cy Young Candidate: SP Josh Johnson
ROY Candidate: none
Key Additions: C John Buck (FA-Tor); 2B Omar Infante (Trade-Atl); SP Javier Vazquez (FA-NYY); RP Randy Choate (FA-TB)
Possible lineup: Coghlan CF; Infante 2B; Ramirez SS; Stanton RF; G. Sanchez 1B; Morrison LF; Helms 3B; Buck C
Possible rotation: Johnson; Vazquez; Nolasco; Volstad; A. Sanchez

4. Washington – Manager: Jim Riggelman (3rd year/11th overall)
The Nationals continued to make news this off season with the mega contract given to Jayson Werth in the area of $2 bazillion for 50 years. Actually it was for 7 years and $122 million for a soon to be 32 year old outfielder. Hey I don't blame Werth for signing it I'm sure they didn't have to hold him hostage to do so. Hopefully for the Nats he will continue to produce like he did the last three years in Philly where he had the protection of two MVPs and a possible 3rd something he won't have in DC. Something else they won't have in DC this year is SP Stephen Strasburg who is expected to miss the 2011 season after suffering an arm injury last year. I have one question for the Nats front office. Why pay Werth more than double what Adam Dunn was looking for in years and money? They're the same age and Dunn has a longer track record. Hopefully the Nats can hold on because help is coming in Strasburg and in #1 draft pick OF Bryce Harper really soon. I do see improvement though and I look for the Nats to finish 4th in the NL East.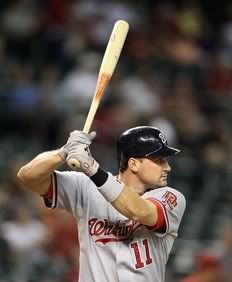 Key Players: 3B Ryan Zimmerman; CF Nyjer Morgan; RF Jayson Werth; SP Livan Hernandez; 1B Adam LaRoche
MVP Candidate: RF Jayson Werth
Cy Young Candidate: SP Livan Hernandez
ROY Candidate: 2B Danny Espinosa
Key Additions: RF Jayson Werth (FA-Phi); LF Rick Ankiel (FA-Atl); 1B/PH Matt Stairs (FA-SD) 1B Adam LaRoche (FA-Ari); SP Tom Gorzelanny (Trade-Chi); 2B Jerry Hairston Jr (FA-SD); RP Todd Coffey (FA-Mil)
Possible lineup: Morgan CF; Desmond SS; R. Zimmerman 3B; Werth RF; LaRoche 1B; Ankiel LF; Rodriguez C; Espinosa 2B
Possible rotation: Hernandez; Lannan; J. Zimmerman; Marquis; Gorzelanny/Wang


5. New York – Manager: Terry Collins (1st year/ 7th overall)
Okay the Mets cleaned house and have a new GM in Sandy Alderson; a new AGM in J.P. Riccardi and they got together with ownership to make possibly the most important managerial hire in Mets history and they came up with…Terry Collins? Collins hasn't managed a MLB club in nearly 12 years and the two teams he managed, Houston and Anaheim, he was run out of town on a rail in both locations. Players threatened mutiny. Nice job guys, especially when former Met hero Wally Backman was waiting in the wings. He was what the fans wanted; what the fans and the players needed and they got some guy who reminds you of a drink mixer from the 70's. If this is going to work LF Jason Bay needs to hit again, so does 3B David Wright. SS Jose Reyes needs to regain a semblance of the once Top 10 player he was and CF Carlos Beltran needs to be the Superstar he was meant to be. The pitching is borderline shaky to start especially with Johan Santana out until June and if they don't pitch well from the start you can flush this season pretty quick. I've chosen to flush them already and pick them for the basement.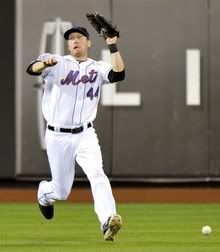 Key Players: LF Jason Bay; 3B David Wright; SS Jose Reyes; SP Mike Pelfrey; CF Carlos Beltran; 1B Ike Davis
MVP Candidate: CF Carlos Beltran
Cy Young Candidate: RP Frankie Rodriguez
ROY Candidate: None
Key Additions: C Ronny Paulino (FA-Fla); RP D.J. Carrasco (FA-Ari); SP Taylor Buchholz (FA-Bos); SP Chris Young (FA-SD); SP Chris Capuano (FA- Mil); OF Scott Hairston (FA-SD); Mgr Terry Collins
Possible lineup: Reyes SS; Pagan RF; Wright 3B; Beltran CF; Bay LF; Davis 1B; Paulino C; Tejada 2B
Possible rotation: Pelfrey; Neise; Dickey; Young; Buchholz/Capuano
Tomorrow, in Day 6, we will preview the AL East.
Follow Steve on Twitter @djstevem and follow SOX & Dawgs on Twitter @soxanddawgs and become a fan of SOX & Dawgs on Facebook.
Photo credits: Getty Images, Getty Images, AP Photo, Getty Images, Reuters Pictures