Welcome to the Gigantic Sox and Dawgs 2014 MLB preview. Over the next few days you will get a team by team look at its key players, new faces, their potential MVP, Cy Young and Rookie of the Year candidates, their possible starting lineup and rotation as well as a quick summary.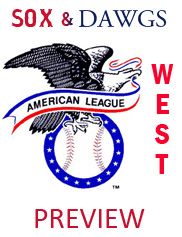 We will also select a MVP candidate and Cy Young candidate for each team no matter what their predicted team outcome is.
Also added this year is some home stadium information along with dates the teams will play against the Boston Red Sox. The red shaded games are at Fenway; the blue shaded games are road games.
This preview was sculpted over the off season with some mild tweaking as we went along prior to publication. It comes from a culmination of reading many hours of baseball research.
I hope you enjoy this look at the upcoming season.
Yesterday we looked at the NL West, today it's the AL West.
To continue reading, click on the read more button below if you're on the home page.
American League West
There is a lot of change in Seattle this offseason, new manager, big free agent signing, signed a closer and made a nice trade with Miami and the Mariners are posed to start a move up in the AL West. In their way will be Oakland and Los Angeles who will fight for the division with the Mariners just on the outside as Texas falls down to fourth. The Rangers aren't as deep as they once were and the rotation and bullpen have many questions. Houston will just try not lose to 100 games again and make up some ground against their division opponents who beat them up all season in 2013.
1. Oakland – Manager Bob Melvin (4th year/11th overall)
For two years in a row the unassuming Oakland A's have captured the AL West over the divisions big brothers the Los Angeles Angels and Texas Rangers. Can they make it three in a row? Biggest changes for the A's are adding FA SP Scott Kazmir to the rotation and bringing in closer Jim Johnson in a trade from Baltimore. They will be solid as they always are and will be a factor again in the AL West.
Home Field: O.com Coliseum; Playing Surface: natural grass; Opened: 1966; Capacity: 35,067
2013 Attendance: 1,809,302 (9th in AL)
Key Players: RF Josh Reddick; LF Yoenis Cespedes; SP Jarrod Parker; 3B Josh Donaldson; SP Sonny Gray
MVP Candidate: LF Yoenis Cespedes
Cy Young Candidate: SP Jarrod Parker
ROY Candidate: none
Key Additions: RP Joe Savery; RP Eric O'Flaherty; INF Nick Punto; OF Craig Gentry; SP Scott Kazmir; RP Jim Johnson; RP Luke Gregerson; RP Fernando Abad; SP Josh Lindblom; SP Drew Pomeranz; RP Philip Humber; OF Billy Burns; OF Sam Fuld
Possible lineup: Crisp CF; Lowrie SS; Donaldson 3B; Cespedes LF; Moss DH; Reddick RF; Callaspo 2B; Jaso C; Barton 1B
Possible rotation: Parker; Gray; Kazmir; Straily; Griffin
Games against Red Sox in 2014: May 2-4; June 19-22
2. Los Angeles – Manager Mike Scoscia (15th year)
For the first time in three offseasons the Angels didn't make a huge free agent splash. In 2012 they signed 1B Albert Pujols and SP C.J. Wilson, in 2013 it was OF Josh Hamilton. This year they've stood pat on the big free agent move preferring to improve through a three way deal with Arizona and Chicago (AL) by moving INF/DH Mark Trumbo to the Diamondbacks for SP Tyler Skaggs and SP Hector Santiago from the White Sox. Does it help them reclaim the west or a playoff spot? This remains to be seen but they finally dealt from strength to improve the rotation. They also got 3B David Freese from St. Louis to help solidify the infield. But are those moves enough?
Home Field: Angel Stadium; Playing Surface: natural grass Opened: 1966; Capacity: 43,250
2013 Attendance: 3,019,505 (4th in AL)
Key Players: 1B Albert Pujols; CF Mike Trout, LF Josh Hamilton; P Jered Weaver; SP C.J. Wilson
MVP Candidate: CF Mike Trout
Cy Young Candidate: P Jered Weaver
ROY Candidate: RP Brian Moran
Key Additions: 3B David Freese; SP Tyler Skaggs; DH Raul Ibanez; SP Hector Santiago; RP Joe Smith; RP Brandon Lyon; RP Brian Moran; INF John McDonald; P Mark Mulder; 1B/DH Carlos Pena; OF Brennan Boesch
Possible lineup: Kendrick 2B; Trout CF; Pujols 1B; Hamilton CF; Freese 3B; Ibanez DH; Iannetta C; Calhoun RF; Aybar SS
Possible rotation: Weaver; Wilson; Richards; Skaggs; Blanton
Games against Red Sox in 2014: August 8-10; August 18-21

3. Seattle – Manager Lloyd McClendon (1st year/6th overall)
Jay-Z delivered All-Star 2B Robinson Cano to Seattle this offseason but it didn't come cheaply, 10 years for $240 M. But Cano does give the M's a lot of things. Gold Glove defense, Silver Slugger offense, legit threat for a batting title and MVP candidate. Now what remains to be seen is can he deliver? Is he the leader, the star who sparks a culture change? With the other additions this offseason of LF Logan Morrison and DH Corey Hart paired with the rotation the Mariners have anchored by Felix Hernandez and Hisashi Iwakuma (to start to season on DL) they should be able to make some noise in the west. They won't get a playoff spot this year but look out they're coming and they're bringing some young arms to back up the two big guns. Highly thought of prospects Taijuan Walker (#1) and James Paxton (#3) are both projected for the rotation. If this team hits…watch out.
Home Field: Safeco Field; Playing Surface: natural grass/retractable roof; Opened: 1999; Capacity: 47,476
2013 Attendance: 1,761,546 (11th in AL)
Key Players: 2B Robinson Cano; SP Felix Hernandez; SP Hisashi Iwakuma; 3B Kyle Seager; LF Logan Morrison
MVP Candidate: 2B Robinson Cano
Cy Young Candidate: SP Felix Hernandez
ROY Candidate: SP Taijuan Walker; SP James Paxton
Key Additions: Mgr. Lloyd McClendon; 2B Robinson Cano; LF Logan Morrison; RP Fernando Rodney; DH Corey Hart; C John Buck; INF Willie Bloomquist; SP Scott Baker
Possible lineup: Ackley CF; Seager 3B; Cano 2B; Hart DH; Morrison LF; Smoak 1B; Saunders RF; Zunino C; Miller SS
Possible rotation: Hernandez; Iwakuma*; Baker; Walker; Paxton; Ramirez
* Iwakuma expected to start season on DL with finger injury. Expect Scott Baker to fill the slot.
Games against Red Sox in 2014: August 22-24; June 23-25

4. Texas – Manager Ron Washington (8th year)
For the second season in a row we watched as the Rangers choked away the AL West. As late as September 4, Texas led the division only to go in the tank and play some of their worst ball all season that saw them lose 13 out of the next 17 and slip to 8.5 GB in just 19 days. Yet they were able to recover enough in the seasons last week to play in game 163 against Tampa Bay that they lost, 5-2. And now here we are in 2014 and Ron Washington still has a job and somewhere in Arlington pigs are flying. There's a lot of questions about Texas especially in the pitching department after losing SP Derek Holland for at least half a season due to a microfracture in his knee in January. To replace Holland they signed SP Tommy Hanson in mid-February to a one-year deal. The top half of the lineup will hit with LF Shin-Soo Choo, 1B Prince Fielder and 3B Adrian Beltre but the bottom half seems a bit weak and the bench is lacking too. I don't see Texas getting to the postseason and that will spell the end of Washington.
Home Field: Globe Life Park in Arlington; Playing Surface: natural grass; Opened: 1994; Capacity: 48,114
2013 Attendance: 3,178,273 (2nd in AL)
Key Players: 1B Prince Fielder; 3B Adrian Beltre; LF Shin-Soo Choo; SS Elvis Andrus; SP Yu Darvish
MVP Candidate: 3B Adrian Beltre
Cy Young Candidate: SP Yu Darvish
ROY Candidate: 2B Jurickson Profar
Key Additions: 1B Prince Fielder; LF Shin-Soo Choo; 2B Jurickson Profar; SP Tommy Hanson; C J.P. Arencibia; OF Mike Choice; RP Chaz Roe; OF Alex Castellanos; IF Andy Parrino
Possible lineup: Choo LF; Andrus SS; Fielder 1B; Beltre 3B; Rios RF; Soto C; Moreland DH; Profar 2B; Martin CF
Possible rotation: Darvish; Harrison; Ogando; Perez; Hanson
Games against Red Sox in 2014: April 7-9; May 9-11

5. Houston – Manager Bo Porter (2nd year)
The Astros moved to AL West in 2013 and not much changed. Sure the players came and went but it didn't add up to very good baseball and they will lose a ton of games again. The team has lost 324 games the last three seasons and you can look for another 100 losses this year. The starting pitching has little MLB experience and they are very weak across the board in all phases' offense, defense, pitching and their bench. The best thing the Astros have going on the field is 2B Jose Altuve. Also I think UConn product George Springer, the Astros #2 prospect, gets a crack in the outfield and makes the most of it. Maybe not out of camp but sometime early in the season. The best thing the Astros have going off the field is the ownership group bringing in Reid Ryan as President last spring and this spring they added his dad Hall of Fame pitcher and former Ranger President Nolan Ryan as an executive advisor to the owner, president and GM. It surely can't hurt having the Ryan's in positions of influence.
Home Field: Minute Maid Park; Playing Surface: natural grass/retractable roof; Opened: 2000; Capacity: 42,060
2013 Attendance:
Key Players: 2B Jose Altuve; SP Scott Feldman; C Jason Castro; 3B Matt Dominguez
MVP Candidate: 2B Jose Altuve
Cy Young Candidate: SP Scott Feldman
ROY Candidate: OF George Springer
Key Additions: Executive Advisor Nolan Ryan; CF Dexter Fowler; IF Cesar Izturis; SP Scott Feldman; RP Jesse Crain RP Matt Albers; RP Chad Qualls; OF George Springer
Possible lineup: Fowler CF; Altuve 2B; Castro C; Carter 1B; Domiguez 3B; Hoes DH; Springer RF; Grossman LF; Villar SS
Possible rotation: Feldman; Cosart; Oberholtzer; Peacock; Clemens
Games against Red Sox in 2014: August 14-17; July 11-13
Tomorrow: The National League Central
photo credits: getty images; getty images; getty images, getty images, getty images