Welcome to the Gigantic Sox and Dawgs 2013 MLB preview. Over the next few days you will get a team by team look at its key players, new faces, their potential MVP, Cy Young and Rookie of the Year candidates, their possible starting lineup and rotation as well as a quick summary.
We will also select a MVP candidate and Cy Young candidate for each team no matter what their predicted team outcome is.
This preview was sculpted over the off season with some mild tweaking as we went along prior to publication. It comes from a culmination of reading many hours of baseball research.
I hope you enjoy this look at the upcoming season. I know everyone will not agree with me and that's fine put it in the comments or hit me up on Twitter or via email. I can assure you I'll most likely have an argument for each and every objection that you could possibly raise.
Yesterday we looked at the NL Central, Sunday was the NL West, Monday was the AL West and today it's the AL Central.
To continue reading, click on the read more button below if you're on the home page.
American League Central
Detroit is the class of the division and has been the last couple years and will be again in 2013. But as Minnesota flounders and Chicago isn't what it once was, we should start to see the resurgence in Kansas City and Cleveland. There is no time like the present for the Royals to make a jump and contend this season.

1. Detroit – Manager Jim Leyland (8th year/22nd overall)
The Tigers are on a mission and that is to get to the World Series and win. The Lineup 2-3-4-5 is absolutely terrifying with the return of DH Victor Martinez and addition of Torii Hunter to go along with Prince Fielder and Triple Crown winner Miguel Cabrera. The starting pitching and offense are solid and will make up for the lack of depth in the bullpen and the average defense. Looks like Leyland is looking at rookie Bruce Rondon to close and he will be an important piece in solidifying the back end of the pen.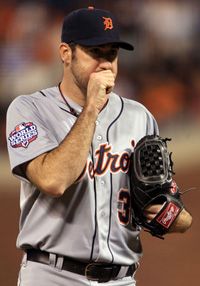 Home Field: Comerica Park
Key Players: 1B Prince Fielder; 3B Miguel Cabrera; C Alex Avila; P Justin Verlander; RP Bruce Rondon
MVP Candidate: 1B Prince Fielder and 3B Miguel Cabrera
Cy Young Candidate: P Justin Verlander
ROY Candidate: RP Bruce Rondon
Key Additions: OF Torii Hunter; P Kyle Lobstein; 2B Jeff Kobernus; C Ramon Cabrera
Possible lineup: Jackson CF; Hunter RF; Cabrera 3B; Fielder 1B; V. Martinez DH; Dirks LF; Peralta SS; Avila C; Infante 2B
Possible rotation: Verlander; Fister; Scherzer; Sanchez; Porcello

2. Kansas City – Manager Ned Yost (4th year/10th overall)
The Royals are making another jump and if the rest of the division isn't careful this could be a team that will sneak up on you. Feeling like they had a good lineup but needed pitching they made a deal with Tampa Bay for starters Wade Davis and James Shields to improve in this area. They are on a win now mission with young stars and budding pitching staff but the arms need to not only hold up but produce results.
Home Field: Kauffman Stadium
Key Players: 1B Eric Hosmer; 3B Mike Moustakas; DH Billy Butler; P James Shields; P Wade Davis
MVP Candidate: 1B Eric Hosmer
Cy Young Candidate: P James Shields
ROY Candidate: P Yordano Ventura
Key Additions: SP James Shields; SP Wade Davis; C George Kottaras; RP Guillermo Moscoso; SP Ervin Santana; RP Chris Volstad
Possible lineup: Cain CF; Escobar SS; Gordon LF; Butler DH; Moustakas 3B; Perez C; Hosmer 1B; Francouer RF; Getz 2B
Possible Rotation: Shields; Guthrie; Davis; Santana; Chen

3. Cleveland – Manager Terry Francona (1st year/13th overall)
The Indians made a dugout change bringing in former Red Sox and Phillies skipper Terry Francona as the new pilot. Francona doesn't need to win now but he needs to see improvement. He has a team that is strong up the middle with C Carlos Santana, 2B Jason Kipnis, SS Asdrubal Cabrera and newly acquired CF Michael Bourn, but lacks pitching depth especially in the rotation. He could also use some offensive help and hopes that bringing in Bourn, Nick Swisher and Mark Reynolds will help in that department.
Home Field: Progressive Field
Key Players: C Carlos Santana; SS Asdrubal Cabrera; CF Michael Bourn; 2B Jason Kipnis; P Justin Masterson
MVP Candidate: C Carlos Santana
Cy Young Candidate: P Justin Masterson
ROY Candidate: SP Trevor Bauer
Key Additions: Mgr Terry Francona; RF Nick Swisher; 1B Mark Reynolds INF/DH Mike Aviles; OF Drew Stubbs; SP Trevor Bauer; SP Brett Myers; RP Matt Albers; OF Ben Francisco; P Scott Kazmir; DH Jason Giambi; SP Daisuke Matsuzaka; CF Michael Bourn
Possible lineup: Bourn CF; Brantley LF; Cabrera SS; Swisher 1B; Santana C; Kipnis 2B; Reynolds DH; Chisenhall 3B; Stubbs RF
Possible rotation: Masterson; Jimenez; Myers; McAllister; Bauer

4. Chicago – Manager Robin Ventura (2nd year)
The biggest thing for the White Sox to overcome is the fact the have a lot of aging players in key spots. Jake Peavy (32); Paul Konerko (37); Alex Rios (32) and Adam Dunn (33) are among them and last year this team faded horribly down the stretch. The good part of this team is the emergence of Dayan Viciedo and Alejandro De Aza plus that good bullpen.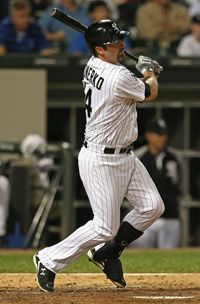 Home Field: U.S. Cellular Field
Key Players: LF Dayan Viciedo; SS Alexei Ramirez, 1B Paul Konerko; DH Adam Dunn; P Chris Sale
MVP Candidate: LF Dayan Viciedo
Cy Young Candidate: P Chris Sale
ROY Candidate: OF Trayce Thompson
Key Additions: 3B Jeff Keppinger; 1B Lars Anderson; RP Matt Lindstrom; RP Zach Stewart
Possible lineup: De Aza CF; Keppinger 3B; Dunn DH; Konerko 1B; Rios RF; Viciedo LF; Ramirez SS; Flowers C; Beckham 2B
Possible rotation: Sale; Peavy; Danks; Floyd; Quintana

5. Minnesota – Manager Ron Gardenhire (12th year)
They had a healthy return of 1B Justin Morneau and C Joe Mauer in 2012 and they need to have that repeated. The pair also need to rediscover their power as Morneau last hit 20+ HR in 2009 and Mauer has only 22 HRs in last 3 years after hitting 28 in '09. This team is against it because the pitching will really decide their fate and it doesn't look good from here. In 2012 the starting pitching was the worst in baseball and there looks to be very little recovery there and the bullpen is just weak from top to bottom. They need a lot of help but it's not coming this season.
Home Field: Target Field
Key Players: C Joe Mauer; 1B Justin Morneau; DH Ryan Doumit; P Vance Worley; RF Josh Willingham
MVP Candidate: C Joe Mauer and 1B Justin Morneau
Cy Young Candidate: P Vance Worley
ROY Candidate: P Kyle Gibson; OF Aaron Hicks
Key Additions: P Kevin Correia; P Vance Worley: P Mike Pelfrey*; IF Tommy Field
Possible lineup: Mastroianni CF; Carroll 2B; Mauer C; Willingham LF; Morneau 1B; Doumit DH; Parmelee RF; Plouffe; Flourimon SS
Possible rotation: Worley; Correia; Hendriks; Duensing; Blackburn*
* Pelfrey had Tommy John surgery in May 2012 and will most likely miss start of the season and Nick Blackburn is a candidate to replace him until his return.
Tomorrow, in Day 5, we will preview the NL East.
Follow Steve on Twitter @SteveMichaelsII
photo credits: getty images, getty images, getty images, getty images, getty images