Welcome to the Gigantic Sox and Dawgs 2014 MLB preview. Over the next few days you will get a team by team look at its key players, new faces, their potential MVP, Cy Young and Rookie of the Year candidates, their possible starting lineup and rotation as well as a quick summary.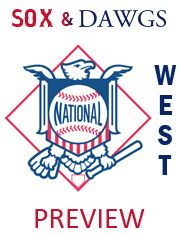 We will also select a MVP candidate and Cy Young candidate for each team no matter what their predicted team outcome is.
Also added this year is some home stadium information along with dates the teams will play against the Boston Red Sox. The red shaded games are at Fenway; the blue shaded games are road games.
This preview was sculpted over the off season with some mild tweaking as we went along prior to publication. It comes from a culmination of reading many hours of baseball research.
I hope you enjoy this look at the upcoming season.
It was a lot of work but a lot of fun compiling this preview and starting today we will take a look at the National League West. The rest of the schedule follows with a different division being profiled each day and the final day will bring you the winners, award selections and a list of managers who have a lot to prove in 2014 if they want to be on the bench in 2015.
Tomorrow you will get the American League West preview followed by the NL Central, AL Central, NL East and AL East.
To continue reading, click on the read more button below if you're on the home page.
National League West
Last year it looked like the Dodgers were drowning in their money then Yasiel Puig happened both for the good and the bad. No matter what he did on or off the field it impacted and seemingly motivated his teammates who played the best baseball in a 50 game stretch in MLB history and it led them to NL West title. While the Dodgers roared the rest of the division cowered. The Diamondbacks were the only team that was even close, while the Giants, Padres and Rockies were non-factors. Look for the Dodgers to repeat, the Giants to make a comeback and the Diamondbacks to contend in 2014.

1. Los Angeles – Manager Don Mattingly (4th year)
Off to a subpar start with talk of the manager being relieved of his duties things had to change in LA. On June 22 they were 9.5 GB and 11 games under .500. They brought in RF Yasiel Puig who energized the team and fans and in one month they were in 1st place by a 0.5 game and were 4 games over .500. At the All-Star break they were 47-47 from that point on they played .662 ball and ran away with the NL West even though they were sub .500 against the division. The streak saved Don Mattingly's job and kept a lot of players in LA who may have been shipped elsewhere. This offseason they locked up defending NL CYA SP Clayton Kershaw (7/214) and brought in RP Jamey Wright and RP Chris Perez for bullpen depth and SP's Paul Maholm and Dan Haren to round out the rotation. This team is loaded and if they play anywhere near like 2013 they will run away and hide.
Home Field: Dodger Stadium; Playing Surface: natural grass; Opened: 1962; Capacity: 56,000
2013 Attendance: 3,743,527 (1st in NL)
Key Players: 1B Adrian Gonzalez; SS Hanley Ramirez; CF Matt Kemp; SP Clayton Kershaw; SP Zack Greinke
MVP Candidate: 1B Adrian Gonzalez
Cy Young Candidate: SP Clayton Kershaw
ROY Candidate: 2B Alexander Guerrero
Key Additions: SP Paul Maholm; RP Chris Perez; RP Jamey Wright; 2B Alexander Guerrero; SP Dan Haren; OF Mike Baxter; IF Chone Figgins; OF Jeremy Hazelbaker; SS Erisbel Arruebarrena
Possible lineup: Crawford LF; Puig RF; Gonzalez 1B; Ramirez SS; Kemp CF; Uribe 3B; Ellis C; Guerrero 2B
Possible rotation: Kershaw; Greinke; Ryu; Haren; Maholm
Games against Red Sox in 2014: None
2. San Francisco – Manager Bruce Bochy (8th year/20th overall)
2013 started out okay in San Francisco the Giants got out to a small division lead only to have the wheels come off by mid-May. They ended up 10 games below .500 and 16 GB of the Los Angeles Dodgers. So what have the Giants done to correct this downward spiral of '13? They signed FA SP Tim Hudson and FA IF/OF Michael Morse and didn't bring back Andres Torres, Chad Gaudin and Barry Zito. Other than that they've kind of stood pat hoping last season was an aberration and not a trend.
Home Field: AT&T Park; Playing Surface: natural grass; Opened: 2000; Capacity: 41,915
2013 Attendance: 3,369,106 (3rd in NL)
Key Players: C Buster Posey; RF Hunter Pence; SS Brandon Crawford; SP Matt Cain; RP Sergio Romo
MVP Candidate: C Buster Posey
Cy Young Candidate: SP Matt Cain
ROY Candidate: RP Heath Hembree
Key Additions: SP Tim Hudson; LF Michael Morse; C Guillermo Quiroz; INF Brandon Hicks; RP David Huff
Possible lineup: Pagan CF; Scutaro 2B; Belt 1B; Posey C; Pence RF; Sandoval 3B; Morse LF; Crawford SS
Possible rotation: Bumgarner; Cain; Lincecum; Hudson; Volgelsong
Games against Red Sox in 2014: None

3. Arizona – Manager Kirk Gibson (5th year)
The Diamondbacks need to make the post season or Kirk Gibson's run could be over in the desert. Since taking over the team has finished 5th, 1st, 3rd and 2nd in NL West and had one playoff series, a 5-game loss to Milwaukee in 2011. Gone are young hopefuls SP Tyler Skaggs and CF Adam Eaton both dealt as part of a 3-way trade for LF Mark Trumbo. This could be a good team and will challenge for a playoff spot along with Dodgers and the Giants. It's up to Gibson to mold them and get them on a playoff run.
Home Field: Chase Field Playing Surface: natural grass/retractable roof; Opened: 1998; Capacity: 48,633
2013 Attendance: 2,134,795 (14th in NL)
Key Players: 3B Martin Prado; 1B Paul Goldschmidt; LF Mark Trumbo; CF Gerardo Parra; SP Patrick Corbin
MVP Candidate: 1B Paul Goldschmidt
Cy Young Candidate: SP Patrick Corbin
ROY Candidate: SP Archie Bradley; SS Didi Gregorius
Key Additions: LF Mark Trumbo; SP Bronson Arroyo; C Henry Blanco; IF/OF Matt Tuiasosopo; RP Addison Reed; SP Alex Sanabia; SS Didi Gregorius; RP Oliver Perez
Possible lineup: Parra CF; Hill 2B; M. Montero C; Goldschmidt 1B; Trumbo LF; Ross RF; Prado 3B; Gregorius SS
Possible rotation: Corbin; McCarthy; Arroyo; Cahill; Delgado
Games against Red Sox in 2014: None
4. San Diego – Manager Bud Black (8th year)
It's a known fact that the Padres struggle to score runs and working half your time in a pitchers park doesn't help matter much. Even with a winning record at Petco in 2013 they were still outscored in their own park. With the exception of September they were outscored every month of the season and as the season progressed the differential got worse. Then in September they came around. They were actually 34-32 after the All-Star break despite being outscored. They were expecting SP Corey Luebke back but he suffered another injury in February and will have his second Tommy John surgery. The injury could help top prospect Casey Kelly get into the five-man rotation out of camp.
Home Field: Petco Park; Playing Surface: natural grass; Opened: 2004 Capacity: 42,524
2013 Attendance: 2,166,691 (12th in NL)
Key Players: 3B Chase Headley; 1B Yonder Alonso; SP Ian Kennedy; RP Huston Street; LF Carlos Quentin
MVP Candidate: 3B Chase Headley
Cy Young Candidate: SP Ian Kennedy
ROY Candidate: SP Casey Kelly
Key Additions: SP Josh Johnson; RF Seth Smith; RP Alex Torres; RP Jesse Hahn; RP Joaquin Benoit; IF/OF Xavier Nady
Possible lineup: Cabrera SS; Venable CF; Headley 3B; Quentin LF; Alonso 1B; Gyorko 2B; Smith RF; Hunley C
Possible rotation: Kennedy; Cashner; Johnson; Ross; Kelly
Games against Red Sox in 2014: None
5. Colorado – Manager Walt Weiss (2nd year)
Inconsistency lead to a last place finish for Colorado in 2013 after a 13-4 start they struggled to get near .500 at the break. They were 28-38 from there on out and finished 20 GB the Dodgers in Walt Weiss' first season as bench boss. They need to improve on the road where they had a nearly MINUS 100 run differential and were 23 games under .500. Gone is Todd Helton who retired and now this is Troy Tulowitzki's team as he assumes the mantle as face of the franchise. They've added 1B Justin Morneau, 2 starting pitchers to the rotation and strengthened the bullpen in an attempt to upgrade.
Home Field: Coors Field; Playing Surface: natural grass; Opened: 1995; Capacity: 50,480
2013 Attendance: 2,793,828 (5th in NL)
Key Players: LF Carlos Gonzalez; SS Troy Tulowitzki; RF Michael Cuddyer; 1B Justin Morneau; SP Jorge De La Rosa
MVP Candidate: LF Carlos Gonzalez
Cy Young Candidate: SP Jorge De La Rosa
ROY Candidate: SP Jonathan Gray; SP Eddie Butler
Key Additions: 1B Justin Morneau; OF Drew Stubbs; OF Brandon Barnes; SP Brett Anderson; SP Franklin Morales; RP LaTroy Hawkins; RP Boone Logan; C Michael McKenry; IF Paul Janish
Possible lineup: Dickerson CF; Arenado 3B; Gonzalez LF; Tulowitzki SS; Cuddyer RF; Morneau 1B; Rosario C; Rutledge 2B
Possible rotation: De La Rosa; Chacin; Anderson; Chatwood; Morales
Games against Red Sox in 2014: None
Tomorrow: The American League West
photo credits: getty images; getty images; getty images, getty images, getty images