Jerry Remy's Sports Bar & Grill Officially Opens Doors
The RemDawg's New Hotspot Opens Behind Fenway Park
BOSTON, MA (March 15, 2010) – Jerry Remy's Sports Bar & Grill, named after former All-Star Boston Red Sox second baseman and current NESN color analyst Jerry Remy,  will officially open their doors for full service this afternoon. The bar was open limited hours over the weekend, and debuts their restaurant menu today. The new Boston restaurant will offer area diners, passionate sports fans and nightlife aficionados an unmatched experience. A major part of that experience will derive from a culinary team and program designed to be a homerun for patrons and food lovers.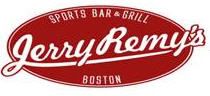 Just in time for the March Madness crowd, today marks the soft opening for the restaurant with the Grand Opening scheduled for early April. Normal business hours are 11:00 am to 2:00 am.
Food and entertainment will be the primary focus of Jerry Remy's Sports Bar & Grill, highlighted by the most engaging audio/video experience in Boston, including two of the largest high definition screens anywhere complimented by a comfortable ambiance and unpretentious professional service. The eating and sports viewing experience will be unrivaled.
"So many people have worked extremely hard to help make this happen, and it is very exciting to see it all come together," Jerry Remy said.  "We've created a menu that will excite everyone, whether coming in to watch a game or craving quality comfort food in a fun environment."
Two-time National James Beard Winner, Chef Todd Hall, will serve as the restaurant's Consulting Chef. Chef Jacqueline Kelly, formerly of Executive Chef at Bravo Café at the Museum of Fine Arts in Boston, will be Executive Chef, lending her extensive background which also includes working as Chef De Cuisine under Chef Ed Brown at The Patina Group in New York City.
High cocktail tables and plush Hollywood booths hug the exposed brick wall adorned with bezel-less flat screen plasmas and the mahogany bar offers seating at the bar below ten 60" HD flat screens and two 6 ½  x 11foot HD screens. The opposite side of the restaurant features oversized windows that look out at Fenway Park. The front and back of the restaurant feature near floor to ceiling windows that open the building to expose patrons to the game day pedestrian traffic and events at Fenway Park.
Jerry Remy's Sports Bar & Grill, located at 1265 Boylston Street, blends the traditional, casual, comfort food aspect of a neighborhood bar with modern flair created with fresh ingredients.  Upon completion in mid-March, the restaurant will service a capacity of 360 patrons with a top tier of culinary experts making food fresh from scratch daily. The restaurant will also feature a 45-seat outdoor café, open air dining, twenty varieties of draft beer, and sweeping views of Fenway Park.  For more information visit www.jerryremys.com