Welcome to Carl Everett's Crazy Hall of Fame. You have to be absolutely bat shit crazy to get inducted. The offenses must have occurred on the field of play so arrests for DUI, dog fighting and other things aren't eligible.
In April of 2008, Ted Bauer of ESPN the Magazine called Carl Everett's Crazy Hall of Fame a "great, thorough list of all meltdowns and tirades in the modern era. " Thanks Ted!
Here are the athletes and coaches so honored as Charter Members of the Hall:
Carl Everett – Well you had to figure the guy it's named after is in it right? Carl head butted and basically went mental on an innocent umpire while arguing about his foot position in the batter's box.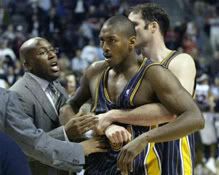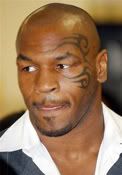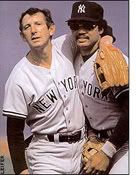 Ron Artest – You could have almost named it after him instead. Maybe someday it will be the Carl Everett/Ron Artest Crazy Hall of Fame but for now he just has to be happy with being inducted for his part in a brawl in Detroit in which players went into the stands.
Mike Tyson – Yet another bat shit crazy heavyweight. The guy who has an effin' face tattoo bit part of Evander Holyfield's ear off during a fight. I'm surprised he didn't try to kill Jimmy Kimmel in shower scene for the 2007 ESPY Awards. The next inductee is actually a duo.
Billy Martin and Reggie Jackson – Martin pulled Jackson off the field in the middle of an inning for "dogging it" and they practically came to blows in the dugout on national television. Only Yogi Berra and Elston Howard prevented a beating. Personally I think Martin would have killed Reggie.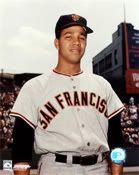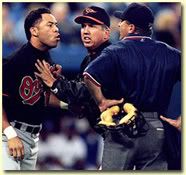 Juan Marichal – Took a bat to catcher John Roseboro's head when he thought Roseboro's return throws to the mound were buzzing his head.
Todd Bertuzzi – Nearly killed Steve Moore during an on ice altercation in which he hunted him down, hit him from behind and drove his head into the ice as he beat him.
Roberto Alomar – Spit in the face of an umpire after being ejected for arguing balls and strikes
.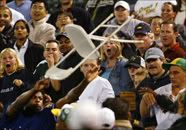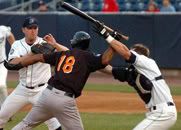 Frank Francisco – Decided he couldn't take the heckling in the bullpen from Oakland A's fans and beat a woman with a folding chair.
Albert Haynesworth – Stomped on the unhelmeted head and face of Andre Gurode while he was laying on the ground defenseless.
Jose Offerman – Attacked pitcher Matt Beech and catcher John Nathans with a bat on the mound after he was hit by a pitch during a minor league game. Offerman joins rare company with a double entry as he punched an umpire while serving as manager of a Dominican winter league team during January of 2010. The punch got him thrown out of the Dominican winter league for life.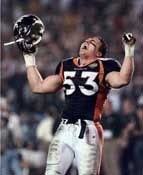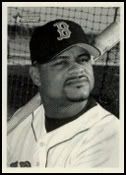 Carlos Zambrano and Michael Barrett (Courtesy of Texy) – Our second dual induction. After getting hammered during an inning of a game at Wrigley Field Zambrano decided to take his fury out on Barrett's pitch calling. Barrett then told "Z" to look at the scoreboard because he was the one throwing the pitches. Zambrano took offense and began a beat down of his catcher in the dugout. After they were separated they somehow ended up unsupervised in the clubhouse where Zambrano once again kicked his catchers ass requiring stitches. Shortly there after Barrett was exiled to San Diego to cuddle up with David Wells.
Bill Romanowski – The Connecticut native and former NFL player has been involved in numerous on-field incidents that qualify him as totally bat shit crazy. Among them he once kicked Larry Centers in the head during a game earning an ejection and a fine. He spit in the face of wide receiver J.J. Stokes in response to Stokes' taunting him. And he was sued by a teammate, Marcus Williams, for punching him in the face during practice and breaking his eye socket causing Williams to retire prematurely.
Izzy Alcantara (Courtesy of Ian) – After being brushed aside by pitch in a Triple A game, Izzy went Jet Li on the catcher kicking him in the face and then charged the mound only to have no one home. he then ran around like a mad man as the benches emptied with his fists cocked looking for a partner.
Serena Williams – Threatened a line judge who called her for a foot fault at the 2009 US Open in Flushing Meadows, NY in her semifinal match against Kim Cljisters. Williams upon being called for the foot fault said "I feel like taking this ball and jamming it down your (expletive) throat". She then continued to argue her case with other officials who gave her a second fault which caused her to lose the match. After going all ghetto in which earlier between sets she smashed her racquet, Williams denied threatening the judge and declared she never had a fight in her life.
These people have gained Regular Membership in the Hall:
The Class of 2007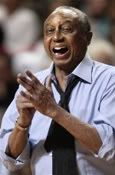 John Cheney – Actually told John Calipari at a post game press conference he was going to kill him. Cheney flipped out over the chippiness of the NCAA game and walked into Calipari's press conference to threaten him. I think UMass and New Jersey Nets fans wish Cheney had followed through.
Marty McSorley – Took a hockey stick to the side of Donald Brashear's head nearly killing Brashear and earning an assault conviction.
David Wells – Known for his confrontations with umpires and calling out Bud Selig only to run home to mommy like a lil bitch afer being spanked. Wells had two memorable confrontations with umpires. First, he was thrown out by second base umpire Chris Guccione for saying some bad words that Guccione felt was directed at the home plate umpire even though Wells back was to the plate. Wells went ballistic upon being thrown out. Second incident occurred after Wells had words for plate umpire Wally Bell. He was thrown out for asking about the strike zone and proceded to hurl the baseball at the backstop.
George Bell (Courtesy of Texy) – Nominated because he was the guy that got hammered by a Mo Vaughn blindside when he charged Aaron Sele on the mound. But he really belongs here because of his 1985 incident in which after being hit by a pitch he charged the mound and took a flying karate kick at Bruce Kison. He missed though as Kison stepped aside and when Bell fell to the ground Kison hammered him. I think if we look somewhere it's possible that Alcantara listed Bell as one of his heroes.
Bill Madlock – Suspended for an entire Eastern League season and later reduced to two weeks for swinging youth baseball bats at opposing players.
Kevin Mitchell – Was suspended for 9 games after punching the opposing team's owner in the mouth after a Western League brawl. As a manager in the same league was suspended for 7 games for punching the opposition's third base coach for stealing signs
.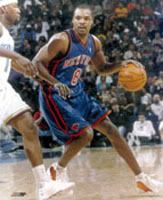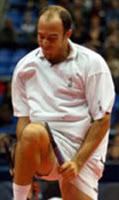 Latrell Sprewell (Courtesy of Ken) – Put a chokehold on coach P.J. Carlesimo and thottled him during a practice session and was later traded.
Chan Ho Park (Courtesy of Glenn) – After twice hitting Randy Velarde, Park while hitting bunted and was tagged hard in the chest by Tim Belcher. Park took exception and kicked Belcher like Bruce Lee. Belcher knocked Park to the ground and kicked his ass. Park was suspended for 7 games.
Jeff Tarango (Courtesy of Ben) – In 1995 at Wimbledon, Tarango melted down over several bad referee's calls and refused to continue. Tarango shouted: "That's it, I'm not playing", and turned to Bruno Rebeuh and yelled: "You are one of the most corrupt officials in the game and you cannot get away with this". After having his appeal to have the umpire remove denied he packed up and left the court. His wife, Benedicte, then walked up to Rebeuh and slapped him twice in the face. He was fined $63,000 and suspended for two Grand Slam events, including the following years Wimbledon.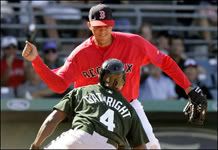 Delmon Young (Courtesy of Ian) – While playing in the Triple A International League, Young was ejected for arguing a called third strike in the first inning. Young took his time leaving the batters box and flipped his bat underhanded end over end and it struck the home plate umpire. Young was given a 50-game suspension, the longest in the history of the then 123-year old league.
Julian Tavarez (Courtesy of JB) – Where do you start with a guy nicknamed Yo-Yo? Do you start with the 2006 Grapefruit League game when he punched Joey Gathright? The 1996 body slamming of an umpire? 1998 when he threw his glove down and then got into a chest bumping incident with the home plate ump? Taking a flying kick at former teammate Russ Davis during a bench clearing brawl? Calling the fans in San Francisco assholes and faggots? Generating a bench clearing for buzzing Jeff Bagwell's head during the 2004 NLCS? Or coming out of the bullpen to escalate a fight that had calmed down? Which ever one you use one thing is certain he maybe bat shit crazy but he is cuddly too. Just ask Manny.
Chris Simon (Courtesy of Mary) – On the third anniversary of the Bertuzzi incident, Simon in retalliation for an earlier hit by Ryan Hollweg, skated up to Hollweg and two handed him with a stick to the face. Simon was ejected and suspended for 25 games. Then in December of 2007 he used his skate as a weapon and stepped on a player who was prone on the ice attempting to injury him. He was suspended for the league maximum of 30 games.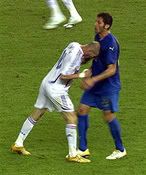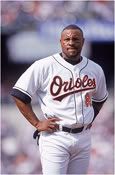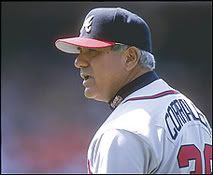 Zinedine Zidane (Courtesy of Ian) – Ejected from the 2006 World Cup Final after head butting Marco Materazzi after Materazzi told him "I prefer the whore who is your sister".
Albert Belle (Courtesy of Doug) – Once called Mike Tyson in cleats, Belle upon being taunted with "Hey Joey there's a keg party at my place after the game, come over". Belle, was so incensed after having spent time in alcohol rehab, gunned a baseball at the heckler and hit him in the chest so hard it left stitch marks from the baseball. He was suspended for one week.
Pat Corrales (Courtesy of Doug) – In 1986 Corrales charged the mound and attempted to kick Dave Stewart but ended up getting his ass kicked by
"Smoke".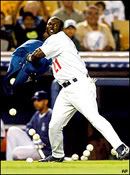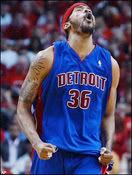 Josh Bard – The Padres catcher stormed from the dugout and got in the face of the entire umpiring crew and bumped an ump after he had a homerun ruled a groundrule double because the umpiring crew made the incorrect call and failed to get it right. Bard was ejected and got a thee game suspension.
Milton Bradley – One of the most unstable athletes in any sport. We were introduced to the "Game Boy" when he after having a beer bottle thrown at him in Dodger Stadium he walked over to the offending fan and in front of teammates and the umpires he gunned the bottle at the fan. He also has gotten into a dugout face-to-face with teammate Jeff Kent and after being ejected once threw an entire bag of baseballs at umpire Terry Craft.
Rasheed Wallace – Also another unstable kind of guy, was once fined $10,000 and suspended two games for throwing the towel in the face of a referee. has also had numerous other ref incidents as well as encounters with teammates and opponents.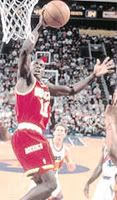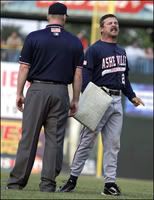 John McEnroe – Once one of the world's very best tennis players but learned to take his on court antics to a new level with the way he continually berated umpires. McEnroe is not inducted for any on singular incident but his entire body of work over his career.
Vernon Maxwell – The man earned the nickname "Mad Max" that should be all you really need to know. Has thrown free weights at teammates, ice and gum at refs and once went into the stands to beat a heckler.
Joe Mikulik – While manaing the Ashville Tourists Mikulik had a big league meltdown that earned him a 7-game suspension and $1,000 fine. Upset that an umpire called a runner safe, Mikulik slid head first into second and pulled up the bag and threw it into rightfield. But he wasn't done. He also threw a rosin bag, several bats and blocked the umpires room in addition to beating a few watercoolers and cleaning off homeplate.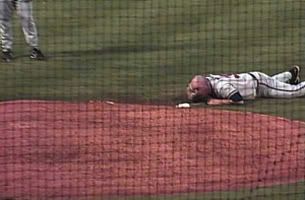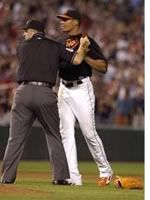 Phillip Wellman – Usually when you talk about a Braves manager and ejections it's Bobby Cox but the Double A Braves manager certainly is entertaining. He earned an ejection in June of 2007, when tossed third base, covered home plate in dirt, crawled through the infield on his stomach and pretended to pull the pin on a rosin bag grenade as he heaved toward home plate and then left via a gate in the outfield fence.
Daniel Cabrera – The Baltimore Orioles pitcher gets inducted for his actions on September 7, 2007 against the Boston Red Sox. Cabrera got pissed at Coco Crisp for attempting to bunt for a hit in a 2-0 game. Crisp got all the way to third and with Dustin Pedroia hitting he stated to dance as if he was going to steal home. In mid-windup Cabrera stopped and was called for a balk scoring Crisp. The very next pitch he tried to hit Pedroia in the head with a fastball and was ejected but not until after the benches and bullpens cleared and Cabrera decided to reprise the tough guy role of Derek Lee where he calls for someone but there's like 50 guys between them. Welcome aboard, Daniel Cabrera you unstable freak. You deserve it. The most entertaining part of all this was fellow Hall of Famer Julian Tavarez playing peace maker and talking to Cabrera to try to calm him down.
The Class of 2008




The Oregon Duck who beat the crap out of the Houston Cougar on the sideline after the Cougar decided to do pushups after a Houston touchdown is the only member of the regular membership category as he garnered 71% of the vote.
The Veteran's Wing of the Hall has four new members they are:
Don Zimmer, (71%) the senior citizen, is nominated for charging at Pedro Martinez in a bench clearing brawl between the Red Sox and Yankees and being grabbed by his gerbil ears and hurled to the ground by possibly the best pitcher in Red Sox history.
Jim Calhoun (57%) for his overall achievements in the way he deals with the officials and how he treats his players on the sideline after an error. Plus there will always be his "I fucked up" tirade at media regarding the recruitment of Ryan Gomes, a true classic.
Bobby Knight (57%) for his overall achievements of media and player berating. Some of the greatest Knight moments are post game press conferences especially come tournament time. He was Latrell Spreewell before Latrell was and of course the defining moment may possibly the throwing of the chair at the free throw shooter.
Robin Ventura (57%) for charging Hall of Fame pitcher Nolan Ryan after the "Express" drilled him with a pitch. The fight wasn't very fair as Ryan, also a cattle rancher, put Ventura in a headlock and kicked his ever loving ass right on the mound as the benches emptied.
The Class of 2009/2010:
Bill Lee: It's not often, in fact never, have we be able to say that one of the enshrinee's to the Carl Everett Crazy Hall of Fame has run for President of the United States and has been a popular author, public speaker and sucessful business man but we can say that about former Boston Red Sox and Montreal Expos pitcher Bill Lee. Lee who is known for his support and use of marijuana claiming it made him immune to the Boston bus fumes while he jogged to Fenway, his own "Leephus" pitch, his criticism of management (he named Don Zimmer "The Gerbil") or his offbeat politics, is just as well known for being the center piece in one of the most famous Red Sox-Yankees onfield fights as well as once threatening to the bite the ear off of an umpire during a game. And just for good measure, the late Warren Zevon once wrote a song about him called "Bill Lee".
Elizabeth Lambert: In November of 2009 University of New Mexico Lobos women's soccer player Elizabeth Lambert was suspended by her school and the the Mountain West Conference,the league in which they play, for her actions during the league tournament game against Brigham Young University in which she punched players in the back, the face or in he back of their head, pulled the hair of an opponent while yanking her to the ground, kicked an opponnent while she was on the ground, pushed another to ground and had several cases in which she tripped multiple Cougar players. She was reportedly upset after being elbowed in the ribs by a BYU player and then she became a one person wrecking crew not seen since Sly Stallone in the movie "First Blood".
Brittney Griner: On March 3, 2010 Baylor Bears freshman women' basketball sensation Brittney Griner was ejected and suspected for two games (one by Baylor, one by the NCAA) after thowing a closed fist punch to the face of Texas Tech's Jordan Barncastle breaking her nose in retaliation for a foul.
LeGarette Blount: No sooner had the Oregon Ducks lost to Boise State in the 2009 season opener than Oregon running back LeGarrette Blount created a firestorm when he punched Broncos player Byron Hout after seemingly being provoked. Blout, who was walking off the field, was approached by Hout who grabbed him and said something prompting BSU coach Chris Peterson to restrain and yell at Hout. While this was happening Blount leveled Hout with a punch to the chin. Then while leaving the playing field he tried to enter the stands to tangle with the Boise State fans but was stopped by teammates and security. This prompted Oregon AD Mike Bellotti and head football coach Chip Kelly to suspend Blount for the entire season. He was reinstated to the team after 10 games and played sparingly in a season in which Oregon played in the Rose Bowl.
Class of 2011
Tonya Harding – She hired her ex-husband and a thug to whack fellow skater and Olympic hopeful Nancy Kerrigan's knee. Kerrigan was hurt, but did get compete in the Olympics as did Harding, who had the famous crying and pointingto her skate laces incident. Once it was found out she was a part of the hit, the Ice Skating Federation banned her from life so now she boxes and appears on Tru TV.
Woody Hayes – The former Ohio State football coach actually ended up losing his job as the Top Buckeye in 1978 after he punched Clemson's Charlie Bauman on the OSU sideline after an interception in the Gator Bowl.
This wasn't the first time Hayes had a run in, he went crazy on referee Jerry Markbreit in 1971 during the Michigan game at Ann Arbor when a pass interference call was missed. Hayes stormed onto the field, launched a profanity-laced tirade at Markbreit and tore up the sideline markers, receiving a 15-yard unsportsmanlike conduct penalty. A further enraged Hayes then proceeded to throw the penalty flag into the crowd, began destroying the yard markers and threw the first-down marker into the ground like a javelin before being restrained by Buckeyes team officials; Hayes was then assessed an additional 15-yard penalty and ejected. Hayes was suspended for one game and fined $1000, which in 1978 money was a lot of dough.
Now onto the Regular Membership category and this year it's a large one with a lot of hockey, both players, teams and a dad, a Turkish soccer star, two NFL players, a NCAA basketball player and our first High School Hall Member.
Ronald Syna – a Maitland FL hockey dad was upset that his son got roughed up in a hockey game amongst a bunch of 15 year olds in 2010. After the game the elder Syna sought out the offender, Calvin Dickinson who had been penalized for the rough play, and according to witnesses he pushed, threatened, cussed and repeatedly punched the yute. Good thing the guy wasn't John Gotti the poor kid would be in the river.
Umit Ozat – A Turkish Club soccer coach decked a fan when he ran towards the Manisaspor coach during a game in January 2011. The rogue fan sprinted onto the field after Ankaragucu equalised shortly before time expired. Ozat clearly wasn't up for any of the supporters joining him in celebrating and when one young fan tried to rush onto the field, Ozat dropped him. A powerful right hook floored the young man as chaos erupted with a brawl kicking off on the field as players were trying to resume play.
Herb Pope – The Seton Hall basketball player was ejected from his team's NIT game against Texas Tech in March 2010 when he punched Red Raider player Darko Cohadarevic not once, but twice in the family jewels. I thought you were supposed to dribble balls in basketball? Pope surely has had a unique NCAA career having transferred to the Hall from New Mexico, maybe that soccer chick taught him his moves? Then the ball punching incident and shortly there after in spring practice he collapsed and nearly died only to return to the court for 2010-11 season. He had also been shot five times at a party in 2007.
Cortland Finnegan and Andre Johnson – the NFL duo are linked together much like Billy and Reggie and a few others in the Hall because of an on field incident in 2010 season. Finnegan who is known as a pest really got into Johnson good during a November game in Houston and the mild mannered Johnson became so enraged that he ripped the helmet from Finnegan's head and started to brutally pound him while Finnegan took it all the while looking for a yellow flag. Both players were flagged, ejected and fined by the league but not suspended for the act.
Rick DiPietro and Brent Johnson – It isn't often when two NHL goalies go at it but when it happens it's pure gold and that was the case on February 2, 2011 when New York Islanders netminder DiPietro and Pittsburgh Penguins goaltender Johnson went toe-to-toe; blocker pad-to-blocker pad during a game in Pittsburgh. DiPietro really took a beating as Johnson left him with a broken face and an injured knee that caused him to miss 4-6 weeks of the season. All that damage was done with just one punch. Who says goalies aren't bad asses?
What started as the goalie fight then escalated into a full out, old fashioned, good time hockey brawl just ten days later in Uniondale NY when the teams next met. This second game produced 346 penalty minutes, 10 ejections, 15 fighting majors and 20 misconducts. It also led to suspensions and fines.
Islanders forward Trevor Gillies got 9 games for delivering a blow to the head of Penguins forward Eric Tangradi and punching him several times, leaving him with concussion-like symptoms. Team mate Matt Martin got 4 games for punching Penguins forward Maxime Talbot from behind ala Todd Bertuzzi, though not nearly as violent.
The only Penguin to get suspended was Eric Godard, he received an automatic 10-game suspension for leaving the bench to join a third-period brawl.
Rick Rypien – On October 19, 2010 Rypien while playing for the Vancouver Canucks left the ice in Minnesota to attack a young 15 year old fan he thought was taunting him for his 10 minute misconduct penalty in the 2nd period of the game against the Minnesota Wild. When Rypien was walking down the runway to the locker room he saw the young fan applauding his fate and reached up and grabbed him by the jersey. Only when an older male fan, presumably the boys father, intervened did Rypien let go of the teen. Rypien was suspended for 6 games for the incident.
Mason Holland – A Desoto, FL high school basketball player, Holland, attacked a game referee and threw him to the court after being assessed a technical foul during a game in December 2010. His team, Arcadia Desoto, was forced to forfeit the game and Holland was removed from the team and was facing expulsion from the school.
Matt Cooke The Pittsburgh Penguin got a four game suspension for the hit from behind he put on Columbus Blue Jacket Fedor Tyutin during a game on February 8, 2011. It is Cooke's fourth career suspension and the longest, all the previous three were two games each. The infraction came in the first period of the game. Fedor Tyutin skated to the corner to retrieve a dump-in. The player had his back to the ice, facing the boards, when Matt Cooke left his feet and hit him from behind.
The Maritime Junior Hockey League handed out 22 games worth of suspensions for a brawl that started before the game did on Saturday February 5, 2011 between the Summerside Western Capitals and Miramichi Timberwolves. The brawl started during warmups when players from both teams entered the opposing zones and dropped their gloves. Four players, two from each team were suspended between three and five games and both head coaches got two game suspensions and $1500 fines.
And the finale for the 2011 Class is the Boston Bruins and Dallas Stars who engaged in 3 fights in the first four seconds of the game on February 3, 2011. The first fight was Dallas' Steve Ott vs Boston's Greg Campbell right at the drop of the puck; that was followed by Krys Barch (Dallas) and Scott Thornton (Boston) on the ensuing face off, then two seconds of playing time later it was go time for the Stars Brian Sutherby and the Bruins Adam McQuaid to cap off the fisticuffs trifecta. Then 3 minutes later when things got boring Adam Burish and Andrew Ference squared off. In the video note the fan along the glass in the Whalers T-Shirt. So why did these fights happen? Well it goes back to this incident in 2008 between the clubs.
The Class of 2012
It is with great humility that we present to you Carl Everett's Crazy Hall of Fame, the Class of 2012.
Here is year's class:
Manny Ramirez
In July 2005 Boston Red Sox left fielder Manny Ramirez wasn't on the field as Wade Miller was prepared to deliver a pitch when low and behold Manny pops out of the door of Fenway's fabled Green Monster. So Miller throws the pitch and Tampa Bay outfielder Joey Gathright doesn't swing, but on the next pitch he singles to left field in front of Ramirez who throws to home a tad late and wide.
After the game Miller admitted to not checking to see if Ramirez was in the field and as he said, "why would I check?"
So what was Manny doing behind the door? "I (urinated) in a cup," said Ramirez.
The joys of Manny being Manny.
Greg Pankewicz
In the third period of a CHL hockey game in February 2011, between the Colorado Eagles and the Mississippi River Kings, a Colorado player was tackled hard to the ice during an altercation by an official.
Greg Pankewicz, Colorado's assistant coach, became irate at officials for the takedown, which led to the player getting injured. So after screaming and throwing stuff on the ice, Pankewicz took to stripping, reminiscent of a scene from the movie "Slap Shot".
While in slap shot it was an on ice player who did the strip tease, Pankewicz started taking his clothes off on the bench and throwing them onto the ice. After methodically taking off his three-piece suits, shirt, tie and loafers and chucking it all on the ice he was sent to the dressing room.
He was suspended for the remainder of the regular season (14 games) for his action and was allowed to return during the playoffs.
Ndamukong Suh
Detroit Lions defensive lineman Ndamukong Suh was ejected from a NFL game on Thanksgiving Day for stomping and kicking Green Bay Packers offensive lineman Evan Dietrich-Smith after it appeared that the Lions had stopped the Packers on an important third down play. The resulting penalty gave Green Bay a first down, which led to a touchdown and a win.
Suh was suspended by the NFL following in the incident for two games.
Andrew Bynum
Los Angeles Lakers forward Andrew Bynum was ejected and suspended from a playoff game on May 8, 2011 against the Dallas Mavericks after a dirty foul on guard J.J. Barea. With the Mavs up by 30 points late in the game Barea drove the lane for a lay up when Bynum threw a blatant elbow to his ribs. Barea landed hard and the referee immediately called a flagrant foul and ejected Bynum from the game.
Two games earlier in the series, Barea had been clothes lined by the Lakers Ron Artest who got suspended for the following game. Artest, a Charter Member of the Hall, is now ironically known as "Metta World Peace".
Bynum was suspended originally for five games at the beginning of the next season but had it reduced to four on appeal.
Sal Alosi
In December 2010, New York Jets strength and conditioning coach Sal Alosi was fined $25,000 by the Jets and suspended for the remainder of the season for tripping Miami Dolphins player Nolan Carroll as the player ran along the Jets sideline during a game.
The Jets later accepted Alosi resignation after finding out he routinely instructed the inactive players to form a wall so as to potentially impede the progress of opposing players.
The Jets were also fined $100,000 by the NFL. Alosi was recently hired to the strength and conditioning coach for the UCLA Football team by new head coach Jim Mora Jr. starting with the 2012 season where he will teach his technique to college students.
New England Whalers/Minnesota Fighting Saints, the Brawl in the Mall
The "Brawl in the Mall" between the New England Whalers and Minnesota Fighting Saints in Game 2 of the 1975 WHA Playoffs started when Fighting Saints coach Harry Neale decided to shake things up by putting Bill Butters on the ice with fellow bruisers Jack Carlson and Curt Brackenberry. Shortly after taking the ice, Minnesota's Butters hit New England's Larry Pleau with a cheap shot from behind, starting a full fledged donnybrook that caused a delay that lasted 32 minutes. The melee itself had 189 minutes in penalties and featured a heavyweight battle between Carlson, of "Slap Shot" movie fame, and Whalers enforcer Nick Fotiu, a former Golden Gloves champion, that started on the ice and continued in the penalty boxes. Even the two goalies, John Garrett and Al Smith, got into it. Not sure there ever was or has been a brawl like it.
The Class of 2013
It is with great humility that we present to you Carl Everett's Crazy Hall of Fame, the Class of 2013.
Here is year's class:
Bobby Valentine
While managing the Boston Red Sox in 2012 he had a weekly radio interview with local Boston sports talk station WEEI. While on the air during an awful season with Glen Ordway, Valentine was asked if he had checked out and quit on the season and the team.
He then told Ordway if I was there I'd punch you in the face right now and laughed sarcastically. He later said he was kidding. He then went on a rant about how he was late because he had to pick up his son at the airport during a road trip in Oakland.
The incident launch another meeting with Valentine and the team's ownership and general manager and it may have been the deciding incident in letting him go after just one season as manager.
Valentine also had another incident as manager of the New York Mets when after being ejected from a game at Shea Stadium he returned to the bench area wearing a Groucho Marx style mustache and glasses. He was later fined for the incident.
Ozzie Guillen
2012 was not a good year for Ozzie Guillen. After being hired by the Miami Marlins in the off season with the team just a few games into an important season for the franchise Guillen got suspended for making comments about Fidel Castro to the media prior to a game in April.
Then in September he got mad at ESPN's Buster Olney who intimated that the team could possibly fire Guillen because they didn't make estimated attendance projections and they could blame it on the post-Castro fall out. Olney also added that the Marlins had quit on Guillen.
Ozzie got on Twitter and only as Ozzie can in two Tweets he said "buster olney u so full a shit whit u stupidcomments about the miami team we still play hard we yes no wingames I think u no watch" And he followed that with "I think u no watch our games if u say iam bad manager is ok but u never say my team give up".
Shortly after the season ended Guillen was indeed fired by the Miami Marlins.
Joseph Cordes
A Massachusetts father, Joseph Cordes, was ejected from a girls high school hockey game after trying to blind the oppositions goalie with a laser pointer in March 2012.
The losing team, Medway-Ashland, tried to get its playoff loss to Winthrop overturned based on the accusation but was denied.
With the score tied 1-1 Cordes was caught pointing the laser pointer at the goalie and was ordered from arena by the Winthrop assistant superintendent. He was also barred from future Winthrop High School athletic events.
Cordes was given a summons and faced charges of disordely conduct.
New Orleans Saints Bounty Gate 2009-11
Saints Defensive Coordinator Gregg Williams allegedly created and carried on a bounty reward system for his defensive players injuring and knocking opposing players from games. According the NFL the Saints Head Coach Sean Payton, their GM as well as another assistant coach all knew of and let the bounty continue.
The alledged bounty system took place over 3 seasons, 2009-2011, and included New Orleans Super Bowl Championship season (2009).
Williams was suspended indefinitely in 2012, Payton got a year suspension, Assistant Coach Joe Vitt got six games, the GM was suspended and the team was fined by the NFL. Several other players were suspended for various games through the 2012 NFL season for taking part in the bounties.
Gary Bettman
And our final inductee into the CECHOF is NHL Commissioner Gary Bettman. Bettman has long been a villian to fans of the NHL and this past year was no different as he had his third work stoppage in his watch as the first commissioner in NHL history.
Bettman, who came to the NHL from the NBA, subscribes to the David Stern School of Management and both men would have been awesome slave labor owners if they had lived in a different time.
Bettman, who has been commissioner since 1993, has lost nearly two full seasons worth of games in 20 years due to those league mandated lockouts including being the first professional sports team to cancel it's entire season in 2004-05.
In the eyes of NHL fans Bettman has done more harm then good as he has allowed teams in solid hockey markets like Winnipeg, Quebec, Hartford and Minneapolis to lose their NHL teams to relocation, although Winnnipeg and Minneapolis have since regained teams.
It's time for Bettman to go and for all the damage he has done to the game he is now a member of the CECHOF.
If you would like to nominate someone for the Carl Everett Crazy Hall of Fame, shoot us a line through our contact form.