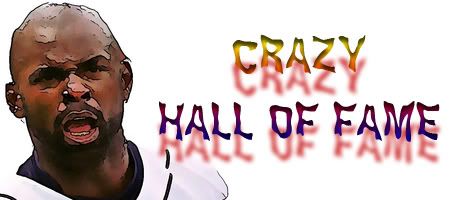 SOX & Dawgs established Carl Everett's Crazy Hall of Fame in 2007 and its members are, like any Hall of Fame, in rarified air. Only this air lacks a lot of common sense and is full of batshit crazy. In fact that along with the incident happening on or in relation to the field of play is the only way to get into this Hall. We don't induct folks based on off the field incidents like spousal abuse, DUI, dog fighting, etc.
In the five years since the Hall was established it has 14 Charter Members and now 50 Regular Members.
To see the Carl Everett's Crazy Hall of Fame Class of 2013, please click on the continue reading button below if you're on the home page.
It is with great humility that we present to you Carl Everett's Crazy Hall of Fame, the Class of 2013.
Here is year's class:
Bobby Valentine
While managing the Boston Red Sox in 2012 he had a weekly radio interview with local Boston sports talk station WEEI. While on the air during an awful season with Glen Ordway, Valentine was asked if he had checked out and quit on the season and the team.
He then told Ordway if I was there I'd punch you in the face right now and laughed sarcastically. He later said he was kidding. He then went on a rant about how he was late because he had to pick up his son at the airport during a road trip in Oakland.
The incident launch another meeting with Valentine and the team's ownership and general manager and it may have been the deciding incident in letting him go after just one season as manager.
Valentine also had another incident as manager of the New York Mets when after being ejected from a game at Shea Stadium he returned to the bench area wearing a Groucho Marx style mustache and glasses. He was later fined for the incident.
Ozzie Guillen
2012 was not a good year for Ozzie Guillen. After being hired by the Miami Marlins in the off season with the team just a few games into an important season for the franchise Guillen got suspended for making comments about Fidel Castro to the media prior to a game in April.
Then in September he got mad at ESPN's Buster Olney who intimated that the team could possibly fire Guillen because they didn't make estimated attendance projections and they could blame it on the post-Castro fall out. Olney also added that the Marlins had quit on Guillen.
Ozzie got on Twitter and only as Ozzie can in two Tweets he said "buster olney u so full a shit whit u stupidcomments about the miami team we still play hard we yes no wingames I think u no watch" And he followed that with "I think u no watch our games if u say iam bad manager is ok but u never say my team give up".
Shortly after the season ended Guillen was indeed fired by the Miami Marlins.
Joseph Cordes
A Massachusetts father, Joseph Cordes, was ejected from a girls high school hockey game after trying to blind the oppositions goalie with a laser pointer in March 2012.
The losing team, Medway-Ashland, tried to get its playoff loss to Winthrop overturned based on the accusation but was denied.
With the score tied 1-1 Cordes was caught pointing the laser pointer at the goalie and was ordered from arena by the Winthrop assistant superintendent. He was also barred from future Winthrop High School athletic events.
Cordes was given a summons and faced charges of disordely conduct.
New Orleans Saints Bounty Gate 2009-11
Saints Defensive Coordinator Gregg Williams allegedly created and carried on a bounty reward system for his defensive players injuring and knocking opposing players from games. According the NFL the Saints Head Coach Sean Payton, their GM as well as another assistant coach all knew of and let the bounty continue.
The alledged bounty system took place over 3 seasons, 2009-2011, and included New Orleans Super Bowl Championship season (2009).
Williams was suspended indefinitely in 2012, Payton got a year suspension, Assistant Coach Joe Vitt got six games, the GM was suspended and the team was fined by the NFL. Several other players were suspended for various games through the 2012 NFL season for taking part in the bounties.
Gary Bettman
And our final inductee into the CECHOF is NHL Commissioner Gary Bettman. Bettman has long been a villian to fans of the NHL and this past year was no different as he had his third work stoppage in his watch as the first commissioner in NHL history.
Bettman, who came to the NHL from the NBA, subscribes to the David Stern School of Management and both men would have been awesome slave labor owners if they had lived in a different time.
Bettman, who has been commissioner since 1993, has lost nearly two full seasons worth of games in 20 years due to those league mandated lockouts including being the first professional sports team to cancel it's entire season in 2004-05.
In the eyes of NHL fans Bettman has done more harm then good as he has allowed teams in solid hockey markets like Winnipeg, Quebec, Hartford and Minneapolis to lose their NHL teams to relocation, although Winnnipeg and Minneapolis have since regained teams.
It's time for Bettman to go and for all the damage he has done to the game he is now a member of the CECHOF.
Follow Steve on Twitter @SteveMichaelsII