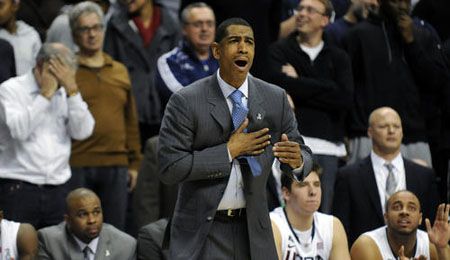 Before this game started on Wednesday night, no one other than the UConn Huskies men's basketball team themselves and their fans thought they had any chance against the Georgetown Hoyas.
It's obvious they haven't watched this team battle all year long against the odds. No Big East Tournament, no NCAA Tournament, supposedly nothing to play for. But this is a Kevin Ollie coached team and there is no quit in them.
In the first half, it was defense. In the second half, it was offense. And after the first overtime it was tied.
But Georgetown rallied from seven points down in the second overtime as they scored the final eight points of the game to steal a 79-78 win over UConn in front of a sold-out crowd and nationally televised audience on ESPN2 at Gampel Pavilion.
UConn falls to 19-8 (9-6 Big East) while the Hoyas improve to 22-4 (12-3).
DeAndre Daniels led the Huskies with a double-double of 25 points and 10 rebounds along with three blocks. Despite injuring his ankle, Shabazz Napier had 16 points, five rebounds and six assists. Omar Calhoun had 13 points and seven rebounds while Ryan Boatright rounded out the Huskies in double-digits with 11 points and had a team-high eight assists.
After being held to just one point in the first half, Otto Porter, Jr. scored 21 of his 22 points in the second half and both overtimes. Markell Starks had 19 points while D'Vaun Smith Rivera had 14 points. Nate Lubick also had a nice night for the Hoyas with nine points, seven rebounds and six assists before fouling out.
As I said above, it was all about defense in the first half as both teams were outstanding on the defensive end. The stars, Napier and Porter, Jr., combined for just one point in the second.
Early in the second half, Porter put the Hoyas up five with a three at 32-27 before Calhoun cut it back down to two points with a three of his own. Then Georgetown put together a 9-0 run to seize control of the game or so they thought.
The Hoyas lead would stay between 8-10 points until they went up 12 with 4:36 to go at 60-48. UConn got themselves and the crowd back into the game with a 9-0 run to cut the lead to three. The Hoyas would push the lead back to five late before a Calhoun put back.
UConn had to foul late and they fouled Starks who missed the front end of a one-and-one. Boatright got the ball down the court to Calhoun who nailed a three to tie it at 60. Niels Giffey then stole the inbounds pass but his shot was just off the mark forcing overtime.
Both teams scored seven points in the first overtime and not one of those was scored after the 2:28 mark. In the second OT, UConn started out quickly with a 9-2 run. But the Hoyas ramped up their defense and after a Napier turnover, Porter, Jr. drove the length of the court for the game winning layup.
Boatright had a chance to win but was triple-teamed and his shot bounced off the rim to give Georgetown.
Sure this is tough loss for UConn. But they didn't quit. They could have easily packed things up. But with Ollie inspiring them on the sidelines, they rallied and by golly, almost pulled the game out.
And no matter what anyone says, this is a special UConn team. And with a great man leading them, great things will come to UConn.
The Huskies are back in action on Saturday when they head to Cincinnati for a matchup with the Cincinnati Bearcats. Tip is scheduled for 2 p.m.
To continue reading, please click on the continue reading button below if you're on the home page.
Georgetown Hoyas @ UConn Huskies 2.27.13 box score
Here are the postgame quotes from UConn head coach Kevin Ollie.
Here are UConn's postgame notes.
Follow Ian on Twitter @soxanddawgs. And be sure to like us on Facebook as well.
photo credit: john woike – hartford courant (no. 9 in gallery)