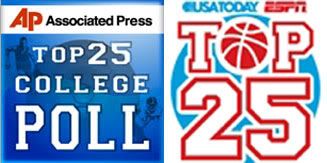 The UConn Huskies women's basketball team remains No. 2 in the latest polls and they have narrowed the gap between themselves and No. 1 Baylor in the AP Poll. The margin is about the same as it was last week in the ESPN/USA Today Coaches Poll. The top seven teams from last week are the same in both polls.
Joining the Huskies from the Big East in the top 10 are the No. 8/8 West Virginia Mountaineers and the No. 9/9 Notre Dame Fighting Irish. Also in the top 25 from the Big East are the No. 12/17 DePaul Blue Demons and No. 19/19 Georgetown Hoyas.
The Marquette Golden Eagles, Syracuse Orange, Rutgers Scarlet Knights and St. John's Red Storm are among the others receiving votes in both polls from the Big East.
For a full look at both polls, click the read more button below if you'r'e on the home page.
AP Top 25

ESPN/USA Today Coaches Poll

RK

TEAM

REC

PTS

PREV

RK

TEAM

REC

PTS

PREV

1

Baylor (24)

18-1

956

1

1

Baylor (20)

18-1

761

1

2
Connecticut (13)
18-1
942
2
2
Connecticut (9)
18-1
748
2

3

Duke (1)

19-0

884

3

3

Duke (2)

19-0

715

3

4

Stanford (1)

16-2

871

4

4

Stanford

16-2

683

4

5

Tennessee

19-2

814

5

5

Texas A&M

17-1

629

5

6

Texas A&M

17-1

793

6

6

Tennessee

19-2

628

6

7

Xavier

16-2

732

7

7

Xavier

16-2

583

7

8

West Virginia

19-1

685

9

8

West Virginia

19-1

546

9

9

Notre Dame

17-4

641

11

9

Notre Dame

17-4

503

10

10

Michigan State

18-2

613

12

10

UCLA

16-2

493

8

11

UCLA

16-2

575

8

11

Michigan State

18-2

454

12

12

DePaul

19-2

544

13

12

Oklahoma

15-3

412

13

13

Oklahoma

15-3

478

14

13

Maryland

16-3

387

14

14

Maryland

16-3

456

15

14

North Carolina

17-3

346

11

15

North Carolina

17-3

405

10

15

Florida State

16-4

325

16

16

Miami (FL)

18-2

372

17

16

Green Bay

18-1

313

15

17

Kentucky

15-4

335

19

17

DePaul

19-2

302

18

18

Iowa

15-4

331

18

18

Kentucky

15-4

271

19

19

Georgetown

15-5

258

16

19

Georgetown

15-5

209

17

20

Georgia

16-3

210

24

20

Iowa State

13-5

178

20

21

Florida State

15-4

206

22

21

Iowa

15-5

135

21

22

Green Bay

18-1

194

21

22

Miami (FL)

18-2

112

22

23

Iowa State

13-5

133

20

23

Ohio State

13-6

63

NR

24

Ohio State

13-6

89

25

24

Georgia

16-3

59

NR

25

Georgia Tech

17-5

43

NR

25

Texas Tech

16-3

50

25

Dropped out of rankings:

Dropped out of rankings:

No. 23 Arkansas

St. John's 23, Arkansas 24

Others receiving votes:

Others receiving votes:

Texas Tech 27, Marquette 19, Syracuse 13, Duquesne 10, Marist 10, Arkansas 8, Boston College 7, St. John's 5, Texas 4, Northwestern 3, Bowling Green 2, Gonzaga 2, Houston 2, Princeton 1, Rutgers 1, TCU 1

St. John's 34, Bowling Green 29, Syracuse 23, Arkansas 19, Marquette 16, Marist 14, Georgia Tech 11, Gonzaga 4, Oklahoma State 4, Middle Tennessee 4, Rutgers 3, Louisiana Tech 3, Tulane 2, Boston College 2, Texas 1, Florida Gulf Coast 1