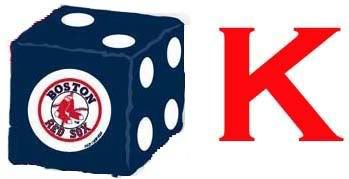 Sue, who also happens to be mother, came up with an interesting idea for a Dunkin Donuts ad in her comment on the Matsuzaka Endorsement Deals post. This is what she had to say:
Curt will find DiceK in the locker room trying to say Pahk the Cah, and Curt will try to teach him. Dice's comments will have English subtitles, and Curt's will be Japanese.
I very much like Sue's idea. I liked it so much I actually forwarded it on to the marketing group who handles Dunkin Donuts advertising. Also, I have expanded her thoughts as well. My thinking would be basically what she has said but also have an ad where Daisuke is teaching Curt Schilling some Japanese. Some words that Dice-K could teach Curt:
yakyuu: which means baseball
konichiwa: which means hello, good morning, good afternoon, good evening
tensui: which means pitcher
kyaccha: which means catcher
tantoukachou: which means manager
ooinaru otokooya: loosely translated means Big Papi
It will be very interesting to see what the braintrust at Hill Holiday Marketing Group comes up with. After all, they are the ones that came up with "America Runs on Dunkin". And for those of you who haven't seen the Curt Schilling Dunkin Donuts ad or haven't seen it in a long time, well, take a look below. Enjoy or shall I say enjoi.
http://youtube.com/watch?v=
gbdP679fk9w[/youtube]
This is my name in Japanese. If you want to see what your name looks like in Japanese, click here.
Technorati: Dunkin Donuts, Daisuke Matsuzaka, Curt Schilling, Boston Red Sox, Japanese