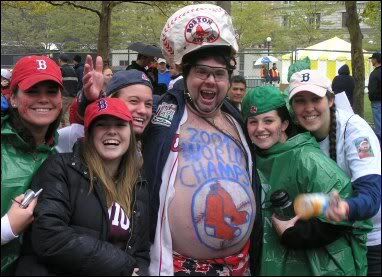 Boston Mayor Thomas Menino announced at a press conference that the Red Sox will hold a rolling rally Tuesday starting at 12 noon.
It will start at Fenway Park and follow the same route as the 2004 rolling rally except the team will not be heading down the Charles River on Duck Boats. The mayor said the team didn't want to go into the river. The parade will end near City Hall Plaza.
The city said Jumbo screens will be set up on Boston Common, at Copley Square and City Hall Plaza. The team will accompanied by the Drop Kick Murphy's who will be playing through out the parade route.
The city wanted to hold the parade on a weekend day but the players requested that they do it Tuesday so that they can return to their families and homes after a long season.
The MBTA will be running full tilt all day long and people are encouraged to use mass transportation whenever possible.
Why no have some fun and try a few baseball bets this season. It can be fun to place a bet now and then, and there are many sports to choose from. If you like horce racing betting there's always the grand national odds. Have fun taking a gamble!