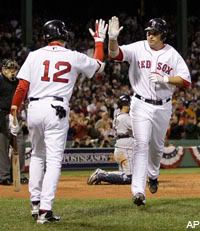 Joel Sherman of the New York Post is reporting that the New York Yankees have signed former Boston Red Sox catcher Kevin Cash to a minor league deal that would be worth $700,000 if he makes the team.
New York Yankees stole another player away from the Red Sox on Tuesday, though Boston will hardly bemoan the loss of Kevin Cash as much as it did watching Mark Teixeira take, well, the Yankee cash and run to the Bronx.

The Yankees did not announce any signing, but they did come to terms with Cash on a minor league contract that will pay him $700,000 if he plays in the majors, The Post has learned.
Obviously this isn't bad news for the Red Sox but it does present a problem in that Tim Wakefield will have to break in another catcher year.
It really wouldn't surprise me at all if tomorrow they announced they had signed Manny Ramirez too.