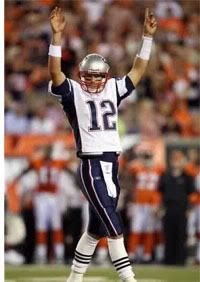 Well you can add another trophy to the case. New England Patriots quarterback Tom Brady won the AP Offensive Player of the Year Award this afternoon. It's the third award for a Patriots player or coach in the last week as Brady won the NFL MVP and head coach Bill Belichick won the NFL Coach of the Year.
I'm not going to rehash the story of Tom Terrific's year (sorry Mr. Seaver but I think you've been supplanted for that name) as we've all heard it before.
Brady accumulated 35 1/2 votes of the 50 cast. Teammate Randy Moss got 12 1/2 votes and finished second, another Patriot WR Wes Welker got one vote as did Green Bay QB Brett Favre. He is the first Patriot to win he award and the fourth winner in a row to win the both the Offensive Player of the Year and the MVP in the same season joining LaDainian Tomlinson, Shawn Alexander and Peyton Manning.
Brady, Moss and Welker are the first teammates to finish 1-2-3 in the voting.