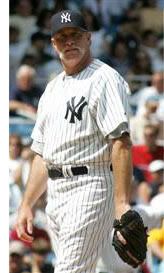 The National Baseball Hall of Fame in Cooperstown, NY announced today that Rich "Goose" Gossage has been elected to the Hall of Fame after receiving 85.8% (466) of the 543 BBWAA votes. He will be inducted into the Hall on July 27th.
Goosage will be joined by Dick Wiliams, who was elected by the Veterans Committee. The Veterans Committee also picked Walter O'Malley, Barney Dreyfuss, Bowie Kuhn and Billy Southworth, all of whom have passed away. The late Boston Globe writer Larry Whiteside will be honored with J.G. Taylor Spink Award for baseball writing.
With 543 ballots cast, a player needed 408 votes (75%) to gain election to the Hall. Former Red Sox great Jim Rice fell just short with 392 (72.2%). Rice will have one more year to be elected by the writers as he will be on his 15th and final ballot. If he's not elected next year, he will be eligible to be voted in by the Veteran's Committee. Any player who has gotten over 70% has been voted into the Hall of Fame so this bodes well for Rice.
Here is a look at the vote totals:
Rich "Goose" Gossage 466 (85.8%), Jim Rice 392 (72.2%), Andre Dawson 358 (65.9%), Bert Blyleven 336 (61.9%), Lee Smith 235 (43.3%), Jack Morris 233 (42.9%), Tommy John 158 (29.1%), Tim Raines 132 (24.3%), Mark McGwire 128 (23.6%), Alan Trammell 99 (18.2%), Dave Concepcion 88 (16.2%), Don Mattingly 86 (15.8%), Dave Parker 82 (15.1%), Dale Murphy 75 (13.8%), Harold Baines 28 (5.2%), Rod Beck 2 (0.4%), Travis Fryman 2 (0.4%), Robb Nen 2 (0.4%), Shawon Dunston 1 (0.2%), Chuck Finley 1 (0.2%), David Justice 1 (0.2%), Chuck Knoblauch 1 (0.2%), Todd Stottlemyre 1 (0.2%), Brady Anderson 0, Jose Rijo 0.
Of the 11 newcomers on the ballot, only Tim Raines received over 5% of the ballots to stay on the ballot. Dave Concepcion was in his 15th ballot this year and will be taken off the ballot for next year.