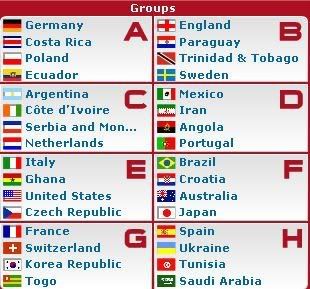 Fresh off the presses from Germany comes the 2006 World Cup Draw. The 8 seeded teams were Germany, England, Argentina, Mexico, Italy, Brazil, France, and Spain.
The USA just missed out on being one of the top eight seeds by 1 point even though they finished higher in qualifying then Mexico. The USA (8th in the world) has a tough road ahead of them as Group E as the Czech Republic is the 2nd ranked team in the world and Italy is the 12th ranked team.
Also not in the USA's favor is that Ghana will be their final first round game in Germany. This game could mean absolutely nothing for the USA because of their first two opponents.
My initial predictions from each group:
Group A: Germany, Poland
Group B: England, Sweden
Group C: Netherlands, Argentina
Group D: Mexico, Portugal
Group E: Czech Republic, USA
Group F: Brazil, Japan
Group G: France, Switzerland
Group H: Spain, Ukraine
More to follow later on once I have had some more time to evaulate the brackets.