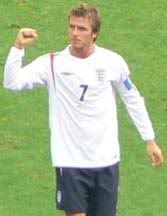 It is being reported that David Beckham will be taking his playing talents to Los Angeles to play for the Los Angeles Galaxy of Major League Soccer. Beckham, the former captain of the English National Team, had been playing in Spain for Real Madrid and was able to negotiate with any club. He had been trying to work on a contract extension with Real Madrid but he was unhappy that there wasn't a starting position there for him.
Beckham's wife Victoria, who was a former Spice Girl, has been spotted recently in Los Angeles looking for places to live. It is stated that she really wanted to be in Los Angeles to help further career and be closer to her celeb gal pals.
So how is the Los Angeles Galaxy able to circumvent the salary cap that MLS has? Well recently, MLS adopted the "Beckham Exemption" which allows teams to have a player whose salary is not governed by the cap rules. It was basically enacted for teams to pursue foreign stars such as Beckham.
For those of you who remember the late 70's, Beckham could have the same drawing power as Pelé did when he came to the United States to play for the New York Cosmos of the NASL (North American Soccer League). With attendance lagging the past few years in MLS, Beckham's presence on the Galaxy should help them and other teams boost attendance.
I think that this is great for the MLS and American soccer (futbol). With our recent struggles in World Cup play and soccer not being the number 1 sport here in America, this signing will definitely put a little more spotlight on soccer here. Will other players follow him over here. Well, us as fans can only hope that more stars follow the lead of the former English captain and come to the United States to play. Heck, we are in the middle of global warming right now, so we have some decent weather to offer.
1:00 PM UPDATE: Beckham's deal is worth $250 million dollars over an undisclosed amount of time. The contract is for five years with the Los Angeles Galaxy. He will join the Galaxy after June 30th when his contract runs out with Real Madrid
Technorati: David Beckham, MLS, NASL, Real Madrid, LA Galaxy, Victoria Beckham, Spice Girls, Pele