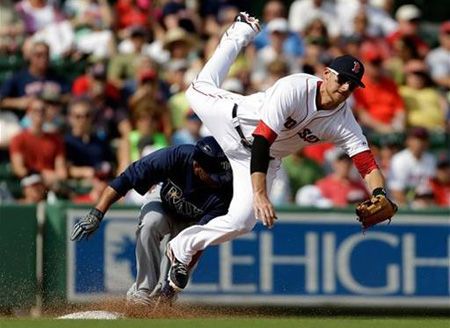 It's hard for bloggers of the Boston Red Sox to give their own assessment of the team so far in during spring training because we aren't there. We have to rely on what the media tells us.
That is unless NESN has coverage of the game or we are fortunate enough to be able to go to some games at Fenway South. At that point, we will be able to see how pitchers and players are doing. Sure we can read the box scores and read the reports, but how does one make an honest judgment about a player unless you've seen them.
Fortunately for everyone, the Red Sox will be on NESN on Wednesday night against the Baltimore Orioles. And while we don't know what's going with the starting nine, we will get a look at the following pitchers:
Franklin Morales (1 inning) followed by Drake Britton (3 innings), Koji Uehara, Chris Carpenter, Daniel Bard, Anthony Carter and Pedro Beato.
Of that group, I think Morales and Uehara are the only ones guaranteed to make the team. Bard will have to show that he has regained his form of old. I do think Carpenter and Beato will figure into the bullpen plans at some point in the season if someone gets injured.
Of course, that's just my opinion. And that's based off the fact that you aren't sending down Uehara and Morales is a valuable lefty option out of the pen.
Whether you knew this or not, I was around the game of baseball for almost 10 years spending time working in the minor leagues. So I've seen players develop and some who haven't. So I do know what I'm looking at when evaluating.
That'll also make you understand why the Red Sox have brought former players like Jason Varitek, Pedro Martinez, Tim Wakefield and now Mike Lowell back to camp. I'm no expert like them. But having them teach the younger players will only make this team better down the line.
And that's all we want here in Red Sox Nation. Another winning team. It's been since 2009 when the Red Sox last went to the playoffs and that year they were swept out by the Los Angeles Angels of Anaheim.
So if it takes bringing former players back to help, by all means do it. I'd like to see that drought end this year. And from the looks of it (or what we've read), the Red Sox could just do that this year.
For more slices of Red Sox goodness, head over to the Boston Globe, Boston Herald, CSN New England, ESPN Boston, NESN, Providence Journal, RedSox.com and WEEI websites.
Follow Ian on Twitter @soxanddawgs. And be sure to like us on Facebook as well.
photo credit: ap photo