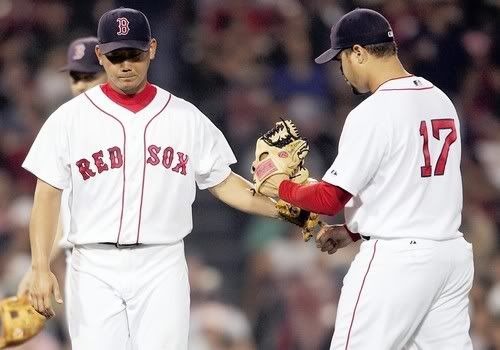 What the heck is going on with the beloved? They had 11 hits last night, all singles, and still lost the game. They even outhit the wrong Sox, 11-6. The loss last night dropped the Red Sox to 3-5 on the homestand and more importantly, allowed the Skanks to remain at 7 games out of first place in the AL East. Dice-K had a lot of trouble with his location as he walked 6 batters while allowing 2 hits, both by everyone's not so favorite catcher, A.J. Pierzynski. Our "leadoff" hitter, J.D. Drew missed the game last night because his hammy was bothering him and we all got to see our favorite bench player, Wily "Pedro Cerrano" Mo Peña play rightfield last night. I am happy to report no miscues by Wily Mo in right field. Hopefully, the Red Sox move him before the trade deadline. I think right now the biggest problem lies in the batting order. If Drew is healthy, this is the lineup I'd put out there.
Coco Crisp – CF
Kevin Youkilis – 1B
David Ortiz – DH
Manny Ramirez – LF
J.D. Drew – RF
Mike Lowell – 3B
Jason Varitek – C
Dustin Pedroia – 2B
Julio Lugo – SS
When Youk was batting second, he was a on-base machine. Yes Lugo and Pedroia are hot right now where they are hitting in the current lineup, so you leave Lugo in the same spot.. Pedroia will hit whether he's batting 2nd or 8th. Worst case is that if Drew is slumping like he is, slide him down to the 6th hole, and move Lowell up a spot. Anyways, that's enough of my ranting. Let's take a look at the headlines from the Boston area and Chicago media about the game and other happenings from last night's game.
Red Sox can't plug up leaks. [Boston Globe]
A victory worth the wait. [Chicago Sun-Times]
Stranded in quicksand: Sox sinking as lost chances mount. [Boston Herald]
White Sox trade winds dying down. [Chicago Tribune]
Frustration. [Hartford Courant]
Guillen: 'I don't see any trades right now' [Chicago Sun-Times]
Sox continue to sputter. [Pro Jo]
Dye's approach: 'Whatever happens, happens' . [Chicago Sun-Times]
Walk on wild side for Matsuzaka. [Boston Globe]
Lugo: Let's not panic. [Boston Herald]
Drew Troubled By Hamstring. [Hartford Courant]
Drew's stock continues to plummet. [Pro Jo]
From Fall Classic to a classic fall. [Boston Globe]
Personality is in their blood. [Boston Herald]
For more headlines and stories, head over to the Boston Globe, Boston Herald, Hartford Courant, Providence Journal, Chicago Tribune, and Chicago Sun-Times websites.