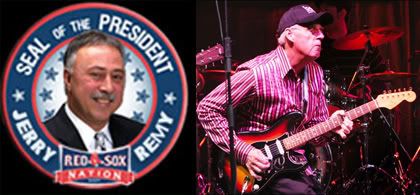 Last night, the Boston Red Sox held the "Meet the Candidates" as they look to elect the first President of Red Sox Nation. Some of the candidates you might have heard of, Jerry Remy, Peter Gammons, Sam Horn, and Paul "Fitzy" Fitzgerald. Many others of the 25 you might not have.
Either way, the candidates were onhand at Game On to talk about their platforms. Only Fitzy and RemDawg weren't there last night, although RemDawg sent Russ Kenn from NESN to act as his proxy. The winner of the election gets the following:
Four tickets to 10 games in 2008
A ceremonial first pitch before a game in 2008
A suite for one regular season game in 2008
A trip to Spring Training with a guest
Official business cards
A credential to allow entry for all 2008 regular season games
Periodic appearances on NESN/WRKO
A redsox.com e-mail address
A MLBlog on redsox.com
Periodic meetings with Red Sox senior executives
Official spokesperson reacting to Red Sox news
Unofficial spokesperson reacting to Red Sox news to the media
Next up now according to redsox.com is the campaign where the candidates will given a blog to demonstrate why they should be president. Then the top 3 candidates will picked and a general election will be held on redsox.com.
SOX & Dawgs has not decided who to back yet but we will announce that in due time.