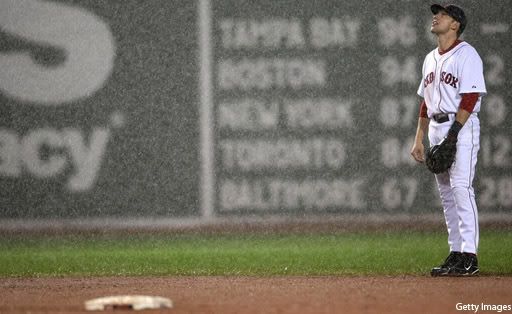 There's only way to describe last night's game and it has 4 letters. U G L Y.  It was ugly in the weather and it was ugly in the play of the Red Sox.
Things started out good for the Red Sox as they took an early 3-1 lead but that lead evaporated quickly and became too much for them to overcome. As a result of the loss, the Red Sox are now officially the American League Wild Card winner and the Tampa Bay Rays are the AL East winner.
It was announced early this morning that the Los Angeles Angels of Anaheim had chosen the 8-day ALDS meaning the Red Sox will start in Anaheim on Wednesday. It also gives both squads the opportunity to throw their top two pitchers twice in the series if need be.
Mike Lowell returned to the Red Sox lineup last night and quickly exited it after reaggrevating his hip injury in his only at-bat of the night. With Lowell hurt again, there's a distinct possibility that he won't be available to the Red Sox in the playoffs.
"I would defer to we'll see what time says," Lowell said. "By no means do I think I'm owed a roster spot just because I've played here. If I'm not going to do anything that can help the team win . . . but in the short series it's a little different. You don't have to carry as many pitchers. Maybe pinch hitting is an op tion. We'll see. I'm not ruling out anything yet, but obviously I was disappointed today."
After being scratched from his start last night, Daisuke Matsuzaka will start for the Red Sox tonight.
Yankees GM Brian Cashman will make a decision on his future sooner rather than later.
After waking stiff and sore on Friday, J.D. Drew underwent a battery of tests on his injured back.
Yankees closer Mariano Rivera will most likely undergo surgery on his shoulder during the offseason.
PawSox manager Ron Johnson is helping out the Red Sox for the time being.
Jason Giambi has no regrets about his time with the Yankees.
Jason Bay's former Pirates teammates sent him many well wishes when they found out he'll be heading to the postseason.
Here's a pretty good reason why the Red Sox scratched Daisuke Matsuzaka last night.
Here's a look at the numbers of Jonathan Papelbon and Francisco Rodriguez.
For more slices of Boston Red Sox goodness, head over to the Boston Globe, Boston Herald, Hartford Courant and Providence Journal websites.
And if you must see what the enemy papers are saying you can check out the NY Post, NY Daily News, Newsday and Lo Hud websites.