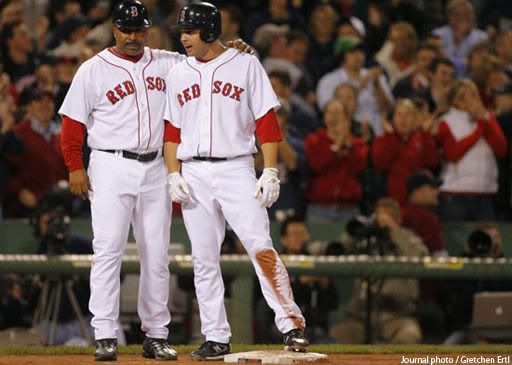 There's only one way to describe last night's game and pretty isn't the word. Last night's game was ugly. Ugly in the sense that Paul Byrd gave up 11 hits in 5 innings of work. Ugly in the sense Fausto Carmona probably should have chosen to serve his suspension rather than get shellacked for 4 runs in the 1st inning. Those 4 runs ended his night after throwing 51 pitches. Lastly, it was ugly in the sense the Red Sox defense was less than spectacular last night.
With the Tampa Bay Rays winning last night and cutting their magic number to 1 to win the AL East, I would highly expect Terry Francona to start resting guys a little bit and setting up the rotation by limiting the innings of the starters.
Depending on who ends up with the best record in the AL, the Red Sox could find themselves playing in the 8 day ALDS instead of the 7 day ALDS. If it's the latter, the Red Sox will need to have 4 starting pitchers and essentially right now it's toss up between Tim Wakefield and Byrd. Neither one did anything to show us anything in their last starts. Byrd though is okay with not making the postseason roster if it comes down to it.
Whatever Terry (Francona) decides with me is fine with me. I'm glad that someone took a chance on me. I was having a tough year.
Francona has said it really doesn't matter to him which series they are in although I think he's hoping they are in the 8 day series so he can use Josh Beckett and Jon Lester twice if need be against the Los Angeles Angels of Anaheim, their likely opponent.
It appears the Red Sox celebration after the game on Tuesday night didn't end in the clubhouse. If you've got pictures of the party, send them along to us to post.
Joe Zarbano of WEEI.com thinks Jonathan Papelbon is a 27-year old man-child.
J.D. Drew was back in the lineup last night and said he definitely could tell he hadn't been out there in a while.
It went pretty well. I got a little stiff and my legs got a little wobbly after not running around like that for a while. I was on base, had to sprint a few times. I could tell it had been a while.
After injuring his calf on Tuesday night, Indians third baseman Andy Marte is done for the season.
Terry Francona is focusing on having his best lineup for the playoffs. He will also have some decisions to make about the roster as well.
Francona also likes the 2008 Red Sox bullpen better than the 2007 bullpen.
In case you missed it, here's a look at Terry Francona's chat over at the NESN Playground.
Before the game yesterday, the Red Sox held a team meeting to go over playoff shares.
Lastly, Gary Marbry of WEEI.com has some bullpen nuggets.
For more slices of Red Sox goodness, head over to the Boston Globe, Boston Herald, Hartford Courant and Providence Journal websites.
And if you must see what the enemy papers are saying, you can check out The Plain Dealer and Akron Beacon Journal websites.