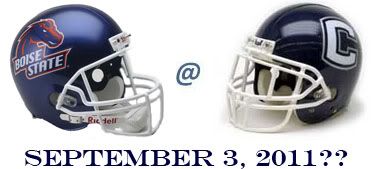 The Boise State Broncos need an opponent to play on September 3, 2011. So why couldn't the UConn Huskies play them?
We all know head coach Randy Edsall likes to start his season with a FCS team or one that his team has a chance to beat. But why not start your season with a challenge with the Broncos?
The Broncos play in the WAC which for the Broncos is almost like playing a high school football team. Sure they'll get a challenge now and then but for the most part they usually roll over their conference opponents. And no one from a BCS conference wants to play them.
They've offered to play anywhere on that date in 2011. There's even the promise of a nationally televised game on ESPN. They don't even want a return game. So why not UConn?
Edsall said the next two games against Cincinnati and Notre Dame are going to be a three hour infomercial for his football program and the university. Why not take that chance again against Boise State?
It wouldn't be simple but it is feasible.
The Huskies have an open date on their schedule on September 3, 2011. It's a perfect match, right?
Unfortunately, it isn't.
The Huskies do have room on their schedule for two more games. They are already scheduled to play at Vanderbilt and Buffalo while hosting Iowa State. Notre Dame was on the preliminary schedule but the proposed deal fell through. While it's unlikely to get done in the near future, the Huskies probably won't be playing the Irish again any time soon.
The one game that is unscheduled is against the Fordham Rams. More than likely that game would be played on September 3 at Rentschler Field. But with Notre Dame off the schedule, the Huskies need to fill one more slot in the schedule.
Why not see if you can play Fordham later on in the season? Other FBS teams play FCS teams at all different points of the season. So why can't UConn do it too?
Cody Endres would be a senior that year, Mike Box a junior so the quarterbacks would be experienced as would the offensive line. Same with the defense. UConn would definitely be able to compete with the Broncos.
A national television audience, a packed house and an experienced football team like the Huskies would be could definitely provide some competition for Boise State. But Edsall probably wouldn't do it. But he should in my opinion.
Why not give your up-and-coming football program a chance to compete against the best. The Big East Conference while good for other sports, isn't exactly the best for football. Sure there are some good teams but no one really cares about the Big East.
Everyone's afraid of Boise State. So why couldn't UConn step up and get that signature win if it hasn't come already?
It'll take Edsall a lot of convincing to get it done and it can start here.
We know Boise State needs an opponent, I say why not UConn, Randy?
Boise State BCS Blocked [Yahoo! Sports]