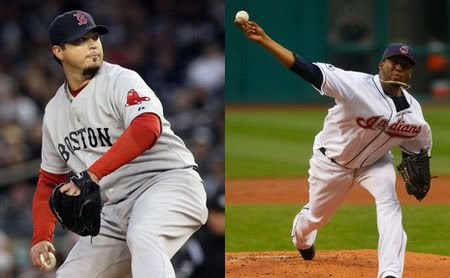 After the bullpen blew the game last night, the Boston Red Sox are back at it tonight in game two of a three-game set with the Cleveland Indians at Progressive Field.
Tonight's game is scheduled to begin at 7:05 p.m. and will be televised in the Red Sox television market on NESN. If you live in the Indians television market, you can catch the game on STO. And if you can't catch the television broadcast, you can always listen to the game on the 2011 Red Sox Radio Network.
Josh Beckett returns to the bump after having to leave early due to neck tightness his last time out. Beckett has made nine starts in 2011 and is 3-1 with a 1.73 ERA. He's faced the Indians once this year, taking the loss after allowing three runs in five innings back on 4/5. He's made eight career starts against the Indians and is 3-5 with a 5.55 ERA. He's winless in three starts at Progressive Field as he is 0-3 with a 6.48 ERA.
Fausto Carmona looks to keep the "Windians" train rolling tonight for skipper Manny Acta. He's made 10 starts this season and is 3-4 with a 4.76 ERA. He's made one start against the Red Sox in 2011, picking up the win after seven shutout innings back on 4/7. He's made eight appearances (six starts) in his career against the Red Sox and is 2-3 with a 3.44 ERA.
Click on the read more button below to see today's lineups, batter/pitcher matchups and links from the day if you're on the home page.
Here are tonight's lineups:
And here is how the hitters have fared against tonight's starting pitchers: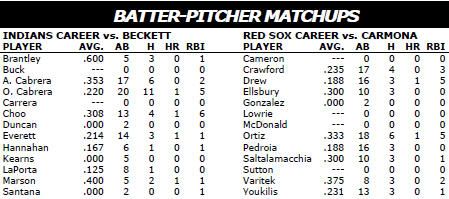 Check back and/or refresh often as more links will be added if/when they become available before game time.
To open the links up in a new tab or window, use Control+click
John Lackey could rejoin Red Sox rotation on June 5 [Clubhouse Insider]
Bard's struggles continue against Indians [CSNNE.com]
Nation STATion: Nine to Know, Daniel Bard Edition [CSNNE.com]
Tim Wakefield, Not Alfredo Aceves, Should Remain in Rotation After John Lackey Returns [Don Orsillo – NESN.com]
Suddenly, Cleveland's a contender [ESPN Boston]
SoxProspects: Patrolling the outfield [ESPN Boston]
Pedroia 'a little sore' but relieved [ESPN Boston]
Lackey 'felt pretty good' after bullpen session [ESPN Boston]
Varitek charity tournament is July 21 [Extra Bases]
Drew Sutton in the spotlight this week? [Extra Bases]
Lackey on the comeback trail for Red Sox [Extra Bases]
Red Sox podcast: Good competition [Extra Bases]
Pedroia 'a little sore' but doing better [Extra Bases]
Terry Francona on The Big Show: Bard's performance down from 2010 [Full Count]
Which American League First-Place Team Is Biggest Surprise? [NESN.com]
Red Sox Mailbag: Daisuke Matsuzaka Injury Will Make Theo Epstein Pursue Starter More Aggressively [NESN.com]
Jason Varitek Attributes Early-Career Strength Programs, Agility Drills for MLB Longevity [NESN.com]
Red Sox Nation Gives Advice to Cubs Fans Dealing With Curses, World Series Droughts [NESN.com]
Red Sox, Cubs Fans Give Their Best Impression of Legendary Broadcaster Harry Caray [NESN.com]
Fenway Park's Inaugural Season Was Filled With Local Ties, Championship Matchups [NESN.com]
Red Sox Get Good News in Regards to Injuries of Dustin Pedroia, John Lackey [NESN.com]
Case of the Mondays [Nuggetpalooza]
Bullpen notes: Jenks, Okajima, Bard [Projo Sox Blog]
Sutton's first start comes in familiar territory [Projo Sox Blog]
Even without Pedroia, Crawford hitting 8th [Projo Sox Blog]
Pedroia should be back Wednesday [Projo Sox Blog]
Lackey on schedule to return June 5 [Projo Sox Blog]
Beckett seeking payback against Tribe [RedSox.com]
Comcast and the Boston Red Sox unveil expanded Red Sox On Demand library [RedSox.com]
Photo credits: Getty Images, Getty Images