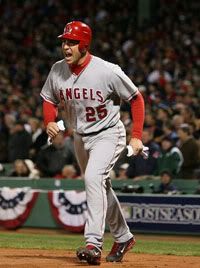 There had been a rumor out there that free agent Mark Teixeira would be attending the Baltimore Ravens vs Pittsburgh Steelers game this afternoon and sitting in Baltimore Orioles owner Peter Angelos' luxury box.  However, the rumor turned out to be false.
An Orioles official insists that Mark Teixeira will not be attending today's Ravens game as a guest of owner Peter Angelos.

I'm told there's no physical scheduled for tomorrow – which I assumed all along. You need to have an agreement in place before taking that step. You don't make the guy turn and cough while going back and forth on contract terms. And the Orioles might not require that Teixeira take one anyway. Or he might have taken one earlier and has the results in hand. Or he'll do it if there's an actual agreement. But from what I've heard, he's not taking one tomorrow.
Boston Red Sox fans can now breathe a little bit easier.
to Anthony at the Oriole Post.