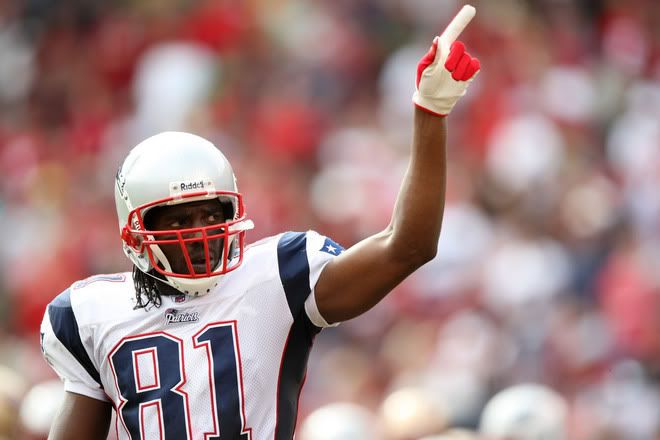 The New England Patriots wrap up their stay on the west coast this afternoon when they take on the Oakland Raiders at the Oakland Coliseum. After last week's nail biter of a win, we can only hope things are easier against the hapless Raiders.
The Patriots are in must win-out mode and then hope to get some help. Even though they are tied at the top of the AFC East with the New York Jets and Miami Dolphins, they don't have the tie breakers. So if they win out and get some help along the way, we could see the Patriots back in the playoffs again, which in itself would be a great story considering the massive amount of injuries the Patriots have suffered this year.
If you missed the SOX & Dawgs  Patriots-Raiders game preview, don't forget to check it out.
Mike Reiss of the Boston Globe takes a look back at Randy Moss' two years with the Raiders.
Randy Moss has decided not to speak about his former team.
Lamont Jordan is also returning to Oakland to face his former team.
Ben Watson was fined $10,000 by the NFL for his celebration in last week's game against the Seahawks.
Reiss also has a look at the contracts of Junior Seau and Rosevelt Colvin.
Here's an updated injury list for the Patriots for today's game.
Raiders tight end Zach Miller is one of the lone bright spots on the team.
Jerrod Mayo hasn't been slowed down by the long season.
Mike Petraglia of WEEI.com has his pregame take for us.
Matt Cassel will playing with a heavy heart this afternoon.
Former Oakland Raiders coach and current NBC analyst says the play of the Raiders is embarrassing.
The strength of the Patriots defense should return this afternoon.
Raiders left tackle Mario Henderson could have been drafted by the Patriots in 2007.
Gary Marbry of WEEI.com has some Patriots-Raiders nuggets for us to chew on.