This week:

The UConn Huskies will kick off their 2014 season on Friday night when they'll host the BYU Cougars at 7:00 p.m. at Rentschler Field in East Hartford, CT.
The Line:
According to DocsSports.com odds, BYU is favored by 16.5 points and the over/under is 50.5 points
Tickets:
According to UConn Huskies ticket office, there are still tickets available to Friday night's game.
Getting To The Game:
Here is link for the weather report. Here is all the parking info you will need for the game, this link includes directions to Rentschler Field. Here is a Rentschler Field seating chart and here is some general information for Rentschler Field.
The parking lots will open up 4 hours before kickoff. Here is a list of the tailgating rules at the Rent.
There is a new route for the Husky Walk as the team arrives for games at Rentschler Field this year and fans get a chance to greet the team as they get off their buses and make their way to the stadium. The Husky walk, which takes place approximately, two hours and 15 minutes before kickoff, will now start in the Gray Parking Lots and the team will makes its way to the large tunnel near Gate B.
The UConn team will now do its pregame warmup in front of the UConn student section on the South End of the stadium – a change from previous seasons. The Huskies will enter the stadium for pregame warmups on the concourse of Rentschler Field and go through the student section.
Once again, FanFest takes place starting four hours before kickoff up until 30 minutes before the game between Gates A and B outside the stadium gates. The offerings change each game, but activities typically include inflatable games for children, live bands, promotional vehicles and UConn student-athletes from various teams signing autographs.
The UConn women's basketball team will be signing autographs at FanFest before the football game on Friday vs. BYU. FanFest is located between Gates A and B: 5:30-6:30
The break between the third and fourth quarter will feature "Coach D's Playlist" as fans during the game will get to select a song to play based on a list they saw earlier in the game.
Once again this season at the end of home games, the UConn team will sing the "UConn Husky" fight song in front of the student section at Rentschler Field.
BROADCAST INFORMATION
Television:
Friday night's game will be televised nationally by ESPN with Dave Fleming on play-by-play, Danny Kanell on color and Allison Williams as the sideline reporter.
Radio:
The UConn IMG Sports Network is the home of Husky football on the radio. WTIC NewsTalk 1080 in Hartford serves as the flagship station and is the state's only 50,000 watt signal and can be heard in 23 states and parts of Canada.
Veteran UConn announcers Joe D'Ambrosio (play-by-play) and Wayne Norman (color commentary) return to call the action with Kevin Nathan on the sidelines.
For Friday's opener vs. BYU, WTIC will begin their broadcast day on-site at 3:00 p.m. with Ray Dunaway hosting an afternoon version of "Breakfast at the Rent". The UConn Tailgate Show then is on from 4:30 p.m. to 5:30 p.m. with Bob Joyce and Nathan and the network pregame show starts at 5:30 with the game broadcast at 7:00 p.m.
The BYU game will also be available on Sirius Radio Channel 91 and XM Channel 91.
Here is a full list of stations on the UConn IMG Radio Network.
BYU Cougars Radio:
The exclusive radio home of BYU football and flagship of the Cougar Sports Network is KSL Newsradio in Salt Lake City. The "Voice of the Cougars" is Greg Wrubell, now in his 13th season as play-by-play commentator. A BYU alum, Wrubell is in his 22st year on the broadcast crew, having served as the sideline reporter before stepping into the booth.
Wrubell's on-air partner and game analyst is ex-Cougar quarterback Marc Lyons, who begins his 33nd season on the BYU Football broadcasts. Former Cougar defensive back and 2009 team captain Scott Johnson begins his second year reporting from the sidelines, while Andrew Adams returns for his fourth season as game-day host in the "Cougar Scoreboard Studio."
KSL's BYU Football broadcasts are heard via satellite on BYU Radio (SiriusXM 143) and over network affiliates in Utah, Idaho and Nevada. Coverage is also available online at ksl.com, which streams BYU Football games to a world-wide audience.
Last Week:
This is the opening game for both teams. UConn went 3-9 last season while BYU went 8-5 and advanced to the Kraft Hunger Bowl in San Francisco.
History:
Friday's game will be the first-ever meeting between UConn and BYU in the sport of football. UConn will travel to BYU next season on October 31, 2015.
Connections:
UConn does not have any Utah natives on its roster nor does BYU have any Connecticut natives.
UConn Notes:
Here is the video from UConn head coach Bob Diaco's press conference. Here is a transcript of some his remarks from the press conference.
UConn head coach Bob Diaco will be making his UConn and collegiate head coaching debut on Friday night vs. BYU. Diaco served on the Notre Dame coaching staff as the defensive coordinator for the past four years and the assistant head coach for the past two. He was the 2012 winner of the Frank Broyles Award, given to the top assistant college football coach in the country and was the first Irish assistant to receive the prestigious award.
Here is UConn's roster and 2014 schedule.
Here is UConn's depth chart for the game.
The captains of the 2014 UConn Huskies football team are Geremy Davis, Byron Jones, Alex Mateas and Marquise Vann.
Despite UConn having virtually an entire new staff this year, seven of the Huskies' full-time coaches have previously worked games at Rentschler Field. Head coach Bob Diaco, defensive coordinator Anthony Poindexter and assistant coach Wayne Lineburg were on the Virginia staff for a 45-10 Husky win on Sept. 13, 2008; Assistant head coach Don Patterson was on the Buffalo staff for a 24-17 UConn win on Sept. 29, 2012; Offensive coordinator Mike Cummings was on the Western Michigan staff for a 41-27 UConn win on Nov. 1, 2003; Assistant coach Kevin Wolthausen was on the Louisville staff for a 30-20 UConn loss on Dec. 3, 2005. UConn assistant coach Mike Foley is the lone holdover on the staff and is entering his ninth season.
UConn is 9-3 in season openers since making the jump to then-Division I-A in 2002. UConn has won nine of its 11 season openers at Rentschler Field (2003-Indiana, 2004-Murray State, 2005-Buffalo, 2006-Rhode Island, 2008-Hofstra, 2010-Texas Southern, 2011-Fordham, 2012-UMass) and also downed Duke, 45-14, in Durham, to open the 2007 season and Ohio University, 23-16 in Athens, to open 2009. UConn's four FBS era opening day losses were a 24-16 defeat at Boston College on Aug. 31, 2002 in UConn's first game as an official member of the FBS, a 30-10 loss to Michigan on Sept. 4, 2010 and the 33-18 Towson loss last season.
Connecticut boasts a 45-26 record against non-conference opponents in the regular season since making the move to the FBS in 2002. The Huskies have won 20 of their last 32 regular season non-league games overall. UConn has posted the following records in non-conference regular season games: 6-6 (2002), 9-3 (2003), 4-1 (2004), 3-1 (2005), 3-2 (2006), 4-1 (2007), 4-1 (2008), 4-1 (2009), 3-2 (2010), 2-3 (2011), 3-2 (2012) and 0-4 (2013).
UConn has an all-time record of 48-23 at Rentschler Field and a 25-10 mark in non-conference games.
The Huskies were picked to finish 9th in the American in 2014.
Preseason Award Watch Lists: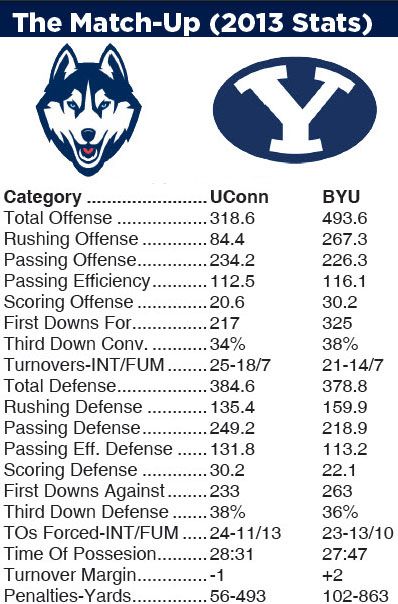 Notes from this week's opponent BYU:
Here are some quotes from BYU head coach Bronco Mendenhall's pregame press conference.
Bronco Mendenhall is entering his tenth season in charge of the BYU program and has led the Cougars to bowl games in each of his seasons in Provo. Last season, BYU went 8-5 and played in the Kraft Fight Hunger Bowl against Washington. Mendenhall led the Cougars to a 10-3 record in 2011, including a win over Tulsa in the Armed Force Bowl and a final national ranking of 25th in country by the Associated Press. Prior to become head coach at BYU, he was the defensive coordinator for the Cougars from 2003-04 and also had coaching stints at Oregon State (1989-90 and 1995-96), Snow College in Ephraim, Utah (1991-92), Northern Arizona (1993-94), Louisiana Tech (1997) and New Mexico (1998-2002), where he served as defensive coordinator and assistant head coach. He was a defensive back at Oregon State and is a 1988 Oregon State graduate.
Here is BYU's 2014 roster and schedule.
Here is BYU's depth chart for the game.
The 12-game independent slate for BYU features teams from 10 states and seven conferences, including the American Athletic, Atlantic Coast, Big 12, Pac-12, Conference USA, Mountain West and Mid-Eastern Athletic.
Selected by their peers, quarterback Taysom Hill, running back Paul Lasike, safety Craig Bills and defensive
lineman Remington Peck have been named team captains for the 2014 season.
The BYU football team will participate in hour-long devotionals prior or team service activities the night before each game this season. The team will conduct devotionals before eight games. These devotionals are referred to as "firesides" and are intended to help players, coaches and those who attend strengthen or gain a knowledge of our purpose here on earth. Firesides typically include a musical number from members of the team and talks from selected players, along with coach Bronco Mendenhall.
The Connecticut fireside will be held Thursday, Aug. 28 at 7 p.m. EDT at Hartford Stake Center, 1000 Mountain Rd, Bloomfield, Conn.
BYU RB Jamaal Williams and WR Devon Blackmon are suspended for the game due to violations of BYU's Honor Code.
Preseason Award Watch Lists:
HeismanPundit.com watch list
Sporting News Top 25
TD Club Players to Watch
NFL.com Heisman candidate
Maxwell Award watch list
CFPA QB Trophy watch list
Allstate AFCA Good Works Team
Davey O'Brien Award watch list
Walter Camp Award watch list
Manning Award watch list
CFPA LB Trophy watch list
Bronko Nagurski Trophy watch list
Rotary Lombardi Award watch list
Butkus Award watch list
Maxwell Award watch list
CFPA RB Trophy watch list
Doak Walker Award watch list
John Mackey Award watch list
Outland Trophy watch list
Rotary Lombardi watch list
Rotary Lombardi watch list
Earl Campbell Tyler Rose Award Watch List
Wednesday UConn Football Links:
To open the links up in a new tab or window, use Control+click
UConn Football Coverage on Sox & Dawgs [sox & dawgs]
UConn OL Gus Cruz Happy To Be Back On The Football Field [sox & dawgs]
UConn Football Radio Show Debuts On Wednesday [sox & dawgs]
UConn Football Pep Rally On Thursday Night [sox & dawgs]
Video: UConn Football Coach Bob Diaco & WR Geremy Davis on Davis Being Named Captain [sox & dawgs]
Video: UConn Football Coach Bob Diaco & Byron Jones on Jones Being Named Captain [sox & dawgs]
Video: UConn Football Coach Bob Diaco & Marquise Vann on Vann Being Named Captain [sox & dawgs]
Video: UConn Football Coach Bob Diaco & Alex Mateas On Mateas Being Named Captain [sox & dawgs]
Breaking down Huskies: Position-by-position [ed daigneault – republican-american]
Former UConn WR cut by Steelers [jim fuller – new haven register]
Former FSU QB dishes on UConn [jim fuller – new haven register]
Former UConn LB Moore back at practice [jim fuller – new haven register]
Trouble at corner brewing? [john silver – sny uconn]
Diaco on pace of play, BYU [john silver – sny uconn]
UConn football preview [ct post]
ESPN Analyst Anxious To See UConn Football Under Bob Diaco [hartford courant]
UConn Football Situation Suits Diaco Just Fine [hartford courant]
Cougars, UConn kindred spirits in new landscape [salt lake city tribune]
BYU traveling to UConn two days before kickoff [salt lake city tribune]
Traveling long distances 'a necessity' for BYU football program [deseret news]
Next Week:
UConn will host the Stony Brook Seawolves on Saturday, September 6 at 12 p.m. at Rentschler Field.