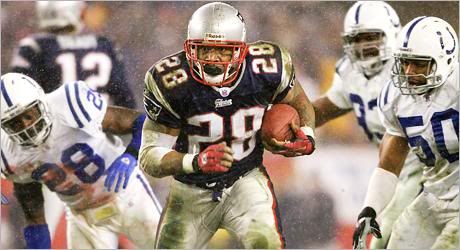 Former New England Patriots and Cincinnati Bengals running back Corey Dillon pleaded not guilty in Malibu Superior Court to two misdemeanor charges stemming from a DUI arrest he had in Calabasas CA on April 2.
Two deputies witnessed two males in a red Camaro, driven by Dillon, driving very slowly behind them. They pulled the car over and arrested Dillon for suspicion of driving under the influence.
Dillon was also arrested on a domestic violence charge on May 1 after an altercation with his wife. Those charges were later dropped by the prosecutor who cited lack of evidence.
There was no information released on when Dillon is to appear next in Malibu Superior Court on the DUI charges.
Photo credit: AP