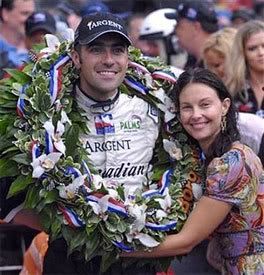 IndyCar series driver Dario Franchitti will leave the series next season to race in NASCAR with Chip Ganassi Racing.
The agreement is yet to be finalized but it will announced at the end of the IndyCar series in September. Franchitti will occupy the #40 car for Ganassi.
Franchitti, who currently drives for Andretti Green racing, will join another former open wheel racer Juan Pablo Montoya a current NASCAR rookie.
Speculation on Franchitti's future began in May when he won the Indianapolis 500. He currently works on one-year contracts and becomes a free agent on December 1st.
While he gets along with his teammates at Andretti Green, there has been some friction between Franchitti and team owner Mario Andretti after he and Andretti's son, Marco, were involved in a crash at Sonoma in August.
It is expected that Franchitti, who has yet to drive a stock car of any kind, will get a quick course in the sport from Ganassi, who plans, according to the source, to enter him in a series of ARCA and NASCAR Busch Series races to get him up to speed.
Franchitti by the way is also married to the actress Ashley Judd, who is a huge University of Kentucky sports fan. She is also the daughter of Naomi Judd, who along with her other daughter Wynonna formed the award winning country music duo, the Judds.