I just want to thank everyone who voted for us in the Hartford Courant's contest, The Websters, for the top blogs of 2012 in Connecticut.
While we got in late due to a technical error and missed the first three days of voting, we were able to pull off the miracle and we won Best Sports Blog!!!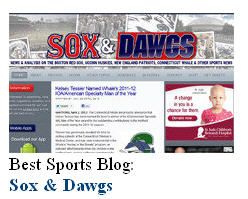 I really can't thank everyone enough for their votes. Steve and I really appreciate them.
You can see the full list of winners for The Websters at the Hartford Courant website.
Follow Ian on Twitter @soxanddawgs. And be sure to like us on Facebook as well.