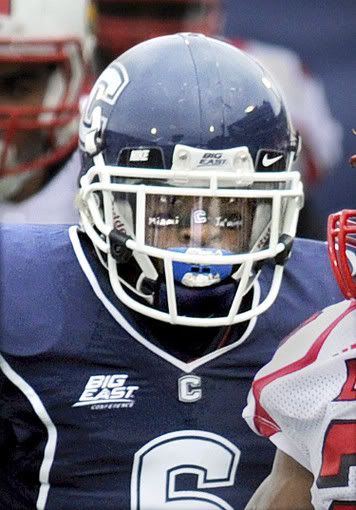 During his weekly Sunday press conference, West Virginia head coach Bill Stewart offered his condolences to Jasper Howard's family and UConn on the passing of Howard. The Mountaineers will host the Huskies next Saturday in Morgantown.
First and foremost, I would like to start with a very sincere, heartfelt condolence statement by the Mountaineer football staff, and most importantly the team and the whole West Virginia nation, to the situation up with the UConn football family.

To Jasper Howards' family in Florida, to Coach Randy Edsall and his coaching staff and to all of Jaspers' teammates – we are absolutely heartbroken for you.

We are just stunned, as the nation is, regarding what happened on that campus in the early morning hours today after such a tremendous game he played yesterday (at Louisville).

I remember Jasper from last year. I haven't seen a snap from this year, except his playmaking highlights from yesterday prior to our game. I remember him leading the BIG EAST in punt returns and him as an absolute terror on special teams. He looked like a leader and emotional, fun-loving guy.

I'm just sick for Randy and Jasper's family. My god, how short and sweet life is and what we take for granted.

This has been weighing heavily in our hearts. Your West Virginia players are visibly upset at this time. They knew this man. I will certainly address this situation today and the short, but wonderful life of Jasper Howard.

I don't have much to say on the Marshall game. We have watched the film and met as a staff. We have five wonderful recruits in with their families, and it's a very hectic weekend.

Anytime you can win a football game against a winning, IA, 4-2 football team is good. That team is on the rise. Mark Snyder has that Marshall football team on the rise. Let me assure you, he and his staff's diligent patience and planning made yesterday's game possible. His players are buying in. That was very good to get that tough game behind us, and I'm proud of our players.

We have a tough game coming up this week. I don't know how this week will go or how this poor tragedy will affect everything. We'll have to talk about that later because I am not mentally prepared to right now. I can't imagine what Randy is going through. I'm visibly shaken by this situation, and I don't have a whole lot to say today.
(on what will happen with the UConn game)
We will do whatever needs to be done. It's been a rough morning. I balled this morning. I've met with one of my superiors. I've been in conversation with my two immediate bosses. We've discussed some gestures we're going to do, and we're going to have a call with the BIG EAST soon.

I'm very good friends with Randy. I can't imagine what that football family and the Howard family is going through.

We have some measures we've discussed, and we want to make sure we clear everything through the proper BIG EAST channels. There have been serious and heartfelt conversations by the Mountaineers already this morning regarding this tragedy.

Let's wait and see and let the universities talk.

I'm very proud of our football team. I love each and every one of them dearly. This is when it's a time of family and hanging in there as a group is important. We have to realize how lucky we are to live in this great world.