In preparation for tomorrow's matchup with the Kansas State Wildcats in the second round of the 2012 NCAA Women's Basketball Tournament, UConn Huskies players Kelly Faris, Bria Hartley and Stefanie Dolson along with head coach Geno Auriemma met with the media.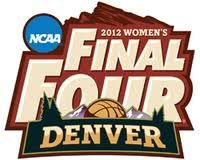 Here are the quotes courtesy of UConn Athletics:
Kelly Faris, Junior, Guard

On how your routine life changes during tournament time
Life is definitely much busier. We miss class more than usual, we stay in study hall to stay on top of our school work, but mainly the most we miss out of our life routine is school. We try to keep it as normal as possible.
Bria Hartley, Sophomore, Guard

On how you routine life changes during tournament time
Like Kelly said, we are a lot busier. We try to keep up with school work, but we learn to manage. We have free time to get our work done, so when we get on the court we are focused on basketball.

Stefanie Dolson, Sophomore, Center

On preparing for Kansas State
We feel good. We know we have to be focused on ourselves. Mostly we just need to want to stay focused on our game plan.
On having only one day of rest
We feel good, and know exactly what we have to do. We know what we have to do coming into the game. So we must stay focused.
To see what Geno had to say, click on the read more button below if you're on the home page.
Head Coach Geno Auriemma

Opening Statement:
"There's not much to say. Those of you that were here yesterday, we talked about trying to build some momentum going into this thing and hopefully we can carry what we did in the second half of yesterday's game forward and play well tomorrow night against a team that's a lot different from the one we played yesterday. Hopefully, we can play a good, solid 40 minutes of basketball. This tournament is all about the mindset you bring in and whether you are ready mentally."
On Finally Playing Kansas State; A Team That Has Been In UConn's Bracket 5 of the Last 11 Seasons:
"I didn't realize that was the number of times they have been in our bracket. I've known Deb [Kansas State head coach Patterson] a long time. She was one of my assistants on the national team. Each year, they play their style of play. It's been consistent. The program is built around their defense. They play great defense. They don't try and do a lot of things. They are very patient. They are always disciplined every year, and they try and force you to play their style by controlling the tempo, and I'm sure tomorrow it will be the same thing."
On What Are Some Of The Areas He Would Like To See His Team Tighten Up Heading Into Tomorrow Night's Game:
"I think for us it's always the same. No matter where or when we play, our defense has been really good for the most part. But we seem to spend a lot of our time at practice or getting ready for games trying to figure out offensively what works best. This just isn't one of those years where we can count on going out and getting 85 points on a regular basis. We have to work a little bit harder offensively, so I think for tomorrow it's going to be all about that. We need to make sure we get the right shots at the right times. The deeper you go into the tournament, the less you can afford to have bad possessions. I think we need to make sure we are all in synch on the offensive end because our defense is going to be OK."
On Why It Seems In The Women's NCAA Tournament The Higher Seeded Team Usually Wins As Opposed To What Happens In The Men's NCAA Tournament :
"I think teams are closer now than they have been in the past. I still think you are going to have a difficult time of a 16 beating a 1-seed or a 15-seed beating a 2-seed. That's still hard. That's still hard on the men's side too. What makes it more difficult on the women's side is that there aren't any one seeds or two seeds that have a lot of freshman or sophomores in key spots, so you are always playing against an experienced team, although we [UConn] might be an exception. That's not always the case on the men's side. On the men's side, a lot of the top seeds are doing it with young, inexperienced guys that can get knocked off by a team with four of five juniors and seniors. That's not the case in women's basketball as kids don't go anywhere. If you transfer that to the men's side and all those kids at Kentucky stay, you're not beating them for a few years, but now they will probably have a new team next year. That's just going to keep happening on the men's side, so those upsets will keep happening. On our side you have to beat the best teams with the best players and they are there for three or four years. It makes things very difficult for lower seeds. You can look at the women's Final Four, and rarely can you say how the hell did that team get there? That doesn't happen on the men's side. On the women's side it seems like every year to get to the Sweet 16, you have to beat one of the best eight teams in the country. And to get the Final Four, you probably have to beat one of the top four teams in the country."
Follow Ian on Twitter @soxanddawgs. And be sure to like us on Facebook as well.