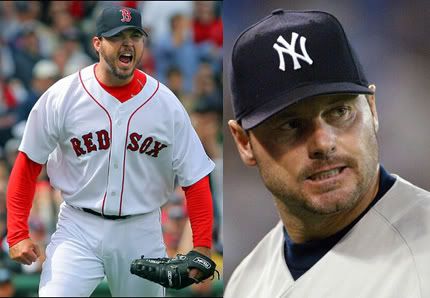 When Josh Beckett was just a young pup growing up in Texas, his idol was Roger Clemens. When Clemens went to the Astros in the National League, there would be a chance that Beckett would face his idol when he pitched for the Marlins. Beckett's dream matchup never materialized until tonight with both of them in the American League. What makes Beckett like his idol, Clemens? His heart. Both of them wear their emotions on their sleeves and have "heart" when they take the mound. We've all seen how passionate Clemens was back in his days in Boston and then those other cities (It is Dan Duquette's fault that Clemens didn't stay with the Sox). And we have most definitely seen how much passion Josh exhilarates on the mound. Tonight's game should be one of the best to watch as you see two competitors face off. Idol vs idolizer.
Here's a look at tonight's lineups courtesy of Nick Cafardo from the Boston Globe.
Red Sox
1. Julio Lugo, SS
2. Dustin Pedroia, 2B
3. David Ortiz, DH
4. Mike Lowell, 3B
5. Kevin Youkilis, 1B
6. J.D. Drew, RF
7. Jason Varitek, C
8. Coco Crisp, CF
9. Eric Hinske, LF
–Josh Beckett, P
Yankees
1. Johnny Damon, LF
2. Derek Jeter, SS
3. Bobby Abreu, RF
4. Alex Rodriguez, 3B
5. Hideki Matsui, DH
6. Jorge Posada, C
7. Jason Giambi, 1B
8. Robinson Cano, 2B
9. Miguel Cabrera, CF
–Roger Clemens, P
Mike McDermott of the Pro Jo brings you how each team has fared against tonight's starting pitchers.
Red Sox vs. Roger Clemens
-Coco Crisp, 2 for 7 (.286)
-David Ortiz, 4 for 19 (.211), HR, 2 BB
-Mike Lowell, 2 for 11 (.182), BB
-Manny Ramirez, 9 for 50 (.180), 2B, 3 HR, 10 BB
-Jason Varitek, 3 for 19 (.158), 2B, 2 BB
-Eric Hinske, 2 for 13 (.154), 2B, BB
-Julio Lugo, 1 for 9 (.111), 2B
-J.D. Drew, 0 for 2, BB
-Alex Cora, 0 for 3
-Bobby Kielty, 0 for 5, BB
-Clemens is 8-5 with a 3.85 E.R.A. in 19 regular-season starts against Boston. He last faced them during in Game 7 of the 2003 American League Championship Series, when he picked up a no decision while giving up four runs (three earned) in three innings pitched. We all know how that one ended.
Yankees vs. Josh Beckett
-Andy Phillips, 1 for 1 (1.000), HR
-Robinson Cano, 6 for 13 (.462), 2 2B, HR, 3 BB
-Jason Giambi, 4 for 10 (.400), 2 HR, 5 BB
-Jorge Posada, 4 for 10 (.400), 2B
-Johnny Damon, 4 for 14 (.286), 3 2B, 2 BB
-Melky Cabrera, 4 for 16 (.250), 2B, BB
-Derek Jeter, 4 for 16 (.250), BB
-Hideki Matsui, 2 for 8 (.250), BB
-Alex Rodriguez, 4 for 16 (.250), 2 2B, 3 BB
-Bobby Abreu, 7 for 43 (.163), 2 2B, 2 HR, 18 BB
-Jose Molina, 0 for 3
-Wilson Betemit, 0 for 5, BB
-Beckett is 3-2 with a 7.91 E.R.A. in six career regular-season starts against New York. This season, he is 1-0 with a 5.54 E.R.A. in two starts against the Yanks.