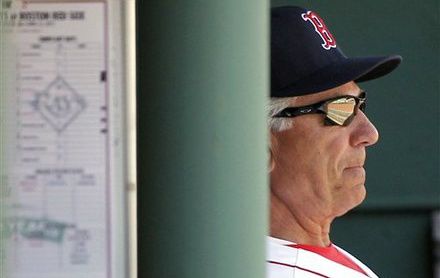 Bobby Valentine really didn't have a good day in his first Patriot's Day game as the manager of the Boston Red Sox.
It started out with him trying to explain his comments about the heart of Kevin Youkilis that he had made on Sunday night as well as an apology to Youk. The day ended with him telling the media as to why he left Daniel Bard out there a little too long as it had cost them the game in a 1-0 loss to the Tampa Bay Rays.
The one thing I think everyone dislikes about Valentine is that he likes to be in the spotlight. It's a far cry from the days of Terry Francona.
To me, it seems like Valentine doesn't think before speaking. Sure the words he said about Youk may not have come out the way he wanted but he said them. And now he has to live with the fallout.
He definitely didn't endear himself to any one on the 25-man roster and now how are they to expect their manager to have their back if they are slumping or going through a rough patch.
There are two sides to the Bard situation.
First, it's letting a young pitcher with a high pitch count try to work out of a jam he created. Secondly, it's an opportunity for Bard to get that experience in a situation like that so he can use it in future games.
It's hard not to fault the logic either way as it makes perfect sense to someone in the baseball world. But to the common fan, it's just Valentine's second huge mistake of the day. And for me, who spent almost a decade in the baseball world, I have to agree with the thinking of Valentine (yes it hurt me to say that).
In the end though it hurt Bard and the Red Sox as it turned out that the run he walked in would be the only run of the afternoon.
If we take out the fact that Bard walked seven guys, his line would have been spectacular for someone making just their second big league start. He would end up allowing just four hits over 6 2/3 innings while striking out seven and walking the seven guys.
It's obvious that Bard needs to work on his command. He did possess a nasty slider and his other pitches looked good for the most part.
I think what it boils down to for me is that it was a learning experience for both Valentine and Bard. Bard now knows what it's like to pitch really fatigued as a starter both physically and emotionally while Valentine learned not to second guess his gut.
Offensively the Red Sox weren't able to do much against James Shields. They would manage just four hits on the afternoon against him with Cody Ross leading the way with two hits. Dustin Pedroia and Adrian Gonzalez had the others.
After the 1-5 start, things definitely are looking a lot better for the Red Sox. Hopefully Valentine will keep his mouth shut about the players before he completely loses the clubhouse. If he does that, I think everything will work out fine for the club.
We'll be back later on today with this evening's lineups, batter/pitcher matchups and links from the day. So for now, let's take at look at the overnight links from the media by clicking on the read more button below if you're on the home page.
To open the links up in a new tab or window, use Control+click
Bard has marathon with his pitch count [Boston Globe]
Double-header [Boston Globe]
Putout here – of firestorm [Boston Globe]
Sox thrown off their game [Boston Globe]
Business as usual in Valentine's world [Boston Globe]
Valentine's day gets worse with 1-0 Sox loss [Boston Herald]
Bard decision leaves Bobby Valentine feeling heat [Boston Herald]
Negative response to manager in clubhouse [Boston Herald]
Daniel Bard's tank left empty [Boston Herald]
Cody Ross livid after being rung up in ninth [Boston Herald]
Shields outduels Bard as Rays beat Sox, 1-0 [CSN New England]
Youk/Bobby V. firestorm abates: Controversy simmers down [CSN New England]
Frustrated Ross: Those pitches weren't strikes [CSN New England]
Youk's agent: Bobby V. 'far off base' [CSN New England]
Pedroia: Maybe this stuff works in Japan, but not here [CSN New England]
Bobby V: Leaving Bard in 'wrong decision' [ESPN Boston]
OTL examines Red Sox clubhouse dynamic [ESPN Boston]
Pedroia: 'We talked about it. We're good' [ESPN Boston]
Bobby V: 'It is what it is' with Youkilis [ESPN Boston]
Cherington: 'We were able to talk through it' [ESPN Boston]
Bard's fastball was off the mark [ESPN Boston]
Tito didn't think Bobby was ripping Youk [ESPN Boston]
Bobby Valentine may have lost trust among Boston Red Sox [ESPN Boston]
Closing Time: James Shields, Rays too much for Red Sox in series finale [Full Count]
For Daniel Bard, a disappointing decision and outcome, but a bigger picture [Full Count]
Fenway Park's most memorable moments contest bios [Full Count]
Valentine needs to be allowed to manage [Tony Massarotti – Boston Globe]
Dustin Pedroia Says He Spoke With Bobby Valentine, Declares 'We're Good' (Video) [NESN.com]
Daniel Bard Proves He Could Be Fantastic Starter for Red Sox Once He Solves Control Issues [NESN.com]
Cody Ross Compares Red Sox' Patriots' Day Game to Clayton Kershaw-Tim Lincecum Showdown [NESN.com]
Cody Ross, Adrian Gonzalez Unhappy With Umpire Larry Vanover's Strike Zone in Ninth Inning of Loss [NESN.com]
Bobby Valentine Makes Managing Mistake, Allows Daniel Bard To Stay After Mound Visit [NESN.com]
Red Sox Fans to Toast for Guinness World Record at Fenway Park's 100th Anniversary on Friday [NESN.com]
Ben Cherington Says Bobby Valentine's Comments Won't Affect Clubhouse, Agrees With Apology to Kevin Youkilis [NESN.com]
Bobby Valentine's Mistake-Filled Day Means Critics, Fans Can Stop Waiting for Blunder, Team Can Move On to Baseball [NESN.com]
Clay Buchholz Sticks to Routine to Keep His Back Healthy [NESN.com]
Patriots' Day has special meaning to amputee [RedSox.com]
Valentine has rebuilding to do in clubhouse [RedSox.com]
Strange days: For Kevin Youkilis, 2012 is off to a perplexing start [Alex Speier – WEEI.com]
No surgery expected for Ellsbury [Alex Speier – WEEI.com]
For more slices of Red Sox goodness, head over to the Boston Globe, Boston Herald, CSN New England, ESPN Boston, NESN, Providence Journal, RedSox.com and WEEI websites.
And if you must check out the enemy news, head over to the Tampa Bay Times and Tampa Tribune websites.
Follow Ian on Twitter @soxanddawgs. And be sure to like us on Facebook as well.
photo credit: AP Photo