The last time the Boston Red Sox went to salary arbitration with a player it was 2002. And with the hearing scheduled for David Ortiz today at 2 p.m., it looked as though the streak would end.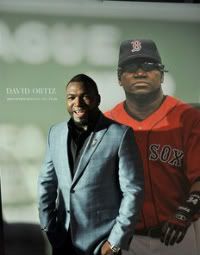 But according to a report from Buster Olney of ESPN, the Red Sox and Big Papi have agreed on a one-year deal worth $14.575 million. Nick Cafardo of the Boston Globe has confirmed that a deal has been done as well.
Big Papi had asked for $16.5 million and the Red Sox were offering $12.65 million so the two sides settled in the middle. The Red Sox had been trying to sign Papi to a two-year deal to lower their luxury tax number. It's still possible they could agree to a two-year deal before the season starts.
Ortiz is coming off a 2011 season where he hit .309 with 29 home runs and 96 RBIs.
Follow Ian on Twitter @soxanddawgs. And be sure to like us on Facebook as well.
Photo credit: Getty Images