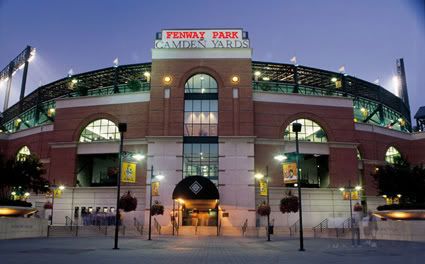 As Anthony of the Oriole Post can attest to, Red Sox Nation travels and they travel well. In a recent three games in Baltimore, RSN helped the Orioles set a 3-game homestand attendance record. And now in a recent USA Today article states, "Red Sox Nation is the new king of the road."
If you've been watching games this summer, you will notice this trend, the sea of red in the stands. Don and Jerry talk about it all the time on NESN. The reason why RSN travels well is because it is impossible to get a ticket to Fenway Park. The Fens is always sold out and been sold out for a long time.
This phenomenon really started when the Red Sox ended 86 years of hell for it's faithful fans and won the World Series in 2004.
Terry Francona recalls walking into a hotel elevator in Baltimore this month, still smarting from a galling loss that night. The Boston Red Sox manager was joined by two Sox fans, also guests in the hotel where the team was staying.

"One of them told me I took (pitcher Daisuke) Matsuzaka out of the game too early," Francona says. In no mood to debate baseball strategy with strangers, he said nothing.

"Then the other guy said, 'So, what are you going to do tonight?' " Francona recalls. "I said, 'Get away from you as quick as I can.' "
And it's like this everywhere the Red Sox go. And you know what Red Sox Nation, keep on supporting the boys.