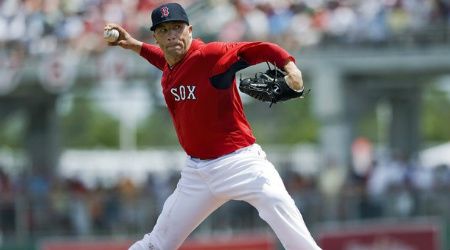 With Andrew Bailey being out until at least sometime in July, new Boston Red Sox skipper Bobby Valentine had a little bit of a conundrum. He had no closer.
Well now, he does.
After competing for a spot in the starting rotation only to be sent back to the bullpen, Alfredo Aceves will now play a more important role. He'll be the closer for the Red Sox until Bailey returns. Mark Melancon had been considered as well but according to Valentine, Aceves' American League experience earned him job.
"(Aceves) loves competition," Valentine said. "I think he's one of the better competitors that I've seen. I could be wrong. I haven't seen him up close and personal in battle, but I believe that he's a very good competitor, to say nothing of a very good pitcher."
"Everybody has to do something within the team, and he can't do more than one thing, even though he was thinking about being a starter and now he's a reliever and a closer," Valentine said. "You're probably talking about the 100 innings that you think you can get out of him if he was pitching in the middle of the game, and that's obviously valuable. It's been worth 24 wins to his respective teams in the couple years that he's pitched that way, which is very valuable."
Aceves was 10-2 last season with a 2.61 ERA and two saves in 55 games for the Red Sox last season. Overall in his career, he has four saves.
It also appears the 25-man roster is coming into shape as Valentine said the Red Sox will carry 13 pitchers early on in the season. Once the roster is released, it will be posted here.
Follow Ian on Twitter @soxanddawgs. And be sure to like us on Facebook as well.