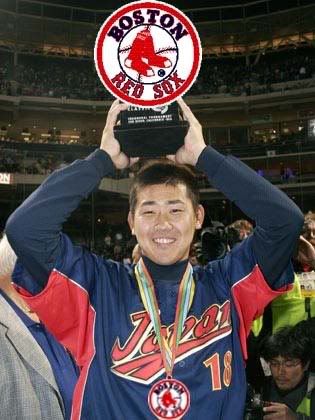 The Boston Red Sox have scheduled a press conference for Thursday Dec 14th at 5 PM to announce the signing of Daisuke Matsuzaka. Matsuzaka, only 26 years old, will receive his #18 jersey (last worn by Johnny Damon), and I am sure he will answer questions from the Boston and National media.
Matsuzaka's contract calls for a $2 million dollar signing bonus, $6 million for 2007, $8 million for 2008, 2009, 2010, and $10 million dollars for the last two seasons of the contract. It also includes $8 million dollars in escalators from awards which could bring the value of the contract to $60 million dollars. The final price tag to sign Matsuzaka was $103.11 million dollars or approximately 12,032,928,210 Yen. Yes that is 12 billion in Japanese Yen.
Boras told ESPN.com the contract includes a "litany of personal comforts." Matsuzaka will get a massage therapist, physical therapist, interpreter and personal assistant, and the Red Sox agreed to provide the pitcher with 80-90 flights over the course of the deal, along with special housing and transportation arrangements and accomodations for his wife.
The deal was worked on while they all flew back from California where the Boston bigwigs had gone to try and sign Matsuzaka in a last ditch effort.. The deal was consummated when they arrived in Boston on Wednesday night.
This is a great deal for the Red Sox. Matsuzaka is the third 26 year old in the rotation. Beckett and Papelbon are the others. This essentially locks these young guns up for long term. Also remember the Red Sox will also have Jon Lester, who is 22 years old, returning to the team after his successful fight against cancer. Right now the Red Sox rotation in what I think the order will be is:
Curt Schilling
Daisuke Matsuzaka
Josh Beckett
Jonathan Papelbon
Tim Wakefield
Look for the Red Sox to go after Roger Clemens now. The Sox have had their sites on him since last season when he was a free agent. If, and thats a big IF, sign Clemens, I'd look for the Sox to move Jonathan Papelbon back to the bullpen as the closer, where he was so successful before coming down with dead arm.
It is truly a glorious day in Red Sox Nation!
Technorati: Boston Red Sox, Matsuzaka, Curt Schilling, Roger Clemens, Yen, Scott Boras