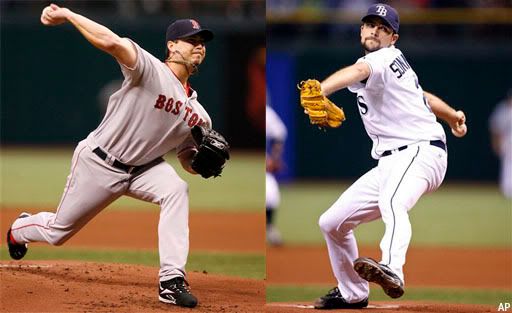 After watching the Boston Red Sox lose last night to the Tampa Bay Rays on a walk-off hit, I started thinking about the great pitching performances turned in by both Josh Beckett and Andy Sonnanstine.
For us as Red Sox fans, last night we saw the vintage Beckett. The one who goes out and totally dominates the other team's hitters and usually comes out on top. This is the Beckett who we saw last year in the playoffs making hitters looked like they didn't belong.
Now ponder this question for a second. How many pitchers in the American League can usually match Beckett pitch for pitch in a game? Are you thinking? Seriously think about it for a second.
Okay, now that you've thought about the question for a second, let me ask you this. Did you have Sonnanstine on that list? If you did, you must be a Rays fan or see what the Rays saw in him when they drafted him.
Both Beckett and Sonnanstine matched up last Wednesday in the game won by the Rays in extra innings at Fenway Park. If you remember that game, it was like turning on the DVR replay and watching it again last night. During the game last week, both pitchers were in control, very few mistakes.
Now clear your head of last week's game and think about last night. It was the same thing. They both were in control, a mistake here and there but both left giving their team a chance to win.
That's all you can ask of your starting pitcher each time he goes out on the mound. You want him to compete and give your ballclub a chance to win. We hear this all the time from Red Sox skipper Terry Francona and he's right. Pitch like both of them did last night and your team will have that chance to win.
The good news out of the start for the Red Sox is the fact that Beckett is being Beckett again. It was his third start back from the disabled list and he was able to go 8 innings only throwing 95 pitches. Had it not been his third start back from the DL, he probably would have come back out to pitch the 9th inning.
Oh and by the way, another reason Beckett is back, the cussing is back and back with a vengeance. I'd have to say he used the mother f word at least 5 times in the game along with a few others. In the postgame press conference, he called Carlos Peña a strong SOB for hitting that pitch the opposite way for the only blemish on Beckett's line last night. And of course there's this.
"That's for you guys and people up in Boston to worry about that (expletive) right now. We're worried about winning tomorrow. It's like that (expletive) on TV, Mission Soxtober. We're in September right now. I'm not worried about October."
Now that's the vintage Beckett we all know and love. Right Texy? Those (expletive) Mission Soxtober videos can be seen here and here. And I'm sure that we will have another one at some point today.
Links from the Tampa and local media after the jump.
Jed Lowrie doesn't mind moving positions in the infield but he does see himself as a shortstop.
Fans still aren't coming to Tropicana Field even though the Rays are on the verge of their first playoff appearance.
Former Red Sox pitcher Luis Tiant is on the Veteran's Committee ballot for the Baseball Hall of Fame.
Dioner Navarro's throw catching Jacoby Ellsbury stealing in the 8th inning may have saved the day for the Rays.
In case you missed the news, Red Sox general manager Theo Epstein is close to signing an extension.
Jim Donaldson has a comparision of Daisuke Matsuzaka and Josh Beckett.
Jacque Francona and Kelli Pedroia were seen modeling some outfits at Stil Boutique.
Don Zimmer said that Dustin Pedroia is his American League MVP.
Mike Lowell may need tonight off as his already bad hip gave him some problems during the game last night.
For more slices of Boston Red Sox goodness, head over to the Boston Globe, Boston Herald, Hartford Courant and Providence Journal websites.
And if you must see what the enemy papers are saying you can check out the Tampa Tribune and St. Petersburg Times websites.