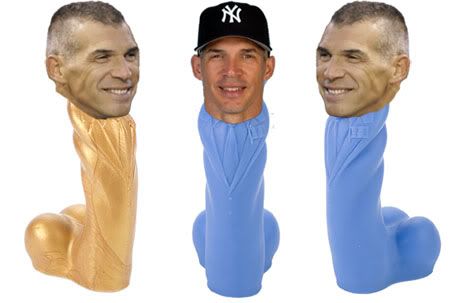 Yeah I said, what the heck are you going to do about it?
So why is this big bad Boston Red Sox fan calling New York Yankees skipper Joe Girardi a major prick? Well one, because I can and two, because I can. And oh yeah, three, because he is.
With Minnesota Twins first baseman Justin Morneau still suffering the effects of a concussion from earlier in the week, he decided it would be best to skip the 2010 MLB All-Star Game on Tuesday in Anaheim.
And with Morneau being a fan selection to the American League squad, it was up to Girardi to choose his replacement. So with Kevin Youkilis of the Red Sox and Paul Konerko of the Chicago White Sox out there with All-Star credentials, the major prick picked Konerko.
Now I have absolutely nothing against Konerko for being chosen, he has the numbers to be there. But why in the heck isn't Youk there after finishing a close second to Yankees outfielder Nick Swisher in the AL All-Star final vote.
After all, Morneau was elected by the fans. Youk finished way ahead of Konerko in the final vote.
So why did the major prick chose Konerko?
It's quite simple actually. The rivalry between the Red Sox and the Yankees.
There's a time and a place to let the rivalry between the Red Sox and Yankees come between things but the 2010 All-Star Game counts. While the two (Konerko and Youk) have similar numbers, Youk brings a different dimension to the game in that he can play first and third base.
If it weren't for the other members of the Red Sox being in the game, I'd probably boycott it. But knowing the major prick, he probably won't play them in the game and show us why he is a major prick.