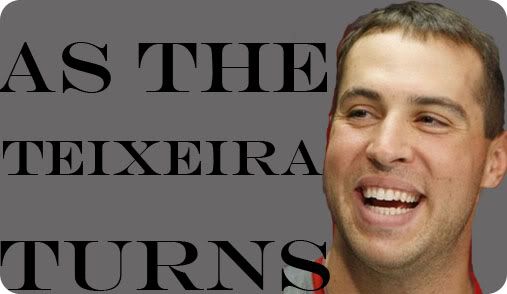 Now that the whole Mark Teixeira free agency has become a soap opera, it's time to rename it all to "As The Teixeira Turns."
Last night came the stunning developments that the Boston Red Sox were pulling out of the negotiations with Mark Teixeira.
"We met with Mr. Teixeira and were very much impressed with him. After hearing about his other offers, however, it seems clear that we are not going to be a factor."
While I feel that this is the end for the Red Sox in the Teixeira chase, others don't share my feelings:
A Red Sox Fan in Pinstripe Territory: Considering the source, though, this could be a prank email from anybody. If it is true, we'll see soon why they decided to just walk away. Could be just a threat to mess with that pig Boras.
Around the Bases: While Henry's words make it seem like Boston is out of it, I wouldn't count them out until Teixeira's putting his signature on a contract elsewhere.
Fenway West: This does not necessarily mean the Sox are done in the case that Boras was bluffing about other offers and will have to come back to the Red Sox with hat in hand but that is an unlikely senario.
The Joy of Sox: Is Henry bluffing? Has Teixeira eliminated Boston from his possible places of employment? Or is this a straight statement of the Red Sox removing themselves from the bidding and moving on?
Red Sox Monster: If true, that's certainly unfortunate for the Red Sox organization. But is it true?
SOX1FAN: Is it posturing for Boras, or does it mean the Red Sox are really moving on? Time will tell…
Surviving Grady: So the Sox winkwink are apparently dropping out of the Mark Teixeira talks winkwink because the money is just getting too winkwinkwink ridiculous.
The Bottom Line: Personally, I think Henry and Co. made their offer and are choosing to play hard ball now. This is the final hand in the poker game. If Boras does have a $200 million deal from the Angels, Nats or Yankees, then Teixeira will not be in Boston… but I don't think he does and I think Boras' statement was really targeted at the other teams involved.
Yanks Fan vs Sox Fan: As I've said in the comments, I'm pretty convinced this is a case of Henry calling a Boras bluff.
Some thoughts from the national and Boston media after the jump.
Alex Speier, WEEI: Though Henry could be suggesting that the Sox, believing that they have been out-bid, are bowing out of the process, there are a few loaded terms here. Henry's mention of "other offers" could be viewed as an indictment of a common Boras negotiating tactic, namely the mention of mysterious, unspecified teams that have made offers that vastly exceed those of his clients' known suitors.
Gordon Edes, Yahoo! Sports: Are the Red Sox calling Boras' bluff? It wouldn't be the first time.
Jon Heyman, SI.com: At least a half-dozen baseball executives with some knowledge of the process suggested to SI.com that the Red Sox remain interested in Teixeira and are merely intent on sticking to their last proposal (which one source pegged at close to but probably not more than $180 million for eight years)
Nick Cafardo, Boston Globe: Of the people I've talked to this morning regarding John Henry's e-mail in which he said it seems that Boston "will not be a factor" for Teixeira, none of them seem to hear any finality in that statement.
Tony Massarotti, Boston Globe: So what we have here, it seems, is a rather high-stakes game of poker. Does Mark Teixeira really have better offers? Are the Red Sox really prepared to walk? Or are Scott Boras and John Henry just playing another game of chicken with other people's money?
My feelings are that this is over for the Red Sox. As you may or may not know, I usually suck at predictions. Let's hope I'm wrong again this time.
UPDATE 12/19 5:45 PM: According to Buster Olney and Peter Gammons of ESPN.com, it's going to take 8 years, $184 million for the Red Sox to get Teixeira signed.
One executive familiar with the meeting said the Red Sox were told that in order to finish a deal for Teixeira, they would have to offer about $23 million a year over eight years — or a deal for about $184 million. The Red Sox walked out, and Henry issued this statement to the AP: "We met with Mr. Teixeira and were very much impressed with him. After hearing about his other offers, however, it seems clear that we are not going to be a factor."

It's a poker game," said a high-ranking official for one of the teams involved in the talks. "Unless Teixeira is ready to make a deal now, he'll be talking to Boston again."