We at Sox and Dawgs decided to start taking a look at some current players to see if they could gain election to Hall of Fame. In this series, we're going to look at players who are currently active who have reasonable consideration to be a Hall nominee. This isn't a science and you may have others on your list that we left off. There are some fine young players who are just starting their careers who may have Hall potential but for arguments sake these are for guys who have been around a bit or those few outstanding younger players who just jump off the page at you.
In this series we're going to look at the players by position as compared to Hall members of that position. The position is the primary position of the player through his career. If he played a significant amount of games in another position that will be listed next to his name. Some of the guys we will look at over time have endured position changes, but because the majority of their career was at one position over another we have chosen that as the position in which they are being considered.
The fifth category we will look at is second baseman.
The Baseball Hall of Fame second baseman we are going to use for comparison are:
Rod Carew 19 years, 2469 G, 9315 AB, 1424 R, 3053 H, 445 2B, 112 3B, 92 HR, 1015 RBI, .328 BA, .393 OBP, .429 SLG, 18 All-star teams, ROY, 1 MVP, 7 Batting Titles, Hits leader 3x
Joe Morgan 22 years, 2649 G, 9277 AB, 1650 R, 2517 H, 449 2B, 96 3B, 268 HR, 1133 RBI, .271 BA, .392 OBP, .427 SLG, 10 All-star teams, 2 MVPs, 1 All-star game MVP, 6 Gold Gloves, 1 Silver Slugger
Jackie Robinson 10 years, 1382 G, 4877 AB, 947 R, 1518 H, 273 2B, 54 3B, 137 HR, 734 RBI, .311 BA, .409 OBP, .474 SLG, 6 All-star teams, ROY, 1 MVP, 1 Batting Title
Bill Mazeroski 17 years, 2163 G, 7755 AB, 769 R, 2016 H, 294 2B, 62 3B, 138 HR, 853 RBI, .260 BA, .299 OBP, .367 SLG, 7 All-star teams, 8 Gold Gloves
We have two possible candidates for the Hall, with one having played significant games in other positions:
Their stats are current as of July 12, 2007.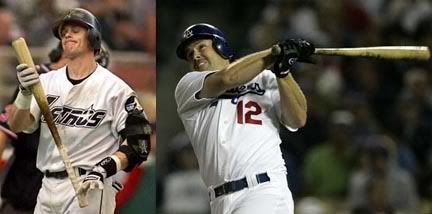 Craig Biggio (C/CF) 20th year, 2789 G, 10,679 AB, 1826 R, 3013 H, 661 2B, 55 3B, 286 HR, 1154 RBI, .282 BA, .365 OBP, .435 SLG, 7 All-star teams, 5 Silver Sluggers, 4 Gold Gloves
Jeff Kent 16th year, 2122 G, 7862 AB, 1250 R, 2272 H, 521 2B, 46 3B, 355 HR, 1421 RBI, .289 BA, .356 OBP, .502 SLG, 5 All-star teams, 4 Silver Sluggers, 1 MVP,
In my book Biggio is in. I have heard actual BBWAA Hall of Fame voters say they will vote for him on his first ballot. I think he is truly deserving not only for his 3,000+ hits but also for the fact that this guy changed positions from catcher to outfield to second over the course of his career. It's not an easy thing to do and most players who change their position aren't Hall of Famers. The exceptions that come to mind are Pete Rose, Robin Yount and Cal Ripken Jr. Yount and Ripken only moved once, Rose like Biggio moved a bunch of times. The players that move are usually the guys who are decent players who you want to keep around but you usually don't give away a future HOF's position to someone else. Biggio's numbers fit with those of other second basemen. His BA, OBP, slugging percentage all match up well.
Usually when I do these I look at the numbers of the Hall members I'm using in the comparison first, then I look at the current player's numbers. This time I did it the other way around and to be honest when I first looked at Kent's numbers I felt he wasn't Hall worthy. But his offensive numbers are better than Mazeroski's in virtually the same amount of time and they are also similar to Morgan's as well. If I were asked I'd have to say the best second basemen in baseball were Morgan and Robbie Alomar.
With that being said based on shear numbers, I think Kent could get in but he is going to have the 'Jim Rice factor' hanging on him too. That being, that he wasn't a popular guy with the media or in Kent's case his teammates as well. He isn't as outgoing and personable as Biggio or Morgan and I think his relationships with the media and their perception of his clubhouse actions are going to hurt him. The other thing that hurts Kent is he has no gold Gloves, while Biggio has four. Carew didn't have any either but his batting titles made him stand out. Kent, to me, is going to be one of those tough sells. He may eventually get in but I think it will take him a while.