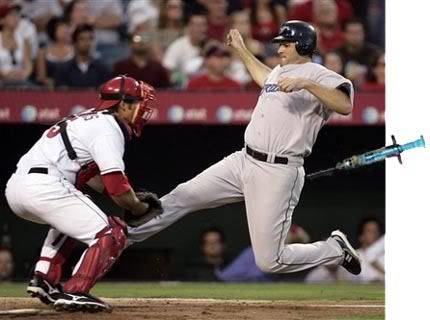 Less than 12 hours after the New York Daily News posted a report that Rick Ankiel had received HGH, Sports Illustrated is reporting that Blue Jays 3B Troy Glaus is the latest athlete to be implicated in the internet pharmacy investigation.
According to the investigation, Glaus received multiple shipments of steroids and testosterone between September 2003 and May 2004 from the Signature Pharmacy in Orlando. Glaus missed most of the 2003 Angels season with shoulder problems and had season-ending shoulder surgery in 2004.
This is a huge black eye for Major League Baseball with now two players in less than 24 hours being named in the investigation. If Bud Selig ever thought steroid use wasn't high in baseball, this internet pharmacy investigation is starting to prove otherwise.
Glaus joins Ankiel, Wade Wilson, Rodney Harrison and 10 WWE wrestlers as having received illegal performance enhancing drugs from the Signature Pharmacy.
Stay tuned folks, this is just getting started. I'd have to think we will start to see even more names coming out now.