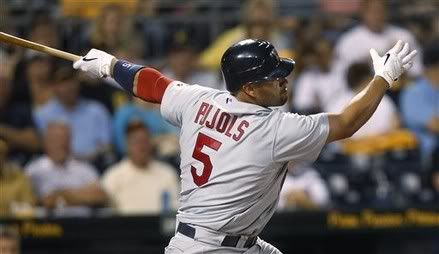 With the St. Louis Cardinals and first baseman Albert Pujols unable to make a deal before the contract negotiation deadline of noon today, it appears each party is willing to see where this goes. The Cardinals, who are refusing to listen to trade offers for Pujols, have to be sweating a bit. I would bet if you asked a diehard Cards fan how they felt right now, you might just have to call EMS for a cardiac emergency.
Pujols, on the other hand, while he may really want to stay in St. Louis and is quite possibly a little unnerved that nothing got done on an extension, is in the cat birds seat. At this time he has all the leverage. In the next 300 days you will not go one day without a sports related entity mentioning Albert Pujols and his contract expiring at years end. The games best player is about to get paid. It's just a matter of who is willing to meet the demands of the three-time NL MVP.
With that in mind here are the teams I feel are best suited to make a run at Pujols next off season. For Cardinals fans it's going to be the longest 300 days of their lives. Remember no one has ruled out Pujols getting that extension done behind the scenes or even testing the free agent market and returning to St. Louis. But you have to admit if you are a fan of any one of these teams, other than the Cards, you have to be wondering what if this guy came to my team.
To continue reading, click on the read more button below.
Teams that Pujols could end up with:
National League teams
Cardinals – I am going to put the Cardinals first because I really think they're at the top of the list. Look this guy doesn't know any other city but St. Louis, he's never played anywhere else. Tim Kurkjian of ESPN says he's "80% certain" that Pujols comes back. I think it's reasonable but I'm not at 80%, more like 65%-70%.
Cubs – Wouldn't Cub fans love to steal Pujols out from under their arch-rivals nose. It would definitely jack up the emotion of the series between the two teams and cities which is the second best rivalry in baseball. Pujols in a Cubs uni just might kill a few Cards fans and they will need a 1B after the season.
Phillies – While 1B isn't an option in Philly, moving Albert to a corner outfield spot, namely RF, is. Pujols who came up as a jack of all trades has played the corners in both the infield and outfield. While he is better as first baseman there are teams who would try to get Pujols to move to strengthen their lineup. The question I have here is does Philly have any money left?
Braves – Right now the Braves are going with an unproven rookie at first base in 2011. Freddy Freeman could be a ROY candidate or a big league bust. Even if Freeman has a great year there's no doubt in my mind if Atlanta has the money they will kick the tires on Pujols and either change Freeman's position or move him in a deal.
Mets – I am going to put the Mets here just to tease the fan base. But let's look at the facts. When your owner is trying to sell 25% of the team so that he can get some money to help defend the club against a lawsuit generated from the Bernie Madoff fiasco, there won't be $27-$30 million a year to pay Pujols.
Giants – San Francisco could make a bid. It's not like they aren't used to shelling out big dollars, they've done it with Barry Zito and Barry Bonds. They have a young staff and you put Pujols in the middle of that lineup they could rule the West for years to come.
Dodgers – Normally I'd put the Dodgers in here but they're just like the Mets. Their fans can look at him through the window but with the ownership issue still in flux between the warring McCourt's they aren't going to be able to pay Albert.

American League teams
Angels – After the off season fiasco of 2010-11 Artie Moreno and his baseball people need to regroup and getting Pujols would be huge but unless you deal off Kendry Morales or make him the DH, Pujols will need to play in the outfield. The good thing about the AL is the DH slot but I don't see Albert willing to give up playing the field everyday. An occasion DH spot for "day off" could be good for him.
Rangers – Hey they were willing to pay Cliff Lee and they paid Chan Ho Park and Alex Rodriguez under different ownership. No one knows better than Nolan Ryan than bigger is better and you put Pujols in the middle with AL MVP Josh Hamilton and Nelson Cruz that's a very formidable 3-4-5. I think a lot depends on how their pitching holds up this season. If it comes down to the bat of Pujols or the arm of a #1 starter, I see Jon Daniels, Ryan and Company going with pitching.
Orioles – Hey Baltimore has done crazier things and Peter Angelos still had money last I checked. If they were to sign Pujols, Buck Showalter might actually smile. Right now Derek Lee is the first baseman but he is at best a stop gap measure. Put Pujols in the middle of that young lineup and Baltimore could actually start to challenge. he just wont have #5 as that belongs to Brooks Robinson.
Yankees – The biggest and baddest wallet on the MLB block belongs to the Brothers Steinbrenner. GM Brian Cashman may not want Pujols, may not see a need for Pujols who would definitely have to be moved to the outfield. But when Hank starts getting all crazy like daddy George used to anything is possible in Yankee-land. They lost out on Cliff Lee, Andy Pettitte retired, they messed with Derek Jeter's head, they were too late to get Carl Crawford and damn you Stein Junior wants to spend some money. He won't get #5 in the Bronx though, some guy named DiMaggio owns that.
Red Sox – The second biggest baddest wallet on the MLB block belongs to Theo and the Trio. And as I eluded to in an earlier piece, the Sox have roughly $60 million coming off the payroll after the '11 season. Among that will be J.D. Drew's contract expires at seasons end. Would you rather pay Drew another $40 over three years or would you pony up some bucks and bid on Albert to play the RF corner. You can even re-name the right field pavilion the "Pujols Pavilion" and last I knew #5 was still open.
So let the countdown begin….It's the 300 Days of Pujols.
Starting on Sunday, SOX & Dawgs (written by Steve) will be bringing you a a team by team look at its key players, new faces, their potential MVP, Cy Young and Rookie of the Year candidates, their possible starting lineup and rotation as well as a quick summary.
Follow Steve on Twitter @djstevem
Photo credit: AP Photo