If there's any doubt that Bobby Valentine won't be back as skipper of the Boston Red Sox, look no further than the move he pulled in the 7th inning of yesterday's 5-0 loss to the Toronto Blue Jays.
Jon Lester was spinning a gem at that point but the offense wasn't able to do anything with Jays starter Brandon Morrow either. The Jays started the 7th with Brett Cecil on the mound who struck out Jarrod Saltalamacchia, surprise surprise. Brandon Lyon took over and got Ryan Lavarnway to fly out.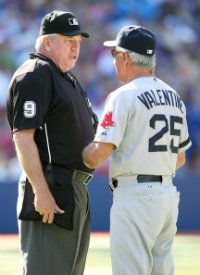 Pedro Ciriaco got on base with a single and stole second with Jose Iglesias at the plate. So with a 2-2 count on Iglesias and Ciriaco in scoring position, Valentine decided that it would be best to pinch-hit for Iglesias with Daniel Nava. The move failed though as Nava grounded back to Lyon to end the inning.
The Blue Jays would finally break through against Lester in the bottom half of the inning to the tune of three runs making the move by Valentine all the more curious.
Here's my thoughts.
One, yes Iglesias has been struggling since he's been called up. Part of that is the inconsistent playing time he's received which means he's not getting regular at-bats. Two, what if he did end up getting the big hit? His confidence would probably go through the roof.
The worst thing Valentine could do is what he did. Nothing like killing the confidence of a young player who is trying to find his way in the big leagues. I mean seriously. It's not like this game meant anything.
The only thing the Red Sox are battling for is to stay out of the basement. They are back there by themselves by a game after the loss. Yes, I know they were trying to get the win for Lester but come on now, it was a stupid, stupid, stupid move.
In a season where we've seen some crazy things, this was probably the craziest one we've seen. And if it doesn't get Valentine canned at some point soon, then that'd be the craziest thing we've seen.
Yes folks, the Red Sox are a mess right now. And until something's done about it, this is how I expect things to be for the last 15 games of the season.
We'll be back later with today's lineups, batter/pitcher matchups and links from the day. So for now, enjoy the overnight links from the media by clicking on the read more button below if you're on the home page.
To open the links up in a new tab or window, use Control+click
Puzzling move highlights Red Sox' loss to Blue Jays in series finale [boston herald]
Lame duck quacking up [boston herald]
Head-scratching loss for Red Sox [boston herald]
Crooner or later, Bobby V's out [boston herald]
Sox lost in translation [boston herald]
Red Sox stumble late in loss to Blue Jays, 5-0 [csn new england]
Pinch-hit move yet another strange one by Valentine [csn new england]
July rout by Jays may have helped Lester [espn boston]
Valentine clarifies 'weakest roster' comment [espn boston]
Bobby on PH for Iglesias: 'Not kindergarten' [espn boston]
Valentine unapologetic for unusual move to pinch-hit for Iglesias [extra bases]
Bobby Valentine on Jose Iglesias decision: 'It's not kindergarten here' [full count]
Jacoby (finally!) puts a ring on it [inside track]
Bobby Valentine Cites Strategy Over Feelings in Decision to Pinch-Hit For Jose Iglesias [nesn.com]
Valentine's decision doesn't add up [projo sox blog]
No relief for Bard yet again [projo sox blog]
Winter ball up in the air for Middlebrooks [projo sox blog]
Valentine clarifies September roster comments [redsox.com]
For more slices of Red Sox goodness, head over to the Boston Globe, Boston Herald, CSN New England, ESPN Boston, NESN, Providence Journal, RedSox.com and WEEI websites.
And if you must check out the enemy news, head over to the Toronto Star and Toronto Sun websites.
Follow Ian on Twitter @soxanddawgs. And be sure to like us on Facebook as well.
photo credit: getty images