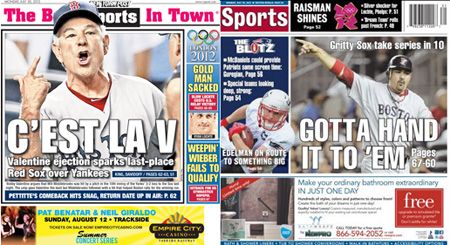 Pedro! Pedro! Pedro! Certainly if the Boston Red Sox were playing at home last night instead of Yankee Stadium that would have been the chant going on. And if you're the New York Yankees you probably don't want to see Pedro Ciriaco anytime soon.
For the second straight night, Ciriaco delivered the big hit as his bloop single in the 10th gave the Red Sox a 3-2 lead and the win.
David Robertson started the 10th for the Yanks by walking Jarrod Saltalamacchia. Will Middlebrooks attempted to bunt him over but was hit with the pitch as he tried the bunt. Despite Middlebrooks showing the ump where he was hit, it was ruled a foul ball. Bobby Valentine came out to argue and was promptly ejected. Moments later, Josh Beckett was ejected as well for arguing from the dugout. WMB ended up with a single a few pitches later.
Ryan Sweeney followed that with a fielder's choice that saw WMB retired at second but with Salty getting to third. With the Yankees infield draw in, Ciriaco was able to get one just over the infield to bring in Salty with the eventual winning run.
Russell Martin proved to be the killer to the Red Sox pitching staff last night.
He provided both of the runs for the Yankees. He hit a solo home run in the 7th off of Felix Doubront and then gave Alfredo Aceves the blown save in the 8th when he singled in Andruw Jones who had doubled off of Andrew Miller.
Despite five walks, Doubront continued to dominate the Yankees, the same team he basically earned the starting nod against during spring training. Of the four hits he allowed, three of them were infield singles. He picked up a whopping 15 swings-and-misses on his fastball, curveball and changeup.
While he did struggle with his location at times, it was nice to see him battle through when he did get in trouble. Every start he makes, he's entering uncharted territory for himself as this is the most innings he's thrown in the big leagues.
But he's also one of the big reasons the Red Sox are where they are today as his 10 wins lead the staff.
Offensively, Sweeney provided the first two runs of the game with a two-run double off of Hiroki Kuroda in the 2nd inning. Adrian Gonzalez continues to swing a hot stick as he added two more hits as did Jacoby Ellsbury.
Obviously this weekend didn't provide an answer to whether the Red Sox are contenders or pretenders, buyers or sellers. But what it did show is that this team can battle back when in a hole. And if they can continue to do that over two plus months of the season, there's no reason why we can't see them playing in the wild card play-in game at the very least.
Of course we'll be watching the rumor mill just like you over the next two days to see what/if the Red Sox are going to do.
We'll be back later with today's lineups, batter/pitcher matchups and links from the day. So for now, let's take a look at the overnight links from the media.
To open the links up in a new tab or window, use Control+click
Flare for the dramatic [boston globe]
Doubront, Aceves get job done [boston globe]
Matsuzaka makes Olympics pitch [boston globe]
Valentine shows that he is feeling connected to the cause [boston globe]
Hunting for signs of hope [boston globe]
Francona apologizes to Valentine [boston globe]
Conducting Boston pops: Pedro Ciriaco's bloop hit boosts Sox [boston herald]
Alfredo Aceves gets last laugh in 10th [boston herald]
Bobby Valentine in center ring of Big Apple circus [boston herald]
Sox show Yanks, GM what they can do [boston herald]
Bobby V gets fired up [boston herald]
Carl Crawford desperately trying to live up to his end of the bargain [rob bradford – weei.com]
Andrew Miller finds Orel Hershiser's criticism 'kind of odd' [clubhouse insider]
Assessing the Josh Beckett market as trade deadline nears [clubhouse insider]
Ciriaco, Sox escape Bronx with 3-2 win in extras [csn new england]
First pitch: Wins in New York something to build on [csn new england]
Experts: Beckett trade is unlikely [csn new england]
Valentine, Beckett ejected after umpire misses Middlebrooks HBP [csn new england]
Ciriaco, Doubront proving to be New York giants [csn new england]
Quiet on trade front for Sox — for now [espn boston]
Aviles sits as toe is still bothersome [espn boston]
Valentine not bothered by Tito's visit [espn boston]
Salty has company among top whiffers [espn boston]
Rapid Reaction: Red Sox 3, Yankees 2 [espn boston]
Francona: Win a 'big swing game' for Sox [espn boston]
Bobby Valentine's ejection could pull Boston Red Sox together [espn boston]
Source says Boston Red Sox 'trying to dump' Josh Beckett [espn boston]
Bobby Valentine: 'I've never been told that [Carl Crawford] needs an operation' [full count]
Closing Time: Pedro Ciriaco plays hero role again as Sox win in extras over Yankees [full count]
Source: Red Sox discussing Josh Beckett with Rangers, among others [full count]
Bobby Valentine Has No Plans to Make Pedro Ciriaco a Full-Time Starter, but Hints That Roster Spot is Safe [nesn.com]
Carl Crawford Reiterates Need For Tommy John Surgery While Bobby Valentine Contradicts Him [nesn.com]
Bobby Valentine's Ejection Gets Red Sox Fired Up Before Rallying to Take Series From Yankees [nesn.com]
Pedro Ciriaco Quickly Evolving Into Yankee Killer With Heroic Performances in Clutch [nesn.com]
Report: Red Sox Among Teams Inquiring About Rafael Betancourt [nesn.com]
How Felix Doubront attacked the Yankees on Sunday night [projo sox blog]
Miller miffed by ESPN criticism [projo sox blog]
Valentine, Beckett tossed on disputed strike call [redsox.com]
Red Sox may have turned it around in Bronx [redsox.com]
For more slices of Red Sox goodness, head over to the Boston Globe, Boston Herald, CSN New England, ESPN Boston, NESN, Providence Journal, RedSox.com and WEEI websites.
And if you must check out the enemy news, head over to the ESPN New York, New York Daily News, New York Post, New York Times and The Journal News websites. You can also check out our Bloguin brother, NYY Stadium Insider.
Follow Ian on Twitter @soxanddawgs. And be sure to like us on Facebook as well.