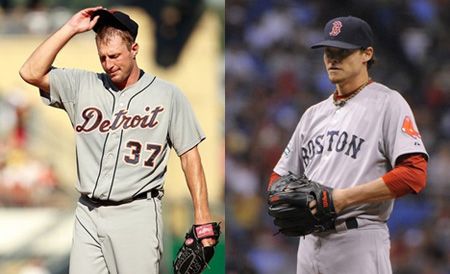 After taking two-of-three in the Bronx, the Boston Red Sox return home to historic Fenway Park for a 10-game homestand. Tonight, they'll kick it off with the first game of a three-game set with the Detroit Tigers.
First pitch is scheduled for 7:10 p.m. and will be broadcast nationally on NESN in the Red Sox television market. If you live in the Tigers television market, you can catch the game on FOX Sports Detroit. If you can't catch the television broadcast, you can always listen to it on the Red Sox radio network.
Clay Buchholz looks to keep the good times rolling in his 18th start of 2012. In his previous 17 starts, Buchholz is 8-3 with a 4.93 ERA. He has faced the Tigers once this year and picked up a no decision back on April 8th after allowing seven runs in four innings of work. Buchholz has made seven career starts against Detroit and is 1-1 with a 3.83 ERA. Three of those starts have come at the Fens where he is 0-1 with a 0.82 ERA (2 ER/22 IP).
Max Scherzer steps on the slab for the 21st time in 2012. In his previous 20 starts, Scherzer is 10-5 with a 4.49 ERA. He's made two starts against the Red Sox in 2012 and is 1-0 with a 10.38 ERA (10 ER/8.2 IP). Scherzer has made five career starts against the local nine and is 1-2 with a 9.82 ERA. Two of those starts have come at the Fens where he is 1-0 with a 2.92 ERA (4 ER/12.1 IP).
Click on the read more button below to see today's lineups, batter/pitcher matchups and links from the day if you're on the home page.
Here are today's lineups:
And here is how the hitters have fared against today's starting pitchers:
NOTES:
REFRESH OR CHECK BACK OFTEN AS MORE LINKS WILL BE ADDED BEFORE GAMETIME IF/WHEN THEY BECOME AVAILABLE AND WILL BE BOLDED
To open the links up in a new tab or window, use Control+click
Source: Braves not in on Beckett [rob bradford – weei.com]
Source: Red Sox 'peddling' Josh Beckett, deal remains challenging [clubhouse insider]
Report: Ortiz return to lineup likely to be delayed [csn new england]
Valentine to headline baseball seminar [espn boston]
Ortiz might not return until weekend [espndeportes los angeles]
Cherington: Red Sox not trying to trade Beckett [extra bases]
Indians reportedly shopping Justin Masterson, drawing interest from Red Sox [full count]
Opinion: Time for Terry Francona to move on [full count]
ESPN's Jerry Crasnick on M&M: Teams not 'jumping through hoops' to acquire Josh Beckett [full count]
Bobby Valentine Takes Exception With Umpire Brian O'Nora, Will Middlebrooks Takes Diplomatic Route [nesn.com]
Will the Red Sox Make a Significant Move at the Trade Deadline? [nesn.com]
Adrian Gonzalez, Pedro Ciriaco the Hot Hitters as Red Sox Bring Winning Ways Back to Fenway Park [nesn.com]
Buchholz faces Tigers looking to stay on a roll [redsox.com]
Red Sox seeking trade partner for Beckett [redsox.com]
Follow Ian on Twitter @soxanddawgs. And be sure to like us on Facebook as well.
photo credits: getty images, ap photo